Armed Forces Day 2020: Deals for Military Members and Veterans
Armed Forces Day 2020 is today, May 16, and retailers across the U.S. are offering military members and veterans deals and discounts to thank them for their service.
The first official Armed Forces Day occurred on May 20, 1950, and the theme was "Teamed for Defense." Now, it is typically celebrated with military displays for the public, educational activities to teach children about the armed forces, and large parades and local celebrations.
While Armed Forces Day will look a little different this year, retailers are still honoring military members and veterans. Some retailers have also extended their offers to first responders and essential employees working on the frontline of the coronavirus pandemic.
To claim a discount at the following retailers, military members and veterans will need to show a valid military ID.
Academy Sports
Academy Sports is offering 10 percent off for active military and veterans, as well as healthcare professionals and first responders through May 25, in-store and online.
Adidas
Adidas is giving verified medical professionals, first responders, nurses and military members an exclusive discount worth 40 percent on adidas.com.
Apple
Apple has a Veterans and Military Purchase Program, offering veterans and active military members 10 percent off select Apple products and accessories.
Chuck E. Cheese
Chuck E. Cheese has two offers for military members, including activity duty and veterans, year-round. Choose between The Alpha: a large one-topping pizza, four drinks, and 45 Play Points for $33.99, or The Bravo: two large one-topping pizzas, 4 drinks, and 100 Play Points for $57.49.
Clarks Shoes
Clarks is offering all active duty, veterans, military spouses, and family members 50 percent off, as well as first responders, medical professionals, and teachers for a limited time.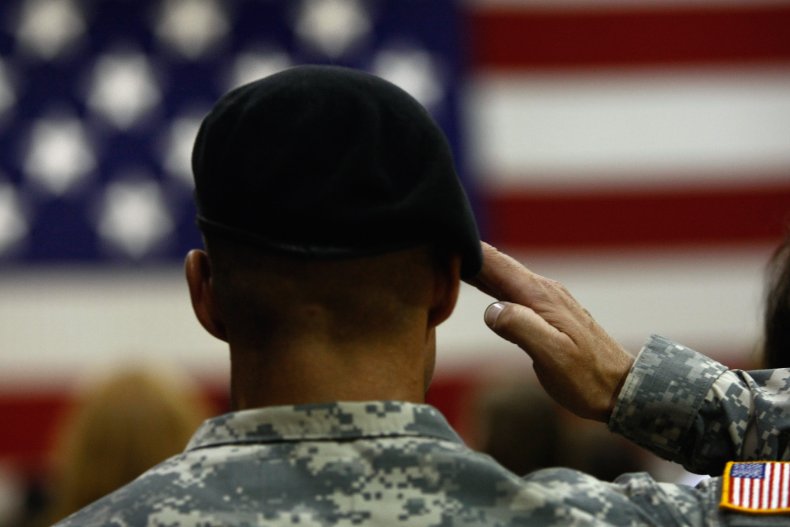 Converse
Converse offers military members and veterans 20 percent off.
Foot Locker
Military members and veterans can get 15 percent off at Foot Locker.
Home Chef
Home Chef is offering 50 percent off on military members' first purchase.
Home Depot
Present a valid military ID at Home Depot to get a 10 percent discount off in-store.
Hooters
Hooters is offering military members 20 percent off takeout orders.
Lenovo
Active military members, veterans, and immediate family members with a valid ID can get 15 percent off at Lenovo.
Lowe's
Military members and veterans can get 10 percent off at Lowe's every day when they sign up to the MyLowe's card.
Nike
Get 20 percent off at Nike if you are active duty or a veteran.
Outback Steakhouse
Get the 10 percent off heroes discount for military personnel and immediate family at Outback Steakhouse.
Reebok
Military personnel, as well as teachers, nurses, first responders, and government employees can get a 50 percent discount at Reebok.
Rosetta Stone
Military members and veterans can get 10 percent off Rosetta Stone subscription services and lessons.
Zappos
Get a 10 percent discount off all online purchases at Zappos when you sign up online.
Newsweek has affiliate partnerships. If you make a purchase using our links, we may earn a share of the sale.