An armed man was arrested and detained by members of the Secret Service near the Naval Observatory on Wednesday, the official residence of Vice President Kamala Harris and first gentleman Doug Emhoff.
Members of the Washington, D.C. Metropolitan Police Department (MPD) arrested 31-year-old Paul Murray, of San Antonio, Texas and charged him with carrying a dangerous weapon, carrying a rifle or shotgun outside of a business, possession of unregistered ammunition and possession of a large capacity ammunition feeding device.
"Officers responded, at approximately 12:12 pm, to the 3400 block of Massachusetts Avenue, NW in reference to a suspicious person based on an intelligence bulletin that originated from Texas, who was detained by US Secret Service," MPD said in a statement to Newsweek. "A rifle and ammunition were recovered from the subject's vehicle."
A spokesperson for the Secret Service confirmed in a statement to Newsweek that "at approximately 1 p.m.," uniformed officers "detained an individual in the 3400 block of Massachusetts Avenue."
A spokesperson for the Capitol Police told Newsweek that a regional "be on the lookout" notice related to the matter had been issued to it and other agencies in the area.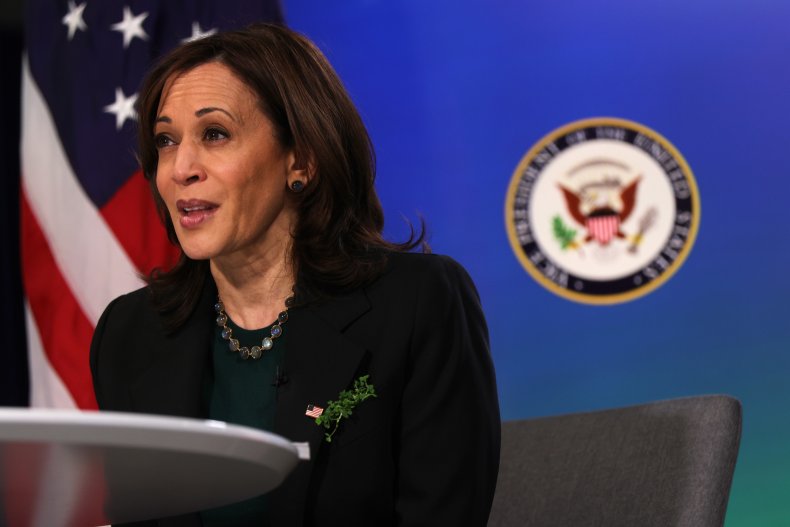 Murray's reasons for being in the area armed are unclear, while further details of the intelligence bulletin that led to his arrest were also unavailable as of early Wednesday evening.
Neither Harris nor Emhoff are believed to have been in the area at the time of the arrest. Emhoff was in New Mexico at the time on a trip to promote President Joe Biden's American Rescue Plan, according to the White House.
Although the vice president's official residence, Number One Observatory Circle, is located on the grounds of the Naval Observatory, the second couple are yet to move in due to the house undergoing renovations. Instead, Harris and her family have been living at Blair House, the president's official guest house, which is located directly across Pennsylvania Avenue opposite the White House.
Days after Harris and President Joe Biden were sworn in on January 20, 37-year-old Santiago Macias, of Midland, Texas, was arrested with a loaded gun near the White House. Court records show that Macias was arrested after stopping a bicycle patrol officer and asking for "information about the Oval Office," according to NBC News.
Two other armed individuals were arrested near the White House last month, with one person carrying an unlicensed pistol and unregistered ammunition and the other a BB gun, according to ABC News. Biden was away on a trip to Camp David at the time.