Armed Michigan Protesters Storm Capitol as Lawmakers Debate Extending Governor Whitmer's Stay-at-Home Order
Protesters in Michigan, some of whom carried firearms, entered the state capitol building Thursday while lawmakers debated whether a state of emergency should be extended. An extension of the state of emergency would allow Governor Gretchen Whitmer to ask for a longer stay-at-home order.
Some individuals held signs bearing messages opposing the stay-at-home orders, such as "Shut down the lockdown." One sign read, "Tyrants get the rope." Inside Michigan's capitol building, protesters shouted "Vote no" while lawmakers were carrying on discussions.
Protests have been spearheaded by Michigan residents ready to return to work and ease social distancing guidelines statewide. Whitmer has been reluctant to do so, citing a public health threat. However, some restrictions have been relaxed allowing some outdoor-based activities and businesses to resume. Residents are required to wear face masks in enclosed public spaces.
Leon Hendrix, news anchor for WOOD, posted video footage of the protest on Twitter. Many of the protesters can be seen without facemasks and choosing not to follow social distancing guidelines.
Photographer Jeff Kowalsky captured some still images from the Thursday protest.
Newsweek reached out to the Clerk's Office at the Michigan House of Representatives for comment.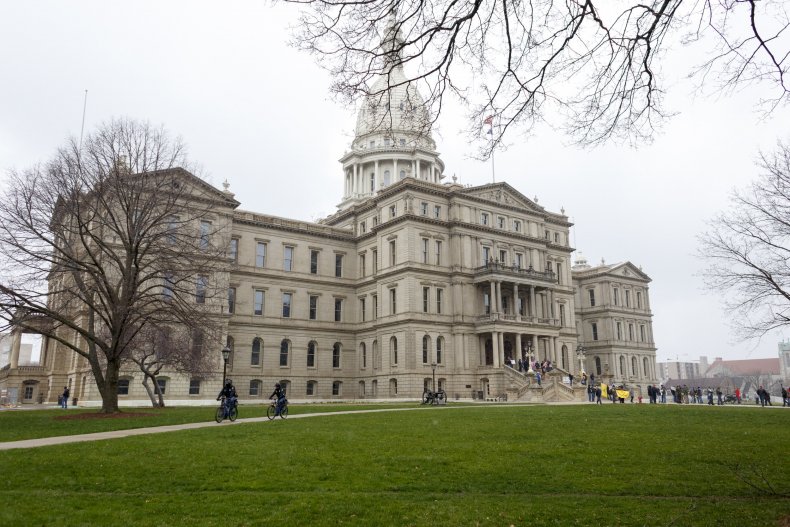 "It's disappointing to see people congregating without masks, and without practicing social distancing," said Whitmer spokeswoman Tiffani Brown in a Thursday statement. "This kind of activity will put more people at risk, and it could mean that more people will die."
Michigan Democratic Party Lavora Barnes said the protests turned "a global health crisis into a political game" in a statement sent to Newsweek on Thursday.
"It's time for Republicans to do the right thing on the behalf of their constituents and work with Governor Whitmer," Barnes continued.
Barnes also called on Michigan GOP leaders to "condemn the use of hate language, racism, or threats of violence from participants in today's protest as what they are: despicable, disgusting, and shameful."
"What happened in Lansing today is dangerous in so many ways," said Michigan Democratic Congressman Dan Kildee in a Thursday statement. "Today's protest will come at the expense of public health. Protesters openly defied the advice of medical experts, putting their own lives and the health of all Michiganders at risk."
"The political rhetoric on display was also appalling. Republican elected officials compared Michigan's stay at home order to the Holocaust, and protesters carried signs calling for the execution of those they disagree with. This behavior is especially appalling the week after Holocaust Remembrance Day. Every leader in our state must condemn the use of hate speech, racism or threats of violence," Kildee added.
"There was a lot of really disgusting symbols of hate," Michigan Democratic Senator Dayna Polehanki told Newsweek in a Thursday interview. "You've got your Confederate flags still, disgusting, misogynistic signs about our governor, signs suggesting she may be killed... and then lots of people bearing arms."
Polehanki posted a picture of protesters looking down upon the lawmakers as they debated.
"Directly above me, men with rifles yelling at us," Polehanki tweeted. "Some of my colleagues who own bullet proof vests are wearing them. I have never appreciated our Sergeants-at-Arms more than today. #mileg"
Polehanki felt her life was in danger. "I half-jokingly told my staff I loved them," she said. "It was kind of tongue-in-cheek, but you never know. You just never know."
While Polehanki emphasized that lawmakers support the constitutional rights of the protesters, she believed "today's protest went too far."
"We all want to go back to normal," Polehanki said. "But when you see what I saw today and then when you hear about and see protesters last week, it's too much. It's counterproductive."
According to Michigan state law, individuals are allowed to carry weapons into the state capitol. However, they are prohibited from bringing signs inside.
Michigan's current stay-at-home order is set to expire on May 15.
On Wednesday, Michigan's GOP offered to extend the emergency declaration for two weeks if Whitmer would promise to work with Republicans on future stay-at-home orders. Whitmer denied the offer.
"Republicans in the Legislature want to negotiate opening up sectors of our economy," Whitmer said Wednesday during a news briefing. "They're acting as though we're in the midst of a political problem. This is not a political problem that we have. This is a public health crisis."