Armed Minneapolis Citizens Guard Tobacco Store, Say They Want Justice For George Floyd 'But We Don't Support Looting'
Minneapolis citizens equipped with guns guarded a tobacco store from looters on Wednesday as protests against police brutality continued following the death of George Floyd.
"So, bottom line, justice for Floyd and I hope they stop looting at some point," said one of the armed citizens, in a video posted to Twitter by Max Nesterak of the Minnesota Reformer.
Another armed man in the video made similar remarks, saying, "We definitely don't agree with the looting, but we do agree with the cause for protests."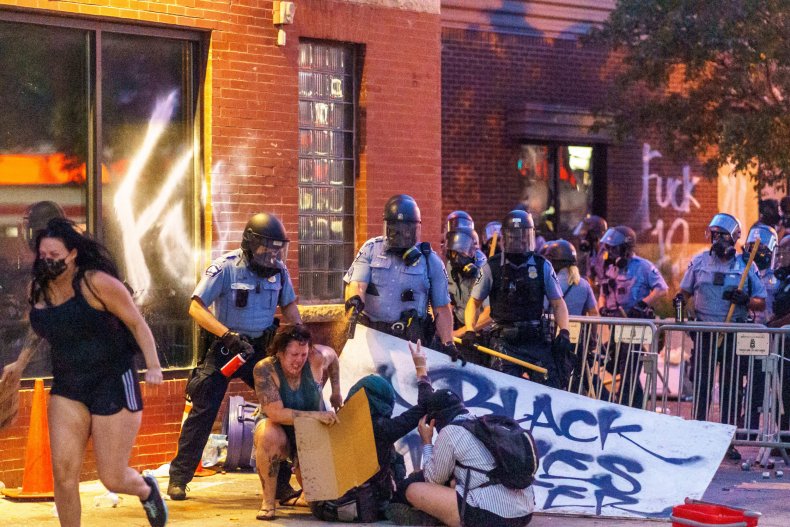 Protestors rallied in the streets again on Wednesday, marking the second day of protests after Floyd's death following his arrest by officers from the Minneapolis Police Department. Floyd's arrest was documented via several videos shared across social media, and in one video he can be heard repeatedly saying that he cannot breathe as an officer pins him to the ground by placing a knee on his neck. Floyd was later pronounced dead at the Hennepin County Medical Center.
Following the incident, the four officers involved in Floyd's arrest were fired by the Minneapolis Police Department, but people have asked for further action to be taken.
The protesters damaged a number of areas across the city, as they lit fires and clashed with police officers. Some demonstrators threw rocks and fireworks at police officers, who tried holding them back by firing rubber bullets, flash bombs and tear gas.
Fires broke out in stores including an AutoZone, Target and Walmart as well as a nearby apartment building. According to the Star Tribune, at least five people were struck by gunfire during the protests, and one person died at the Hennepin County Medical Center after the owner of a pawn shop opened fire on a man he believed was looting his business. On Thursday, police said that one person was arrested during the protests and they were still investigating the nature of the incident.
One of the armed men featured in the video posted by Nesterak, said they were interested in buying something from the tobacco store but were informed it was closed, and the owners were trying to defend the store from looters.
"These guys are out here with machetes and shattered windows trying to keep looters out of the businesses because cops can't get in here," one of the armed men said while standing outside of the tobacco store.
After arriving at the tobacco store, the armed men stood outside in an effort to defend it from potential looters. "And so, I figured, before there were cops, there were just Americans, so here we are," one of the armed men said in the video.
KSTP News reporter Chris Egert shared several other photos and videos to Twitter showing the damage caused by the looting and protests on Wednesday night.
"Across the street from the 3rd police precinct in South Minneapolis," Egert wrote.
"South Minneapolis," Egert wrote with a video showing a building still on fire as of Thursday morning.
KSTP News' Ashley Zilka also shared photos of the aftermath, with a caption that read, "more photos from the area near Lake Street. Now black smoke is filling the sky."
Minneapolis Police Chief Medaria Arradondo told 5 Eyewitness News in Minneapolis that the protests pose a "great risk of injury to others and certainly the officers."
Newsweek reached out to Nesterak and Minneapolis Mayor Jacob Frey for comment on the protests and looting but did not receive a response in time for publication.