Armed Neo-Nazis Marched With Police Protection During Detroit Pride Parade
An armed white nationalist neo-Nazi group marched, with a police escort, in protest during Detroit's Pride parade this weekend.
The National Socialist Movement (NSM) is considered to be one of the largest neo-Nazi groups in the country, according to the Southern Poverty Law Center (SPLC). NSM is known specifically for its "theatrical and provocative protests."
During the event, members of NSM were seen tearing up a pride flag while one man was photographed as he appeared to urinate on an Israeli flag, Fox News reported. The NSM protesters also made Nazi salutes and carried weapons as they demonstrated on Saturday.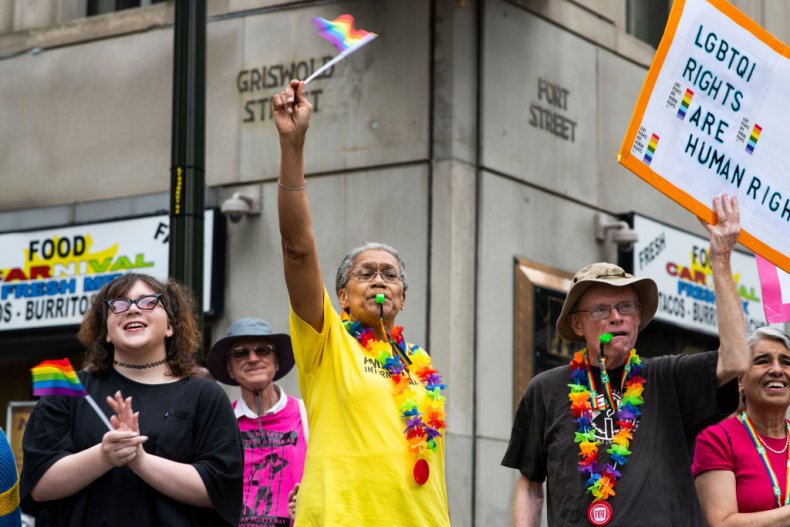 Some attendees of the Michigan Pride event were angered as they saw police working to ensure the group's safety while they protested.
"Where was Detroit Police when armed Nazis were marching with their NAZI FLAG shouting Homophobic slurs, anti-black racism, and white nationalism you ask?" one angered Twitter user posted. "Serving and Protecting THE NAZIS."
A video uploaded by another Twitter user showed police escorting NSM protesters at the event. Pride attendees could be heard yelling things such as "you're all trash" at the white nationalists, while they questioned why the police were providing the group wearing swastikas and carrying Nazi flags with protection.
According to The Detroit News, the police were there "working to keep the protesters and attendees apart as they marched through the festival."
One Pride attendee, who did not see the white nationalists but had read that they might come, voiced her frustration at the group.
"There were warnings on Facebook of a Nazi group that might come and that's just not right," Kortlyn Johnson told The Detroit News. "We haven't seen anything and hope we don't. Any groups that oppose just need to let people be happy."
Despite verbal confrontations, no injuries were reported during the event.
Across the country in Washington, D.C., several people were injured after a panicked stampede ensued when what was believed to be gunshots were heard by Pride attendees.
"As the officers were going to the scene, there was a crowd of people going away from it and some of the individuals in the crowd said there was a man with a gun and that someone had fired a shot," Guillermo Rivera, a commander with the Metropolitan Police Department, said, The Independent reported. He said a man was taken into custody and held on gun possession charges.