A small group of armed demonstrators protesting North Carolina's stay-at-home order have sparked an online backlash after photographs of them went viral.
Travis Long, a photojournalist with The News & Observer, tweeted Saturday that about 11 "mostly-armed" individuals were protesting against the state's measures to prevent the spread of the virus by marching through downtown Raleigh.
During their demonstration, they visited a branch of Subway on Fayetteville Street—and Long posted four images taken at the restaurant in a tweet that has since been shared more than 7,000 times.
One image shows a man with what appears to be an AT4 rocket launcher slung on his back as well as two guns in holsters on either side of his waist.
Another shows a man preparing to eat his sandwich with a bandana covering his face on a bench inside the Subway with his rifle propped up next to his seat while another shows a man taking a selfie with what appears to be a replica gun made of wood.
The News & Observer reported that the rally was organized by a group called Blue Igloo on Facebook for "First and Second Amendment supporters to get together, meet people with commonalities and get some exercise while we're all wasting away at home," to coincide with the first day that some coronavirus-related restrictions were relaxed in the state.
"All we have been doing is walking in the city for some fresh air, sunshine, and exercise," a spokesperson for the group told Newsweek. "We appreciate our God given rights to peacefully assemble and open carry firearms. We wish no-one harm, and hope that everyone who appreciates American freedom will join us."
No arrests were made as police officers walked alongside them as they traveled through downtown Raleigh, the newspaper reported.
While North Carolina is an open-carry state, firearms are banned from demonstrations and rallies, according to The Trace.
In a statement, Raleigh Police Chief Cassandra Deck-Brown said the police department as well as the city council and community have expressed concerns "about the perception of these events" and the department is "actively engaged" in monitoring them.
The department "remains committed to our foremost priority of preserving the safety and security of all who live and work in Raleigh, as well as those who visit our city," she said.
She added: "While State law does not permit individuals to possess a dangerous weapon when they are participating in or spectating at a protest, there is nothing that prohibits an individual, or a group of individuals, from walking on a city sidewalk while carrying and displaying firearms.
"Whether such an individual or a group is violating that law will depend on the circumstances. The Raleigh Police Department, in consultation with the Wake County District Attorney, will evaluate each circumstance as it arises.
"Similarly, State law does not prohibit individuals from carrying firearms into private businesses. Business owners are permitted to make a determination as to whether or not to allow people to carry firearms on their premises."
The event was live-streamed on Facebook and during the visit to Subway, the person filming asked employees for permission to order and eat inside the restaurant.
"You guys mind if we eat here?" the man is heard asking the employees. "You cool with us being in here? We don't want to make it look like we're threatening or intimidating anyone, man. That's why we ask."
The employees asked them to eat outside the shop as restaurants are not permitted to have dine-in customers under North Carolina's executive order to limit the spread of coronavirus—but a number of protesters still ate inside.
According to the newspaper, the protesters, many of them without masks, attracted some "curious onlookers" on Saturday.
But since Long's photos went viral, they have prompted a wave of criticism including from celebrities such as Patton Oswalt and Mia Farrow.
"A**holes. Frightened, dipsh** a**holes, every single one of them. The guy in the first pic brought an AT4. To buy a sandwich. And chips and probably a cookie. "I feel safe wif mah gun and Imma get a cookie I wanna cookie yay guns," Oswalt wrote.
Farrow added: "Arrogant, armed stupid white privilege."
Kathy Griffin shared an image of one of the protesters, writing: "Is this one going for a young, punk rock, Yasser Arafat look?"
Another Twitter user noted: "Now show us what would happen if eleven black people with bazookas marched around Raleigh and ordered at Subway."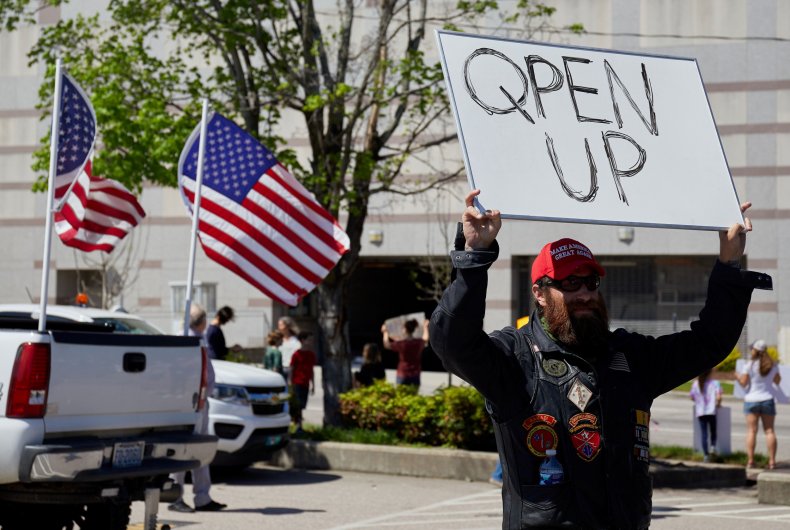 The pictures also became a meme with many Twitter users digitally altering Long's images to replace the weapons with other objects.
One woman, identified only as Nina, edited the images so each weapon was replaced with a sub sandwich.
She told The News & Observer that she made the meme to be funny, but she added: "But also because the absurdity of protesting public orders meant to protect ALL people from a virus is only matched by the absurdity of bringing giant guns into the situation. We can't shoot the virus and make it go away, so giant subs are just as useless as their giant guns."
North Carolina's Democratic Gov. Roy Cooper modified the state's stay-at-home order last week, allowing the easing of some restrictions from last Friday.
Retail businesses were allowed to open at 50 percent capacity and must following certain guidelines. However, other businesses, including bars, gyms and entertainment venues remain closed.
The state has almost 15,000 confirmed cases of COVID-19, the disease caused by the novel coronavirus, and 547 deaths, according to the latest figures from the state's Department of Health and Human Services.
This infographic, provided by Statista, shows the U.S. states with the most COVID-19 cases.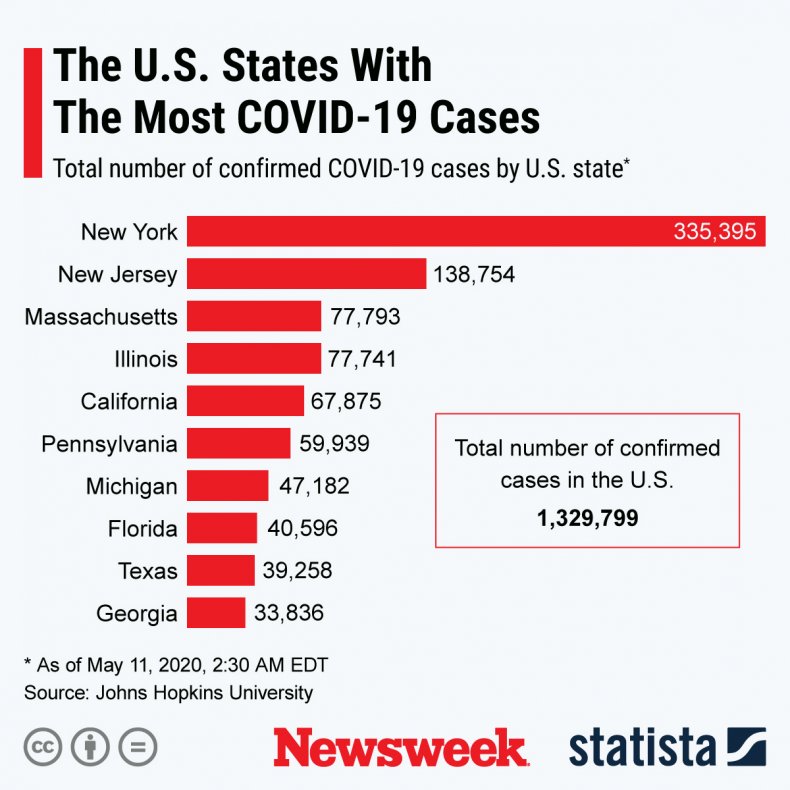 This article has been updated to include comments from the Raleigh Police Department.