Armed Robbery Suspect Fatally Shot After Leading Chase While Driving Stolen Police Cruiser
A 36-year-old man was shot and killed by police in Quincy, Massachusetts, on Friday after he allegedly robbed a convenience store, stole a police cruiser and led officers on two wild chases.
The man, whose name has not yet been released, was first chased by police after he robbed a 7-Eleven store with a loaded handgun in Rockland, Massachusetts, Norfolk District Attorney Michael Morrissey said during a press conference.
The robbery happened at around 7 a.m., and the suspect fled the store with an undetermined amount of cash. At that point, Rockland police "immediately began a search and a chase, both on foot and in an auto, to try to apprehend the suspect," Morrissey said.
Neighbors living near the store said the suspect then tried to get into a number of houses to hide from police.
"He said that he got jumped by two kids and then asked to come in, and they all said no, and then the last lady was like, 'I'll call the police.' And when she said that, he ran to the woods," one woman said, according to WHDH-TV.
After that encounter, Morrissey said, the suspect was able to "enter a Rockland police cruiser" and fled the scene toward Weymouth and Abington, Massachusetts. Morrissey did not provide details on how the suspect was able to steal the cruiser.
"During that chase, the suspect struck a number of police cruisers of local departments," Morrissey said.
According to Abington police, one of the department's officers was rushed to a hospital after losing control of his vehicle during the chase.
In a Facebook post, the department said, "Our officer lost control of his vehicle, striking a utility pole in Rockland and subsequently rolled over. The officer is doing great and we suspect he will be released from the hospital soon. We thank you all for your concern and well wishes."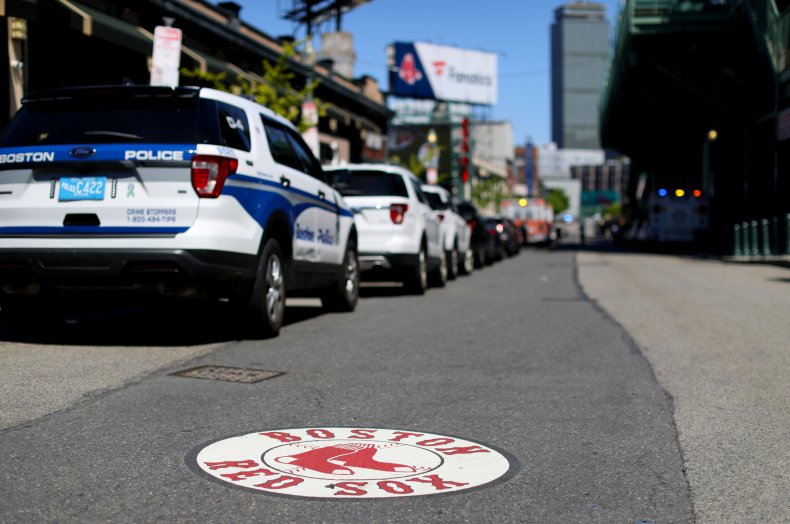 Along Route 3 north, a state police car was able to stop the armed suspect and close down portions of the parkway. Over the course of an hour, state police and a negotiator attempted to talk with the man while he remained inside the police cruiser, The Boston Globe reported.
But after an hour, the suspect started the cruiser and led authorities on a second chase toward Quincy.
At that point, police deployed Stop Sticks, which are used to puncture tires, but the suspect drove through them until officers were able to surround him again, the Globe said.
Police attempted to start negotiations with the man a second time, but the suspect was shot by an officer after he tried to climb out of the vehicle with a patrol rifle.
The man was then taken to Boston Medical Center for treatment, where he later died, WCVB-TV reported.
"It is unfortunate that anybody got shot by anyone. The last thing that I think that a police officer wants to do is get involved in a police-related shooting," Morrissey said.
"They were faced with an armed suspect. They have decisions to make, and those decisions will be reviewed over the next few days," he added.
Newsweek reached out to the Massachusetts State Police for additional comment but did not hear back in time for publication.