Armed Supporters Surround Trump-Backed QAnon Candidate at Second Amendment Rally
A Republican candidate for Congress with ties to Donald Trump attended a pro-Second Amendment rally in Georgia on Saturday where she appeared to be offered protection by heavily-armed men in combat uniforms.
Marjorie Taylor Greene, who has expressed support for the QAnon conspiracy theory, attended the event in Ringgold alongside Senator Kelly Loeffler.
Photos from the rally show the businesswoman, who is standing in Georgia's 14th congressional district, flanked by members of the Georgia III% Martyrs militia group.
Clutching semi-automatic rifles, the men are seen wearing army fatigues and protection vests. Some appear to have ear pieces connected to radios and to be carrying first aid kits.
According to the Chattanooga Times Free Press, the group said they were not hired to provide security for the event but were instead exercising their Second Amendment rights.
In a Facebook post after Saturday's rally, Greene said: "I love our 2A Community in Northwest Georgia ... we will never give up our firearms, ammo, or mags." The post linked to a story about the event with an image of her greeting people surrounded by the militia group.
Greene, who uses the election slogan "Save America, Stop Socialism," has vowed to be Trump's "strongest ally" if she is elected on November 3.
Her campaign has centered on promises to "build the wall", take on the "big tech" companies and "bring back law & order."
She has the support of the president, who called her a "future Republican star" and "strong on everything...a real WINNER!"
Greene has previously expressed support for "Q", a figure whose post on the message board 4chan in October 2017 triggered the QAnon conspiracy theory, which claims a group of Satan-worshipping pedophiles have infiltrated areas of government, business and the media to plot against Trump.
She has also suggested Nancy Pelosi should receive the death penalty for "crimes of treason" and claimed there was "an Islamic invasion into our government offices right now" in a video unearthed by Politico.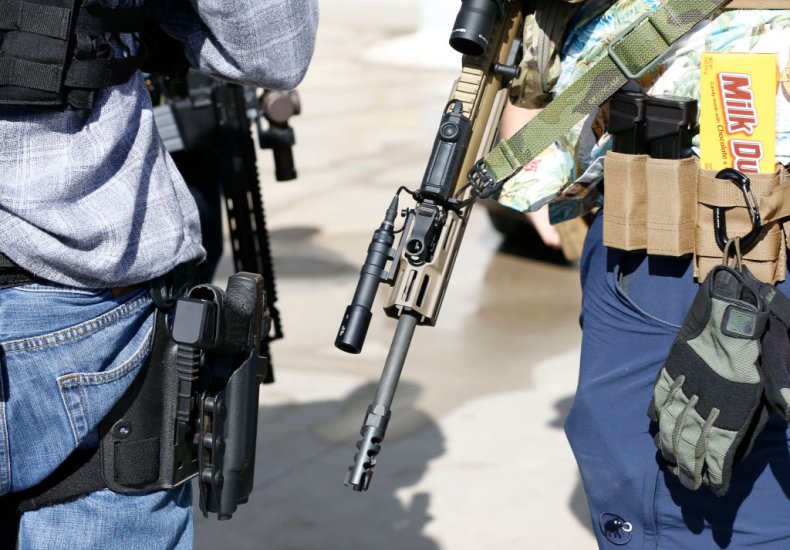 During her speech at Saturday's event she defended the right to bear arms and warned against the U.S. falling into a "pit of socialism."
"The government will never tell me how many guns I can own, and how many bullets I am allowed to fire if someone were to attack me or my kids," News Channel 9 quoted her as saying.
On the prospect of a victory for the Democrats in November, she said: "Their policies will wreck our economy, destroy our jobs and crush our children's futures and dreams. I can't bear the thoughts of looking into my grandchildren's eyes and telling them the story about how America fell into a pit of socialism."
Greene's democratic rival, Kevin Van Ausdal dropped out of the race on September 11 citing "personal reasons."
Newsweek contacted Greene's campaign for comment.