Schools Should Have Eight Armed Teachers to Stop Mass Shootings, Gingrich Says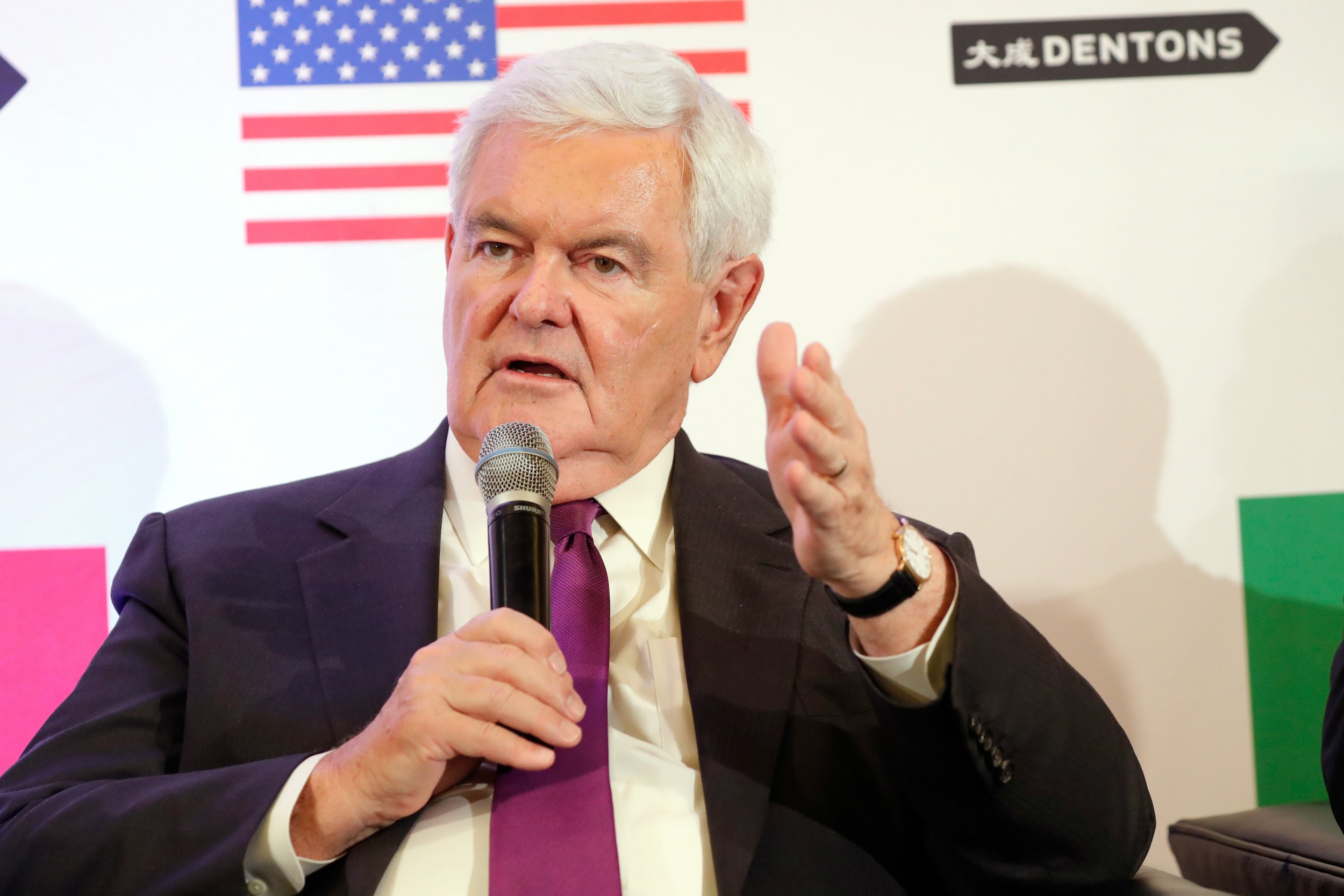 Every school in the U.S. should have armed teachers and administrations with concealed carry permits ready to defend students from mass shooters. That's according to former Speaker of the House of Representatives Newt Gingrich, who made the comments Tuesday in the wake of last week's shooting at a Florida high school.
Gingrich, a longtime advocate of the Second Amendment and defender of President Donald Trump, explained what he believed was the best way to prevent shootings—and it was not more gun control legislation.
"My last newsletter, I outlined what I think is the only long-term solution," Gingrich told Fox & Friends, "which is to have, depending on the size of the school, a minimum of six to eight teachers and administrators who are trained in the use of firearms and have concealed carry permits and are prepared to defend the kids.
"The sheriff in Florida said it perfectly when he said 'We've experimented with a gun-free zone, it's called a school, every school in the country is supposed to be a gun-free zone. If gun control worked how come it didn't work?'"
The former 2012 presidential candidate appeared to reference Polk County, Florida, Sheriff Grady Judd's suggestion on Saturday of a select number of trained teachers carrying guns.
Gingrich continued: "And I think we have to be realistic. We're not going to confiscate guns at a scale to make us a disarmed country. And the truth is, sooner or later, somebody's going to slip through the net…the civil liberties problem, if you go out and you pick up every person who's a little weird, you are really infringing on the right of people to be free.
"Which is not to say the particular killer in Florida or the particular killer in Orlando, I mean there are people you should be to track down, but it's not as easy and not as obvious except after the shooting."
How to prevent mass shootings again took the national spotlight following the deaths of 17 people at Marjory Stoneman Douglas High School in Parkland, Florida, last week after alleged gunman Nikolas Cruz opened fire with an AR-15–style rifle. Cruz, 19, was charged with 17 counts of premeditated murder Thursday.
Following the shooting, some Democratic and Republican politicians began to talk and champion more gun control legislation. The White House stated Monday that Trump was open to improving the nation's background check system and that he had spoken to U.S. Senator John Cornyn (R-Texas) about legislation he and Senator Chris Murphy (D-Conn.) had introduced previously.
"While discussions are ongoing and revisions are being considered, the president is supportive of efforts to improve the federal background check system," White House press secretary Sarah Huckabee Sanders said.
Florida's state Senate was also considering new legislation that would include age limits on purchasing guns as well as a ban on bump stocks and restraining orders, according to the Associated Press. The measures also included more funding for mental health programs at schools.