Armenia Agrees to End War for Nagorno-Karabakh in 'Painful' Deal with Russia, Azerbaijan
Armenian Prime Minister Nikol Pashinyan has agreed to end his country's war for Nagorno-Karabakh, striking a deal with ally Russia and rival Azerbaijan to end weeks of bloody fighting.
The Armenian leader announced the decision Monday, issuing a social media statement in which he addressed his "dear compatriots, sisters, and brothers" to inform them he "made a hard, very difficult decision for myself and for all of us."
"I have signed a statement on the termination of the Karabakh war with the Russian and Azerbaijani presidents from 01.00 pm," he said. "The text of the statement that has already been published is unbelievably painful for me and our people."
The move, he said, was the "result of a deep analysis of the military situation and appreciation of the people who have the best possession of the situation." After weeks of battlefield losses, he said his decision was "also based on the belief that this is the best solution for the current situation."
Pashinyan said he would issue a more comprehensive message in the coming days and acknowledged he had not been able to achieve the victory he sought.
"It's not a victory, but there's no defeat until you recognize yourself as the losers," Pashinyan said. "We will recognize ourselves as the losers and this should be the start of an era of national unification and of rebirth. We need to analyze our years of independence to plan our future and not repeat the mistakes of the past."
He appealed directly to those affected by the conflict that erupted in late September in defense of the breakaway Artsakh Republic, a self-proclaimed administration led by ethnic Armenians on Nagorno-Karabakh territory recognized internationally as part of Azerbaijan.
"I kneel down to all our victims. I bow down to all our soldiers, officers, generals, volunteers who have defended and are defending their homeland with their lives," he said. "They have selflessly saved the Armenians of Artsakh. We fought till the end. And we will win. Artsakh is standing. Long live Armenia. Long live Artsakh."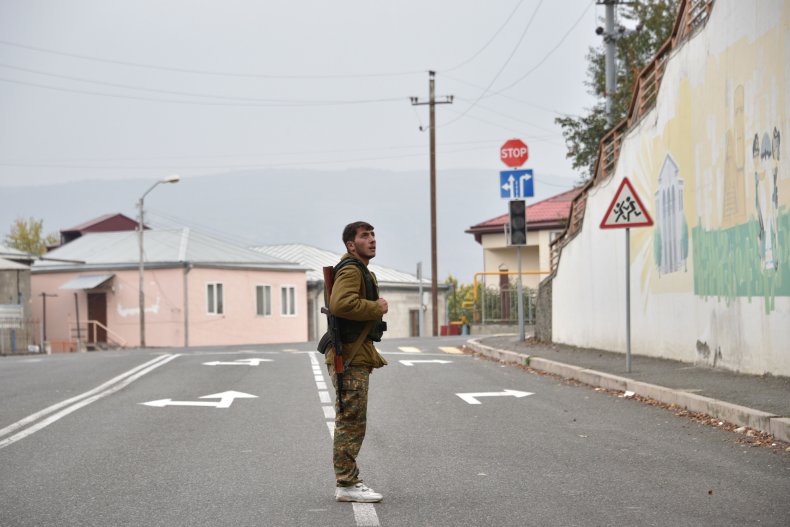 The agreement was later confirmed by Russian President Vladimir Putin, who said the two sides had agreed to implement a "complete ceasefire and cessation of all hostilities," allowing the deployment of Russian peacekeepers as Armenia and Azerbaijan worked on a solution to their century-old dispute.
"The Republic of Azerbaijan and the Republic of Armenia halt at their positions. The peacekeeping contingent of the Russian Federation is deployed along the line of contact in Nagorno-Karabakh and along the corridor connecting Nagorno-Karabakh with the Republic of Armenia," Putin said in a statement published by the Kremlin.
The Russian leader said internally displaced persons and refugees would return to Nagorno-Karabakh and surrounding areas under the auspices of the United Nations High Commissioner for Refugees. Prisoners of war, other detained persons and bodies would also be exchanged, and economic and transportation corridors opened under Russian supervision.
"We presume that the agreements reached will create the necessary conditions for a long-term and full-scale settlement of the crisis around Nagorno-Karabakh on a just basis and in the interests of the Armenian and Azerbaijani peoples," Putin said.
The published text of the agreement elucidated that some 1,960 Russian personnel equipped with small arms, 90 armored personnel carriers, 380 units of vehicles and special equipment would be deployed along the Nagorno-Karabakh frontlines and the Lachin corridor for a mandate of five years, with an automatic five-year extension if neither party decided otherwise six months before the expiration date.
Armenia must return several territories under its control, including parts of the Gazakh region by Agdam and Gazakh regions by November 20, Kelbajar region by November 15 and the Lachin region by December 1. Both sides must also guarantee the unimpeded, safe flow of traffic through established corridors through Azerbaijan to Lachin and through Armenia to the Nakhchivan exclave bordering Turkey and Iran.
The news also came shortly after reports emerged that a Russian Mi-24 military helicopter had been downed by man-portable air-defense systems (MANPADS) fire claimed by Azerbaijan as an accident. Two service members were killed and Baku offered an apology, condolences and compensation, while Yerevan offered assistance.
Russia and Armenia are allies under the Collective Security Treaty Organization, and Putin had emphasized Moscow's obligations to safeguard Armenian territory, but not Artsakh.
Pashinyan's statement came just hours after Azerbaijani forces announced they had captured the key city of Shusha, a key city located just miles from the de facto Nagorno-Karabakh capital of Stepanakert. Both sides kept up reports of fighting up until just minutes before the announcement was released.
Azerbaijani forces had made steady gains but encountered fierce resistance, inflating casualty counts on both sides in the worst fighting between the two sides since going to war as the Soviet Union collapsed in the late 1980s and early 1990s. The Organization of Security and Co-operation in Europe established the Minsk Group as a result of that war, with France, Russia and the United States as co-chairs.
Turkey, also a Minsk Group member, has offered full support for Azerbaijan. While fellow neighboring Iran had offered to mediate, while warning both sides to put an immediate end to accidental cross-border shelling and drone activity.
Armenia and Azerbaijan's conflict had stirred up nationalist sentiments on both sides, which have accused one another of ethnic cleansing, with Armenians especially wary of systematic killing conducted by Ottoman forces during and after World War I, a campaign considered by many countries to constitute a genocide.
After Pashinyan's statement Monday, infuriated protesters rallied at government buildings in Yerevan, while cheers and fireworks could be heard in Baku.
This is a developing news story. More information will be added as it becomes available.