In Armenia's Upcoming Election, Democracy Hangs in the Balance | Opinion
On June 20, Armenia, a small post-Soviet country of 3 million, is about to have the most consequential election of its independent history. An election in which the country's democracy, only recently one of the brightest in the region, is on the ballot.
In the aftermath of a disastrous defeat in a war with Azerbaijan last autumn, Robert Kocharyan, the country's authoritarian second president and a personal friend of Russian President Vladimir Putin, has emerged as the main contender against Nikol Pashinyan, the embattled leader of Armenia's "Velvet Revolution" and the acting prime minister. If Kocharyan wins, it is likely that Armenia's fragile and hard-won democratic gains will not survive.
Pashinyan, a former journalist who came to power after leading a campaign of peaceful civil disobedience in April 2018, has earned plaudits from international observers for his sweeping reforms which aimed at eradicating corruption, establishing the rule of law and strengthening democracy.
International observers noted that the 2018 Armenian parliamentary elections were the freest in the country since independence in 1991, with the Organization for Security and Co-operation in Europe (OSCE) election monitors finding that "the general absence of electoral malfeasance, including of vote-buying and pressure on voters, allowed for genuine competition." According to Freedom House, Armenia's embrace of liberal democracy in 2018 marked it as the only country in the region, including its neighbor Georgia, to strengthen its democratic institutions over the past several years—a rarity at a time of global democratic backsliding.
Pashinyan, who held an approval rating of 84 percent in July 2020, saw his popularity plummet after defeat in a war with Azerbaijan last year. The loss left nearly 4,000 Armenians dead—a toll that, per capita, rivaled that of the United States in World War II—and Azerbaijan in control of a large portion of the disputed and formerly Armenian-controlled Nagorno-Karabakh region, the casus belli for the conflict.
Worse still for the Armenian prime minister, a troubled post-war border demarcation process has led to Azerbaijan's military taking up positions 3 km within Armenia's internationally-recognized territory and it still holds dozens of Armenian soldiers and civilians in captivity.
According to one recent poll, Robert Kocharyan's Armenia Alliance coalition is polling at 24.1 percent against 23.8 percent for Pashinyan's Civil Contract Party.
Revolution and Counter-Revolution
Kocharyan became president after the country's dovish first President Levon Ter-Petrosyan was ousted in what amounted to a bloodless coup in 1998 and consolidated power after his political rivals, including the country's prime minister and the speaker of the parliament, were assassinated by gunmen during a parliamentary hearing in 1999.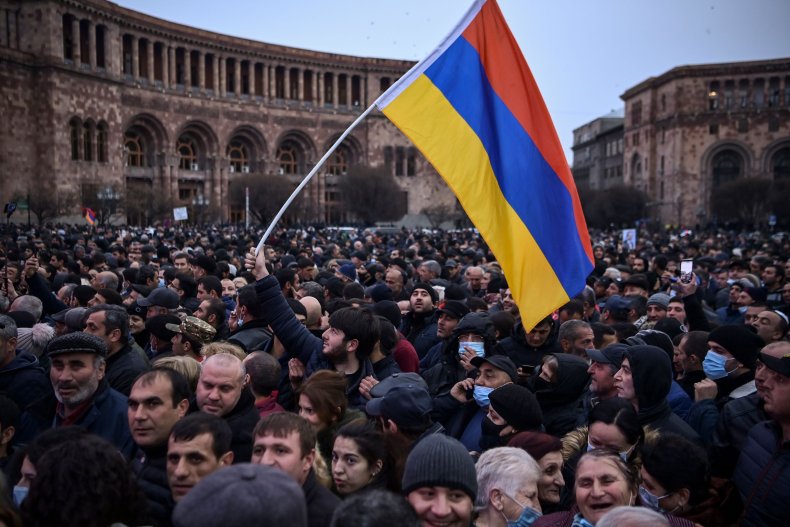 Kocharyan ruled until 2008, when he was replaced by Serzh Sargsyan, his handpicked successor, who came to power after a disputed election and a deadly crackdown that left 10 dead. Kocharyan is seen by many Armenians as the architect and one of the primary beneficiaries of the country's two decades of authoritarian rule and institutional kleptocracy. Though, in recent months, supporters of the second president have also pointed out that under much of his rule, the country had double-digit yearly growth (much of which was wiped out in the 2008 financial crisis) and successfully maintained a relatively peaceful status quo with Azerbaijan.
If he wins, Kocharyan has promised, in effect, nothing less than a counter-revolution.
In the run-up to the election, he has promised to pursue a "full-fledged modern integration" between Armenia and the Russian Federation and has recently called for an Armenian version of Russia's "foreign-agent law," that has branded anyone receiving foreign (i.e. Western) funding as a spy or traitor and silenced critics of the Putin government throughout the country.
He has also repeatedly voiced the antisemitic conspiracy theory that meddling by Hungarian American financier and philanthropist George Soros is somehow behind Armenia's defeat in the recent war, and allied himself with ultra-right wing forces that have railed against recent advances in the rights of women and the LGBTQ+ community.
Though Pashinyan did not live up to all the hopes of the revolution he led in 2018, his mismanagement of the conflict with Azerbaijan, though not at all dissimilar to that of his predecessors, almost certainly contributed to the eruption of the war. His brash and personalistic style has alienated allies and has led him to embarrassing and incendiary gaffes on more than one occasion. He has even passed bills that run in opposition to the spirit of the revolution, for instance, a recent law that has increased fines for libel and slander—which media organizations have labeled an attack on freedom of the press.
Despite the reality, he carries with him the hopes and dreams of 2018. While Armenia deserves a much better leader than Nikol Pashinyan—his victory in the election will more likely allow Armenia's struggling democracy to survive, and hopefully, to furnish a much better leader than himself.
On the other hand, if a wave of post-war nostalgia returns Robert Kocharyan to power, the many gains of the revolution might be completely lost and the chance for a better Armenian democracy foreclosed. Ultimately, we must not forget, there are few things more vicious than a victorious counter-revolution.
Peter Liakhov is a journalist based in the South Caucasus. He works as an editor at OC Media, a news outlet that covers events in Georgia, Armenia, Azerbaijan and Russia. Follow him on Twitter: @peterliakhov.
The views expressed in this article are the writer's own.