Armie Hammer Accuser Alleges His Ex-Wife Knew She Was Suicidal
One of Armie Hammer's accusers, a woman only identified as Effie, is calling out the actor's estranged wife, Elizabeth Chambers, for being aware of her suicidal thoughts.
Effie first came forward in 2021 and accused the Call Me By Your Name actor of raping and abusing her, which sparked an investigation by the Los Angeles Police Department (LAPD). Effie claimed that he had abused her "mentally, emotionally and sexually" during a four-year affair while Hammer was married to Chambers.
Hammer has continuously denied the allegations of abuse, calling them "bulls**t claims."
Despite the couple's now separation, Chambers recently told E! News that she and Hammer "are in a really great place," which prompted Effie to post several messages of conversations allegedly between herself and Chambers to her Instagram, @Houseofeffie, on Wednesday.
Some of the messages claimed that Chambers encouraged Effie to come forward with evidence against her husband, and others showed Chambers allegedly ranting about Hammer's failure to be present for their two young kids, daughter Harper Grace and son, Ford Douglas Armand.
In one message, Chambers allegedly asked Effie if she's hired a lawyer, and Effie responded, "I'm feeling a tad bit suicidal and don't have time for this rn sorry."
Other messages allegedly from Chambers continued to encourage Effie to get her stories about Hammer on the record. "I don't want to pressure you, but your insight is much more in depth than the others we have," another message allegedly said.
Effie concluded her Instagram story with a message that read, "Just some things to keep in mind before anyone else keeps wishing rapists 'healing.'"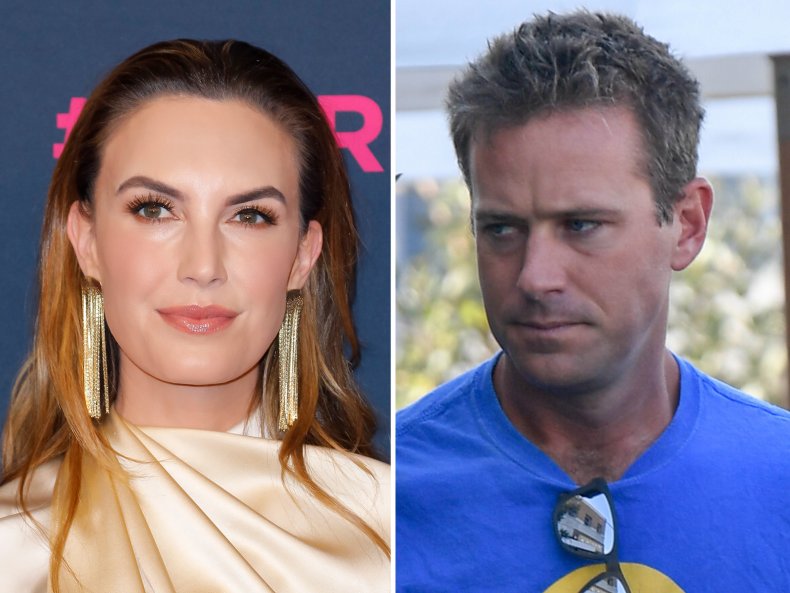 Chambers and Hammer separated in 2020 after a decade of marriage, just before the controversy began, but despite their separation, Chambers said in the interview with E! News that Hammer was working on healing, and she was "here to support that process."
In a statement to People in regard to the alleged messages, a representative for Chambers said, "Given the extent and nature of allegations that were made, Elizabeth sought to determine the veracity of those allegations. She was very sensitive to all parties involved. The safety and well-being of their children remains her priority."
In the interview with E! News, Chambers also revealed that "divorce is a death" and that it was "the last thing [she] ever wanted." She also went on to describe how difficult her life has been since the allegations began.
"I consider myself a feminist and stand in solidarity with anyone who has been a victim of any sort and hope they find healing," she said. "I'm not being here, like, 'My life is amazing,' because it's been hell for a long time."
Newsweek reached out to a representative for Chambers and Effie for comment.
If you have thoughts of suicide, confidential help is available for free at the National Suicide Prevention Lifeline. Call 1-800-273-8255. The line is available 24 hours every day. Or dial 988 for the Suicide and Crisis Lifeline.