Armie Hammer's Alleged Twitter DMs Spark Jokes, Disbelief and Derision
Armie Hammer found himself at the center of a bizarre Twitter storm today after alleged DMs were leaked online.
The unverified private messages are not confirmed to belong to the Call Me By Your Name actor but that didn't stop Twitter from having a field day with them.
Alleged to be from Hammer's Instagram account—although such images could easily have been doctored—the messages include graphic accounts of sex acts and cannibalism. One message reads: "I am 100 percent a cannibal."
In another exchange, the user says: "I need to drink your blood."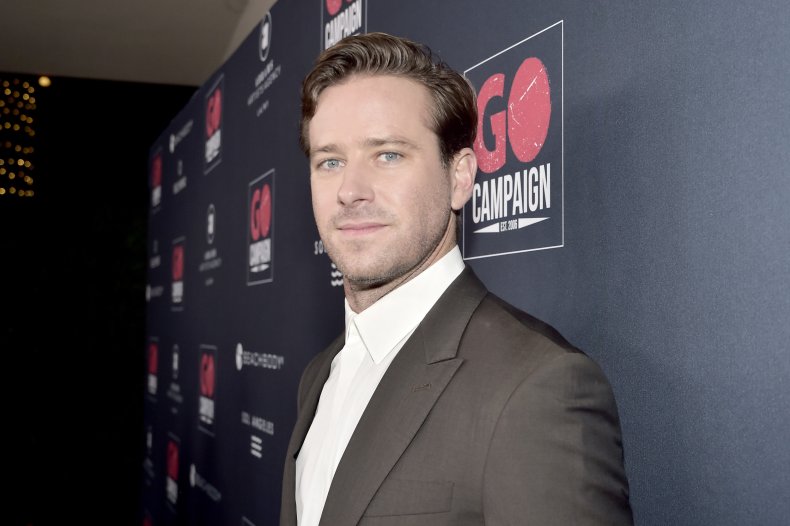 Newsweek has reached out to Hammer's representatives for comment.
"Trumpers breach the Capitol. ARMIE HAMMER CANNIBAL. We didn't start the fire," joked comedian Paul F. Thompkins, invoking the Billy Joel song.
"me: i'm prepared for anything 2021 throws at me, also me, seeing why armie hammer is trending," said another along with a shocked image of Steve Carrell.
"i miss 10 seconds ago when i didn't know why armie hammer was trending," joked another.
Another added: "just saw why Armie Hammer was trending. 2021, can you f****** chill even a tiny amount?"
There is a since-deleted screenshot (via JustJared) from the person who originally posted the alleged DMs saying that they are fake although some are claiming that this is fake too.
Hammer, 34, previously made headlines in 2017 after he liked a series of tweets about BDSM and bondage.
The DMs sparked a wave of confusion on social media, as Twitter users made jokes and memes about the situation leading to the actor's name trending worldwide.
Many people are exasperated that people are believing such DMs are real.
As one Twitter user put it: "I cannot believe anyone thinks those Armie Hammer DM 'screenshots' are real when they are clearly fake/edited as f*** lol," while another added: "Ok but if the Armie Hammer being a cannibalist thing turns out to be fake which there's already evidence that it is fake, I feel bad for him bc his whole rep literally just got ruined."
"Someone made fake DMs of Armie Hammer claiming to be a cannibal. Just another normal Sunday on Twitter," said another.
Hammer and his wife Elizabeth Chambers, split in July after 10 years of marriage. They are parents to two children, daughter Harper, six, and son Ford, three.
They released a joint statement announcing their divorce.
"Thirteen years as best friends, soulmates, partners and then parents. It has been an incredible journey, but together, we've decided to turn the page and move on from our marriage," the statement read said. "As we enter into this next chapter, our children and relationship as co-parents and dear friends will remain our priority."
"We understand this news lends itself to public dialogue, but in the interest of our children and our family, we're asking for privacy, compassion and love during this time."
He was romantically linked to Rumer Willis earlier this year.