'On the Basis of Sex' Star Armie Hammer Talks Life Post-'Call Me by Your Name'
The face of Armie Hammer is not to be forgotten. The 32-year-old isn't new to the big screen; however, his fame has risen fast in the last year. The actor captivated audiences as Oliver in the 2017 film Call Me by Your Name. The role was life-changing and catapulted the blue-eyed actor into stardom.
"The whole thing was a learning experience," Hammer told Newsweek Thursday as he tried to narrow down what he learned while on the European set. "But I also learned that you can make something powerful and moving without 200 million dollars."
Now Hammer has another role up his sleeve and even celebrated being on the front cover of L.A. Confidential awards issue. Recently, the 6-foot-5-inch actor took on the role of Marty Ginsberg, Ruth Bader Ginsberg's husband, in On the Basis of Sex. The film, which stars Felicity Jones, follows the justice's pre-Supreme Court story.
During his research on Marty Ginsberg, Hammer told L.A. Confidential, people close to Marty described him even more positively than what was already written about him. Out of all the characteristics Marty has, Hammer said he wanted to inherit the "casual ease with which he dealt with everybody."
"When you have to play a real-life person, it's normally a little daunting. But, in this case, everything I read about [Marty Ginsberg] made him seem more fun and more exciting, and made me more excited to play him," Hammer said. "It was fantastic, and I am really appreciative to have done it."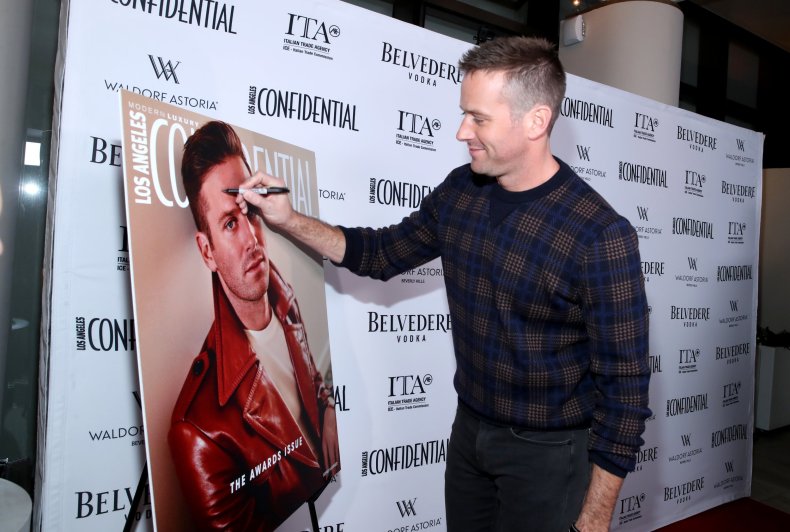 Since his role in the 2009 TV series Gossip Girl and in the 2010 film Social Network, the 32-year-old husband and father has found his footing in the tough terrain of the entertainment industry. Before the so-called glamour of Hollywood, however, Hammer came from humble and religious roots. When his dreams of becoming an actor became apparent, he noted his parents' initial hesitation.
"This is a scary business, especially when you come in at a younger age. You deal with a lot of rejection, a lot of seedy aspects of humanity, and I think—as any good parents would be—they wanted to protect me from that as much as possible," Hammer said. "I just didn't give them the opportunity."
As for the coming year, the father of two isn't slowing down. Hammer will appear with 50 Shades of Grey star Dakota Johnson in the psychological thriller Wounds—coming to theaters in March. He also has three projects in development according to his IMDb profile; however, his long-term goal is "to be a good husband and a good father."
This looks to be a bright year for the actor, and while New Year's resolutions aren't really a thing for Hammer, we may start to see less of a social media presence.
"Although, I did delete all of my social media apps from my phone," Hammer said. "You know how they do screen time on the iPhones? You would be amazed at how much time I've eliminated from just deleting social media."