Armless Archer Matt Stutzman Smashes World Record at U.S. Team Trials
Matt Stutzman took up archery when he needed to go deer hunting just to have food to place on his family's table. He was on Social Security, and having no arms made it difficult to find employment. He figured out a way to shoot a bow and arrow, and that was one of his earliest ventures with a bow.
He's now one of the top paralympic compound archers in the world, and he proved it Thursday at the U.S. Paralympic Team Trials in Chula Vista, California. Stutzman smashed the previous world record when he shot a 1398/1440 in a double, 50-meter round, crushing the previous world mark by more than 20 points.
Stutzman, who's more commonly known as the "Armless Archer," will likely make Team USA, which will be announced later Thursday afternoon from Chula Vista, which is one of the U.S. Olympic Training Centers. Stutzman won a silver medal at the 2012 London Paralympic Games.
The Armless Archer already holds the Guinness Book of World Records title—for any archer, able-bodied or not—for the farthest archery target hit. He nailed his target at 230 yards at TPC Craig Ranch in McKinney, Texas, on December 9, 2015.
Stutzman uses his feet and shoulders to draw back his compound bow, resting it against his chin. He aims, then releases.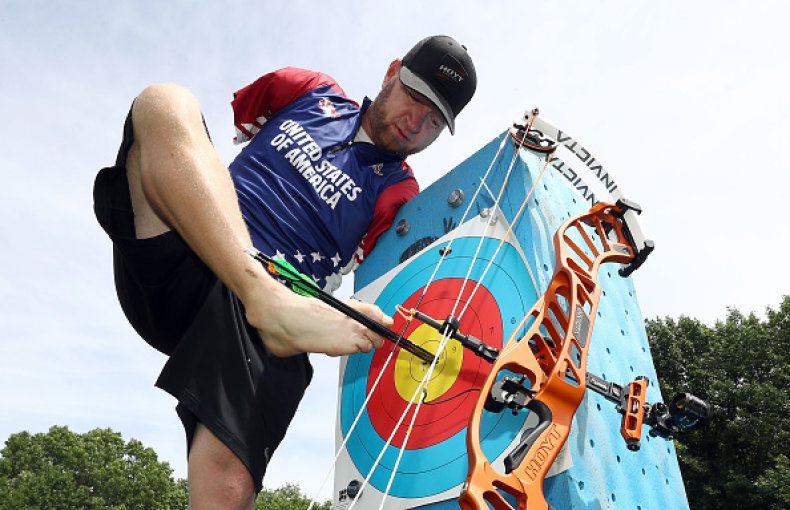 Before breaking that world record, Stutzman said it would be one of his dreams to hit that mark. He said he feels like an able-bodied person, regardless of having only stubbs barely protruding from both of his shoulders.
"I see myself as just an able-bodied person," said Stutzman on the Guinness world record website. "I decided that since [my arms] weren't going to grow back, I was just going to go forward with everything and not let anything get in my way or stop me from my goals."
He shaves, drives a car and eats with his feet. He takes care of his three children in a home with no special modifications to help him out, similar to the home he grew up in with his adoption parents in Iowa.
"People at the time would say if I had arms they would hire me," he said in a Des Moines Register interview in 2020. "I'd say, I can't just grow arms. Just give me a chance to show what I can do."
While struggling to find anyone who could hire him, he depended on $600 monthly Social Security checks to help get him by.
His ultimately found his niche in para archery, and it led him to a professional career that included sponsorships and motivational speaking gigs.
"Archery changed my life," the Armless Archer said. "I went from living off of Social Security, which was $600 a month, to now I don't need Social Security. I can take care of my kids. Now people know who I am. This is bigger than archery now."
The 2020 Tokyo Summer Olympics and Paralympics, which were each postponed a year because of the COVID-19 global pandemic, begin this summer. The Olympics begin July 23 and run through August 8.
The Tokyo Paralympics begin August 24, 2001, and will end September 5.