Trump Suggested Giving Teachers Guns, This Is How Educators Responded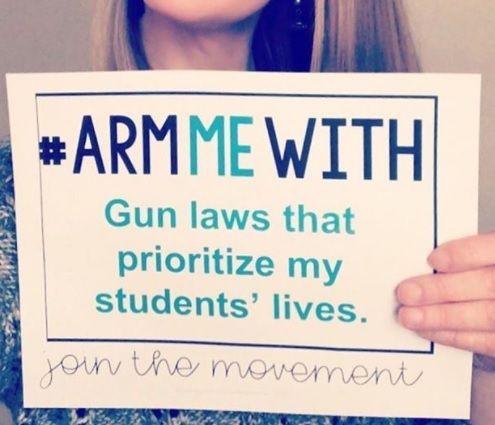 A social media campaign has been launched by teachers, who are using the hashtag #ArmMeWith to suggest how they would prevent another school shooting instead of providing them with guns.
The debate on arming teachers has once again been ignited in the wake of the massacre at Parkland, Florida, where suspected gunman Nikolas Cruz killed 17 people after opening fire at Marjory Stoneman Douglas High School.
President Donald Trump suggested that arming around 20 percent of teachers who are "very adept" at firearms could end an attack at a school "very quickly."
Even before Trump made the suggestion in front of survivors of the Parkland school shooting during a listening session at the White House, thousands of teachers were sharing their own ideas on how to prevent another tragedy using #ArmMeWith.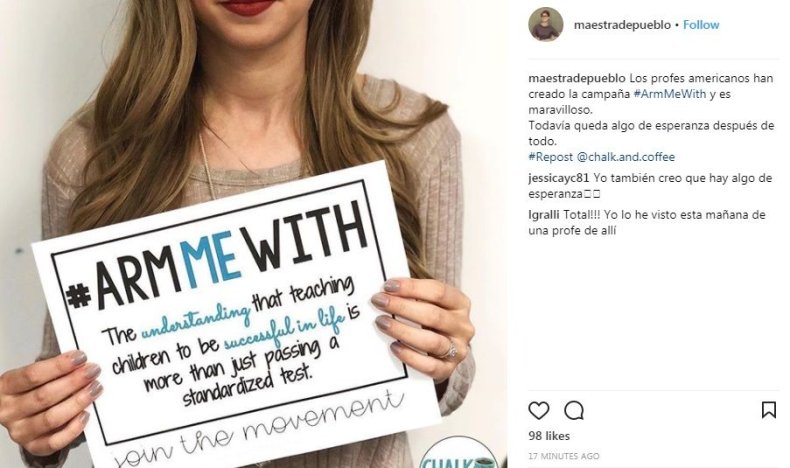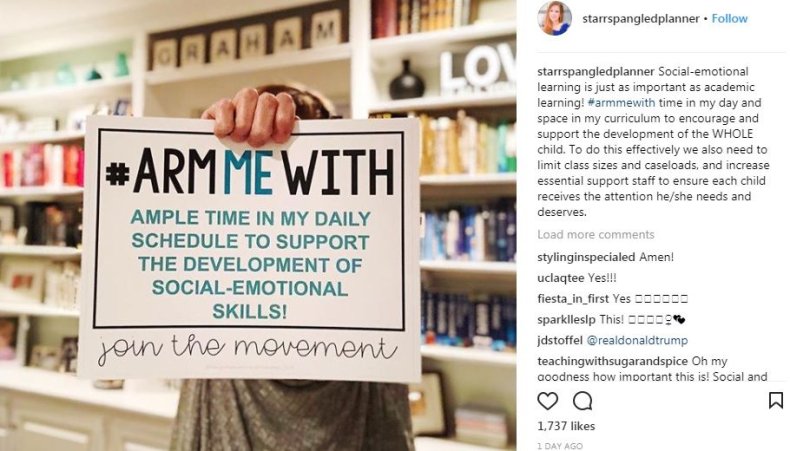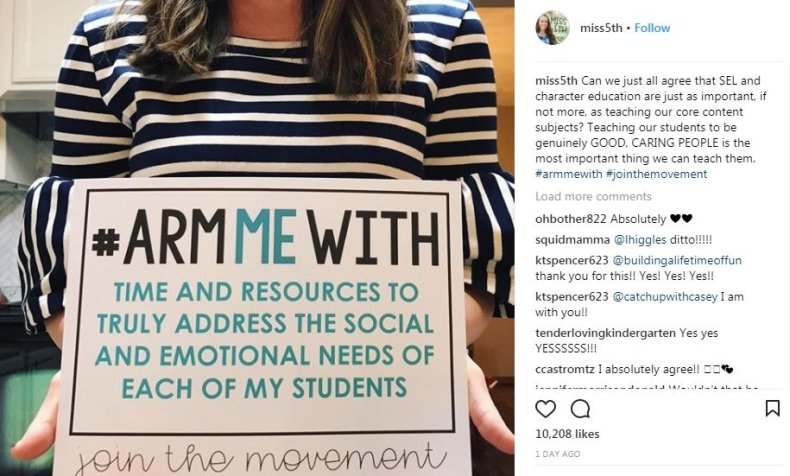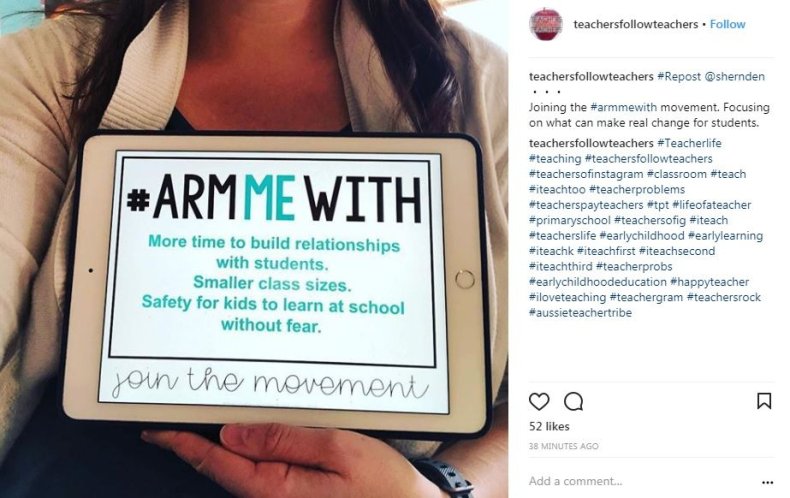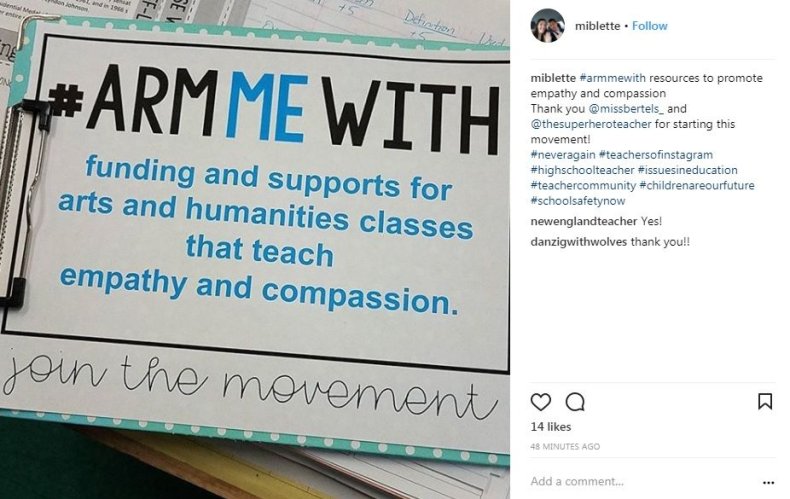 Southern Californian teacher Kimberly DeAllen said she needs to be armed with "diverse books so I can better equip kids to celebrate differences." Margarette Anne used the hashtag to simply request that she be provided with "pencils, paper, technology, books, art supplies, science supplies, school counsellors…NOT GUNS."
Thousands of teachers across the U.S. have used the hashtag on Twitter and Instagram, with requests ranging from "politicians who care more about kids than donations" to "smaller class sizes so that no student feels invisible."
Teacher Olivia Bertels, who started the hashtag with fellow teacher Brittany Wheaton, told Newsweek that the pair came up with the idea as a way to "combat the absurd notion being espoused by largely NRA-funded politicians" that the best way to keep students in schools safe is to arm teachers.
"Our goal was to give educators a community-driven way to voice their frustrations, and we are grateful that it has gained traction so quickly on social media," she added. "The vast majority of school personnel are uninterested in carrying a weapon into a building full of hundreds or thousands of children each day, and those desires are not being reflected in the tone-deaf suggestions being made by lawmakers as a solution to America's gun problem."
Among those who echoed teachers' statements was Mark Barden, a parent whose son Daniel was killed during the Sandy Hook Elementary shooting in Newtown, Connecticut in 2012. During Trump's listening session, Barden told the president, "Schoolteachers have more than enough responsibilities right now, then to have to have the awesome responsibility of lethal force to take a life."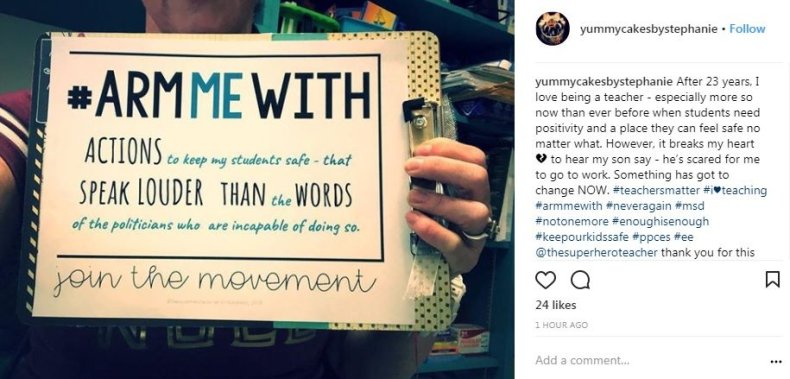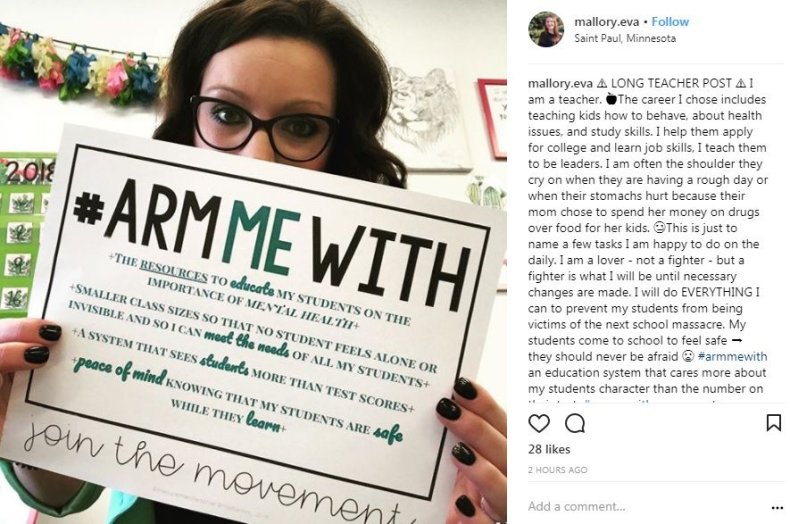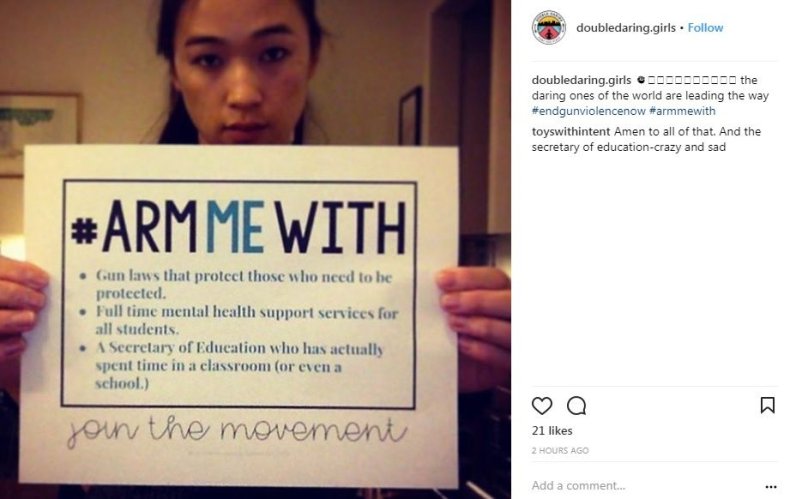 As the debate continues, one law enforcement official has claimed that hundreds of teachers agree they should be armed in the wake of the Parkland shooting.
Sheriff Richard Jones of Butler County, Ohio, said he had an "incredible" response after tweeted an offer of "free concealed-carry classes" to any teachers in his country.
"We have reached our limit. We had to cut it off at 300," he told Newsweek on Wednesday.
In a series of tweetsfollowing the session with Parkland survivors, President Trump said he never said "give teachers guns."