Armoured Column Seen in South Russia Near Border With Ukraine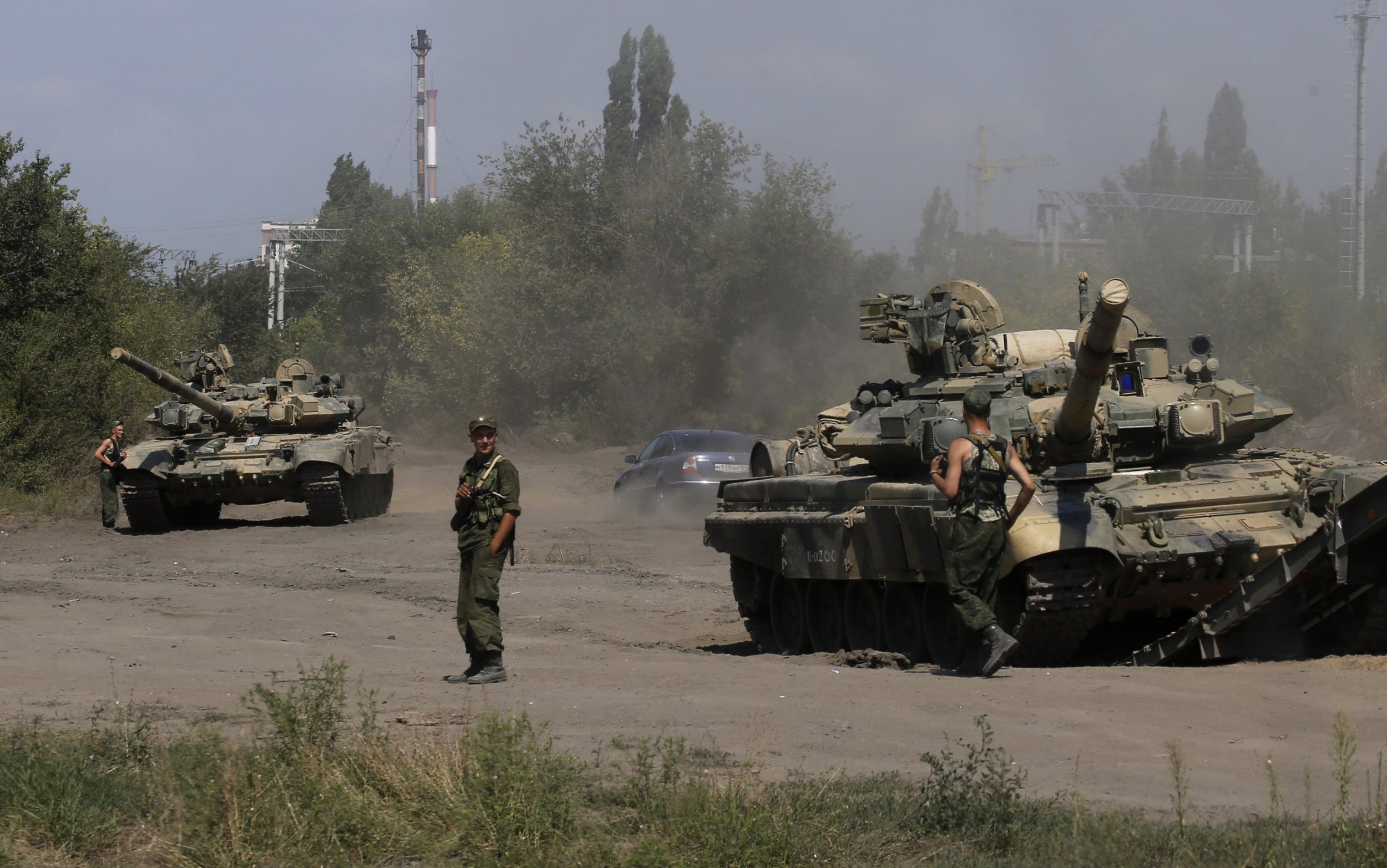 A Reuters reporter saw on Thursday a column of armoured vehicles and dust-covered troops, one of them with an injured face, driving through the Russian steppe just across the border from a part of Ukraine which Kiev says is occupied by Russian troops.
None of the men or vehicles had standard military identification marks, but the reporter saw a Mi-8helicopter with a red star insignia - consistent with Russian military markings - land next to a nearby military first aid tent.
The column was driving east away from the Ukrainian border across open countryside near the village of Krasnodarovka in Russia's Rostov region.
The location is about 3 km (1.8 miles) from the Ukraine-Russia border and 30 km from the Ukrainian town of Starobesheve, which Kiev says Russian forces have occupied in support of pro-Moscow separatist rebels after crossing over the border.
The column was made up of two armoured personnel carriers, six military trucks and one military excavator. The troops, riding on top of the armoured personnel carriers, had dirty faces and one had a bandage on his face.
One of the trucks had a smashed windscreen and smashed headlights and was being towed by a second truck. All the vehicles were marked with white circles.
On the road leading towards Krasnodarovka, there were more trucks with the same white circles, some heading towards the border with Ukraine and some away from it.
Many of the men in camouflage fatigues seen by Reuters on the Russian side of the border had white material wrapped around their arms or legs. That matches the appearance of unidentified armed men Ukrainian residents of the area around Starobesheve have reported seeing in the past 48 hours.
"ONE OF US"
A man in camouflage fatigues at a camp where the first aid tent was located, when asked about the significance of the white fabric, told Reuters: "It means it's okay, you're one of us."
Another man, also with white fabric attached to his uniform, told Reuters he was from the Russian city of Ivanovo, about 1,400 km to the north. Ivanovo is home to the Russian military's 98th Guards Airborne Division.
All the uniformed men Reuters spoke to declined to say whether or not they were in the Russian military.
Russia denies its troops have entered eastern Ukraine or that it is sending military hardware into Ukraine to help the separatist rebellion there.
Ukraine's security and defence council said on Thursday the border town of Novoazovsk and other areas further south from Starobesheve had fallen under control of Russian forces who it accused of joining the rebels in a counter-offensive.
"Russian troops have actually been brought into Ukraine," President Petro Poroshenko said in a statement.