Top Senate Democrat Blasts New Trump Administration Rules Which Could Ease Oversight of Firearms Exports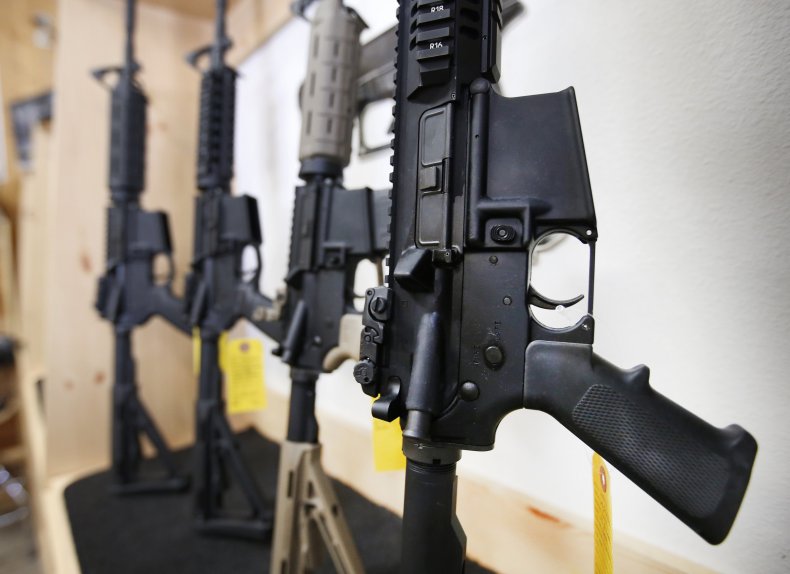 The top Democrat on the Senate Foreign Relations Committee is blasting a move by the Trump administration to transfer oversight of semi-automatic firearms exports from the State Department to the Commerce Department, despite reservations from congressional Democrats.
"Once again, we find ourselves shocked and saddened, and yet somehow unsurprised that the Administration is choosing a path that puts the gun industry's profits ahead of the safety of families," Senator Bob Menendez, ranking member on the Senate Foreign Relations Committee, said in a press release. "This reckless decision not only makes it easier to export deadly firearms to human rights abusers; it removes these exports from Congressional oversight and disapproval."
The changes to the United States Munitions List, governing which weapons are subject to the State Department's scrutiny, are a long time coming. It was an effort that began under the Obama administration with the goal of moving non-military-style weapons from the purview of the State Department to the Commerce Department, whose policy objectives include the competitiveness of domestic industries.
But these changes were never fully realized under President Barack Obama, and the Trump administration has been seeking to complete the transfer since the early days of his administration.
The State Department has repeatedly insisted that new rules would not result in a loss in oversight. And export licenses would still need to be obtained in most cases, just as they are now.
The Trump administration posted a preliminary document outlining the changes, which primarily concern semi-automatic firearms and their accessories, on Friday. Once the Federal Register formally publishes the new regulations on Thursday, the rules will become effective 45 days later.
The firearms industry's trade group hailed the move, describing it as a modernization of outdated export rules that had been stymied due to the politics of gun control.
"This is a tremendous achievement for the firearms and ammunition industry. We salute the Trump administration for modernizing our nation's outdated Cold War era export controls and putting American manufacturers on an even playing field with their foreign competitors," Lawrence G. Keane, general counsel at the National Shooting Sports Foundation, said in a press release. "This initiative will enable U.S. manufacturers to create more good-paying jobs in America while also helping to strengthen our national security."
However, concerns remain about the Commerce Department's ability to police export chains in the same fashion as the State Department, necessary to ensure that weapons don't become trafficked. Moreover, critics have argued that the Commerce Department's mandate to protect domestic manufacturing will mark a significant departure from oversight at the State Department, which is charged with meeting foreign policy objectives.
Menendez requested a hold on the new rules in February 2019, objecting to how the proposed changes could impact congressional notice requirements and oversight of 3D gun printing.
Though the Commerce Department later expressed its intent to crack down on unregulated 3D gun printing, Menendez, in another letter, reiterated concerns about the elimination of congressional notice for high-value exports.
Menendez's second letter followed news out of Capitol Hill that a conference version of the National Defense Authorization Act, a massive defense-spending bill, tossed a provision that would have prohibited the transfer.
"As I tried to repeatedly explain to the Trump Administration, semi-automatic firearms and ammunition – especially those derived from military models and widely in-use by military and security services – are uniquely dangerous," Menendez said. "They are easily modified, diverted, and proliferated, and are the primary means of injury, death, and destruction in civil and military conflicts throughout the world. As such, they should be subject to more rigorous export controls and oversight, not less."