The United States Army approved the Army Combat Fitness Test (ACFT), a new gender and age neutral fitness test aimed at improving combat readiness to replace the current physical fitness test in October 2020.
In an effort to better predict a soldier's ability to perform in combat, reduce injuries, and save money, the Army has designed a six-event readiness assessment, according to the Army News Service. Testing stages for the new evaluation begin in October for up to 40,000 soldiers and by October 2020, every member of the Army will be taking the test regardless of gender or age.
Strength Deadlift: A three-repetition maximum deadlift with weight ranging from 120 to 420 pounds, which simulates picking up ammunition boxes, a wounded soldier, supplies, or other heavy equipment.
Standing Power Throw: Toss a 10-pound ball backward as far as possible to test explosive muscular power needed to lift themselves or a fellow soldier over an obstacle.
Hand-release Pushups: Soldiers do a normal push up; however, when they lower themselves down, they lift their hands from the ground before pushing themselves back up.
Sprint/Drag/Carry: Five 25-meter dashes up and down a lane, alternating sprinting, dragging a 90-pound sled, and carrying two 40-pound kettlebell weights. This mimics pulling a fellow soldier out of harm's way, quickly taking cover, and carrying ammunition.
Leg Tuck: Soldiers hold onto a bar and let their legs dangle. Then lift their legs up and down, tucking their knees to their elbows.
Two-mile Run: This run was also implemented for the previous physical fitness test, but the Army's website pointed out that times are expected to be slower now that the other components were added.
Newsweek reached out to the Department of Defense but did not receive a response in time for publication. However, Maj. Gen. Malcolm Frost, commander of the Army's Center of Initial Military Training, told the Army News Service that it will save the military branch a "heck of a lot of money" in the long run.
The test costs about $20 million, a significant increase from the current test, but it will ultimately save money by helping soldiers be fitter and healthier and therefore less prone to costly injuries. Lt. Col. David Feltwell explained in a video released by the Army that many injuries are a result of a poor conditioning program.
"The Army Combat Fitness Test will ignite a generational, cultural change in Army fitness and become a cornerstone of individual soldier combat readiness," Frost added.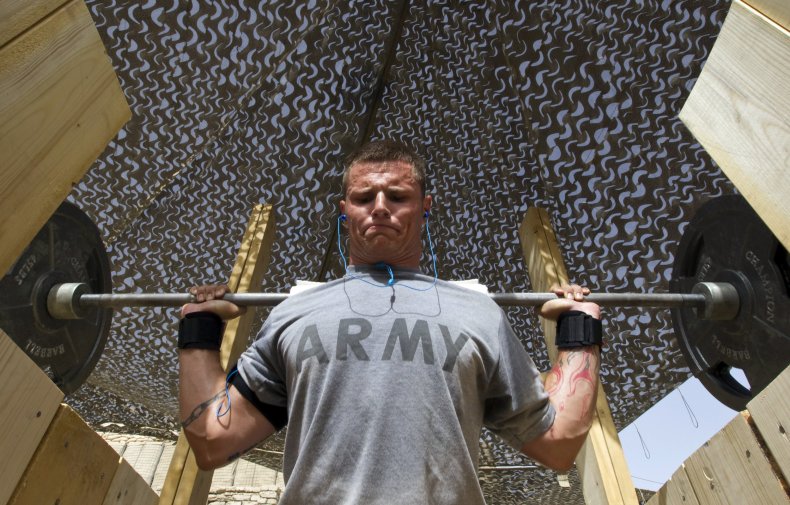 Unlike the current physical fitness test which measures only two components of fitness, the ACFT gauges 10, including flexibility, balance, and agility. Frost also explained that unlike the current test that is only a 40 percent predictor of combat success; the new test will be an 80 percent predictor.
The test is the result of at least six years of research and Army Sgt. Maj. Daniel A. Dailey said it will "help better prepare our soldiers to deploy, fight, and win on any future battlefield."
In February, United States Army Secretary Mark Esper told Task and Purpose that he was in favor of a gender and age-neutral test because "the enemy does not specify who they're going to shoot and not shoot. Combat is combat."
He added that the women he spoke to about the proposed test, which would have them completing the same fitness test as men, welcomed the change.