Army Considers Sending National Guard Troops to Eastern Europe
As there is no end in sight for the Russia-Ukraine war, the U.S. National Guard is considering sending troops to relieve soldiers with extended deployments in Eastern Europe.
Earlier this month, Defense Secretary Lloyd Austin decided that thousand of service members deployed to Eastern Europe in response to Russia's invasion of Ukraine will remain abroad. Now, the National Guard is working with the Army and Air Force to decide if there are any rotational plans for troops that have been in Europe past their initial 90-day commitments, according to The Military Times.
With nearly 2,000 National Guard troops already in Europe, Army General Dan Hokanson said there is potential to send more as the situation develops. He stressed the need to be prepared and have a plan.
"We are working very closely with the Army and the Air Force to identify if there's going to be rotational plans where the Guard will fit in, so that we can identify those units as soon as possible," Hokanson told the Times. "The best thing we can ask for is its heads up so we can let the units [know], and they'll be ready to go whenever they're asked to head off."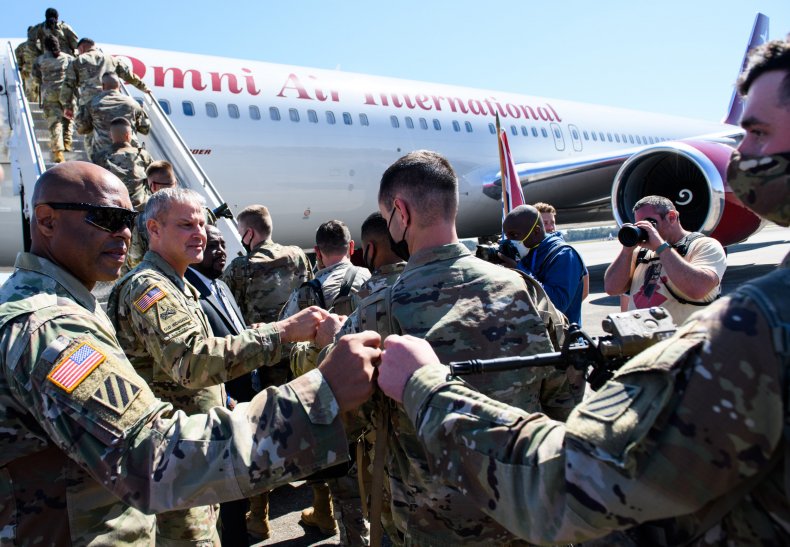 There have been about 12,000 troops sent to join the 80,000 that were already stationed in Europe since the war began. There have been discussions on how many additional troops will be deployed to Europe.
Just over two weeks ago, Pentagon press secretary John Kirby said troops would stay "for a while longer." The Pentagon is also looking at how many troops will need to be in Europe after the Russia-Ukraine war is over.
"No matter how this war ends, no matter when it ends, the security environment in Europe is going to be different and we're gonna have to respond to that," Kirby said, according to The Hill. "So what that looks like, we don't know. But we're going to stay open to having those kinds of conversations."
Army General Mark Milley, chairman of the Joint Chiefs of Staff, told the House Armed Services Committee earlier this month that plans for troops permanently stationed in Europe should be reconsidered.
"My advice would be to create permanent bases, but don't permanently station," Milley said. "So you get the effect of permanence by rotational forces cycling through permanent bases."
Milley's plan would not allow troops to bring their families, as they would usually do while deployed for two or three years at a time in Europe, according to the Times. That type of deployment would eliminate family housing, schools and other amenities traditionally offered to permanently stationed troops.
Newsweek reached out to the Department of Defense for comment.