Army to Eliminate Officer Promotion Photos to Curb Racial Bias in Selection
The U.S. Army will remove photographs from their process of selecting and promoting officers, as part of an initiative to combat racial biases.
The Army announced the launch of Project Inclusion on Thursday, a "holistic effort" aimed at promoting diversity and tackling racial disparities in the service. As part of the initiative, official photographs will no longer be part of officer selection boards beginning in August, while other personnel decisions will be reviewed under similar "evidence-based standards."
"The Army must continue to put People First by fostering a culture of trust that accepts the experiences and backgrounds of every Soldier and civilian," Gen. James C. McConville, Army Chief of Staff, said in a press release. "Our diverse workforce is a competitive advantage and the Army must continue to offer fair treatment, access and opportunity across the force."
"The Project Inclusion reforms will complement ongoing efforts to modernize our talent-management processes and ensure equitable treatment for every member of our formation," he added.
Project Inclusion will also focus on racial disparities in the Army's justice system, investigating whether a "trend for bias" is present in AWOL cases, urinalysis results and sexual assault and harassment incidents. In addition, the initiative will seek to "conduct listening sessions with Soldiers and civilians worldwide to converse on race, diversity, equity and inclusion."
Col. Carl Wojtaszek, from the Army's office of manpower analysis, cited a study released last year that concluded photos can affect the promotion process and lead to worse outcomes for women and minorities, according to the Associated Press.
"The photo is introducing more noise than signal about the officer's talent," Wojtaszek told the Army Times.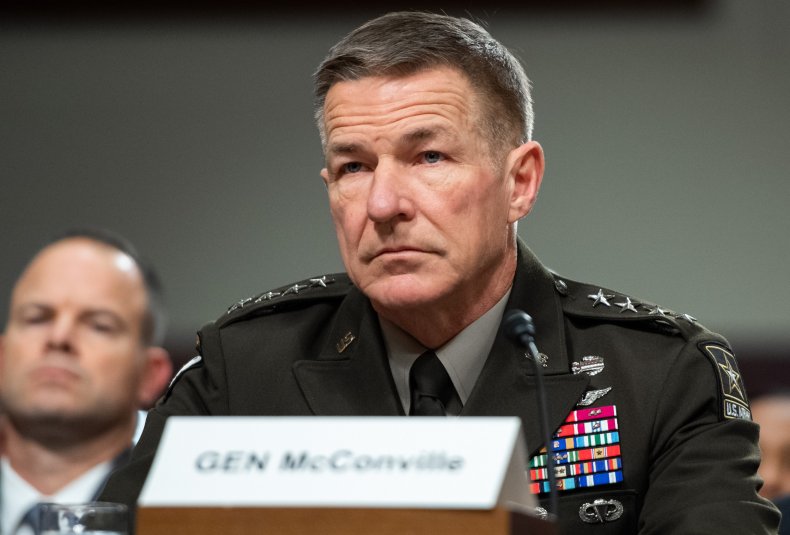 Secretary of Defense Mark Esper proposed the move in a video message last week, saying it had already been something he "pushed as secretary of the Army as we worked to overhaul our personnel system."
Some branches of the U.S. military, including the Air Force and the Coast Guard, do not use photos as part of their promotion process. The Navy removed photos from their process in 2016, but the order was rescinded two years later.
Other issues surrounding racial justice in the Army, such as potentially changing the monikers of 10 Army bases that are named for Confederate soldiers and banning Confederate iconography at Army posts, were not addressed as part of Project Inclusion.
The Army is said to be considering banning Confederate battle flags and related emblems from being displayed, while they have already been banned by the Navy and Marine Corps.
President Donald Trump has indicated that he may veto any legislation to remove the names of Confederate soldier from bases, tweeting that he "will not even consider the renaming of these Magnificent and Fabled Military Installations" on June 10.
Regardless, support for renaming the bases has recently increased among military leaders and political figures, including prominent Republicans like Senate Majority Leader Mitch McConnell.
The Pentagon directed Newsweek to the Army's press release when asked for comment.