Army of Fake Mark Zuckerbergs Descends Upon Washington D.C. for Facebook Founder's Testimony
Activists lined up a horde of fake Mark Zuckerberg cardboard cutouts on Capitol grounds on Tuesday. The demonstration, designed to make a statement about fake identities, came as the Facebook founder made his much-anticipated appearance before Congress to testify about the Cambridge Analytica data scandal.
Avaaz, a political advocacy group dedicated to left-wing causes, staged the demonstration on the Capitol Lawn at 8:30 a.m. local time. All told, organizers brought 100 cardboard cutouts of the embattled Facebook founder, decorating the CEO's typical normcore shirt with a sign that read "Fix Facebook."
Although it coincides with Zuckerberg's testimony related to a data scandal that affected an estimated 87 million users, organizers described the installation as a general critique of Facebook's more controversial practices.
Nell Greenberg, the campaign director for the group, said the cutouts represent, among many things, the bot accounts that populate the social media platform.
"There are armies of fake bots that are attempting to sow division and spread hate," Greenberg told Newsweek. "We saw it with Trump, the general election and we're seeing it with the spread of misinformation."
In an open letter, the group made a direct appeal to Zuckerberg, asking the CEO to ban bots and submit the company to an to independent audit. More than anything, Greenberg said, the users also want Zuckerberg and the company to "tell the truth." Since April 5, the letter has collected more than 890,000 signatures.
Coming on the heels of a public misinformation campaign that likely influenced the 2016 general election, the Cambridge Analytica scandal has further crippled public relations for the behemoth Silicon Valley-based company. The data firm, which employed Steve Bannon as a vice president, allegedly used personal information to influence voter opinion in favor of President Donald Trump.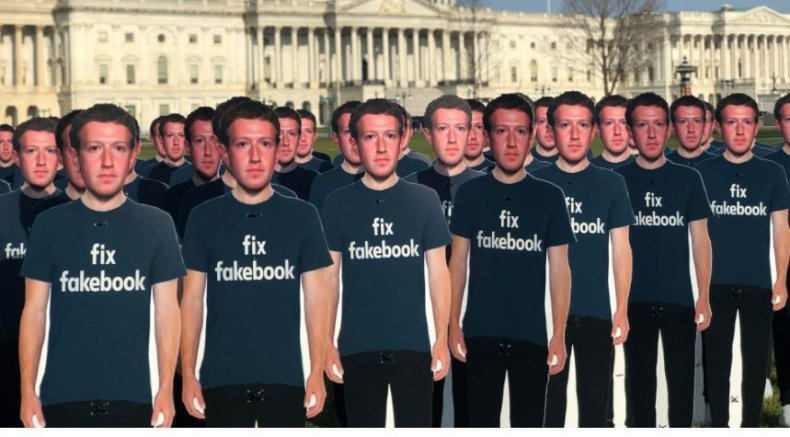 Michael Stefanone, a professor at the University of Buffalo who studies social media, told Newsweek that Facebook's recent actions have been a textbook case of "what not to do" when embroiled in a public relations disaster.
"Zuckerberg was missing in action for about a week before he communicated publicly about the data breach," Stafanone said. "In that time, there has been a swell of interest and outrage which culminated in Zuckerberg's finally agreeing to appear before congressional committees. This is not a proactive approach to crisis management."
It remains to be seen whether the scandal will have long-lasting effects for Facebook or Zuckerberg. The company, which has an estimated 2.13 billion monthly users and about 25,000 employees, has so far suffered from a major dip in valuation and public outcry. There have also been discussions about government regulation of the social media empire.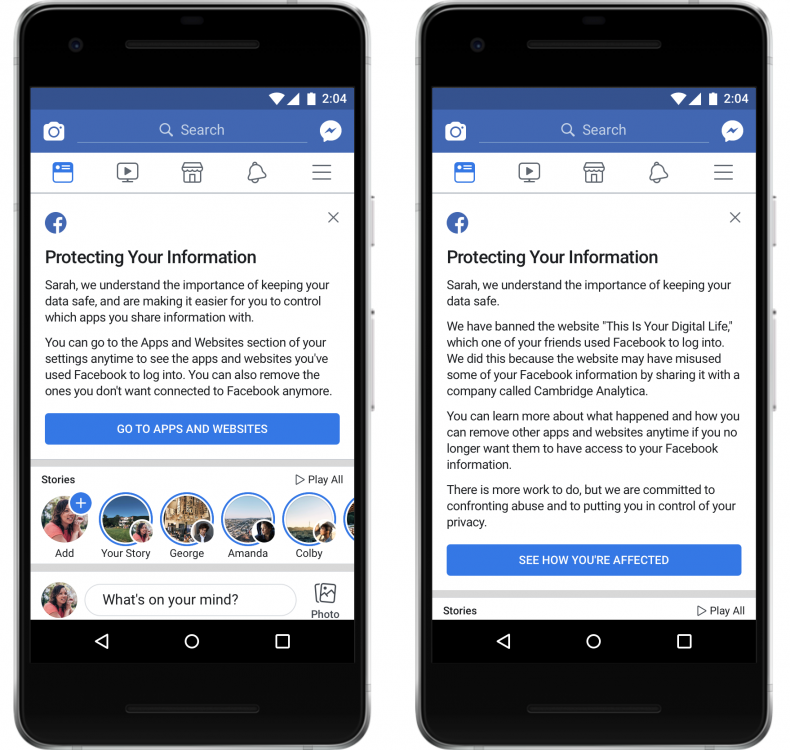 For his part, Zuckerberg has apologized profusely for the data leak. He told users in a lengthy letter that the company was working to shore up its security. "We have a responsibility to protect your data, and if we can't then we don't deserve to serve you," he said.
The company has since rolled out a number of features, including tools that tell users whether their account was used by Cambridge Analytica, and other functions meant to make it easier for users to see what third-party accounts have access to their information. When it comes to misinformation and the spread of false news stories circulating on the site, the company announced a new "trust" feature.
Greenberg, who said she still uses Facebook and believes the company can be a force for good in the future, said that won't solve the problem. What they've done so far is "a step," but the company needs to take "leaps," she said.
"For example, Facebook is offering to notify people who've shared fake information, but there's no notification for those who have seen it or read it," she told Newsweek. "So, right now, it doesn't get to the real scale of this."