Army Handout Suggests Trump's MAGA Slogan Is Considered 'Covert White Supremacy'
In a list of 58 examples of socially acceptable white supremacy in an Army handout, one gathered the attention of Representative Mo Brooks and prompted a military investigation: "Make America Great Again."
The handout was emailed to personnel and civilians at Alabama's Redstone Arsenal as part of an invitation to a series of seminars titled "Operation Inclusion." Brooks, a Republican whose district includes the Army post, called for the Army to prosecute and fire the personnell responsible for the "political propaganda."
Brooks said in a statement that the "deeply offensive and racist" handout violated the Hatch Act, which restricts political activity for executive branch employees. He demanded an investigation into the document's distribution in a letter to Army Secretary Ryan McCarthy that copied President Donald, White House chief of staff Mark Meadows and Attorney General William Barr.
Cynthia Smith, an Army spokeswoman, told the Army Times that an investigation was launched as soon as Army leaders were made aware of the handout.
"The Army does not condone the use of phrases that indicate political support," Smith said. "The Army is and will continue to remain an apolitical organization."
Brooks told Newsweek he was "pleased" that the Army launched the investigation and "appears to be taking this sordid Hatch Act violation seriously." He expects those responsible for the violation to receive nothing less than "severe punishment." The congressman said termination is "ideal" because its the best way to send a message that using Army and federal taxpayer resources to "advance partisan campaign activity is absolutely forbidden."
"Anything less than termination is a sign of weakness and tacit approval of the worst Hatch Act violation I have ever seen," Brooks said.
Newsweek reached out to the Army for comment but did not hear back in time for publication.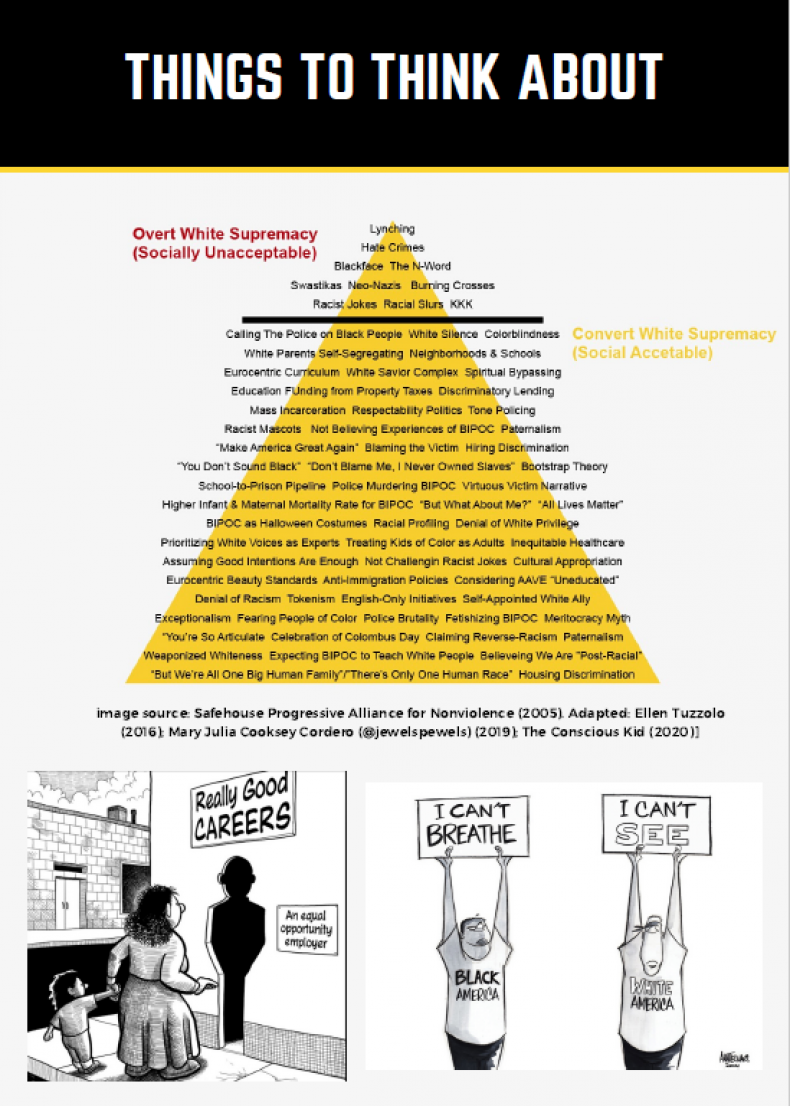 The seminars at Redstone Arsenal were billed as a response to the "global civil unrest surrounding incidents of racism, discrimination and loss of life." It was intended to continue discussions about diversity, equity and inclusion that may have been started by Army leadership and co-workers. Participation was voluntary.
"Things to Think About," the title of one of the five pages included in the invitation, featured a yellow pyramid that was broken into "overt white supremacy" and "covert white supremacy." Lynching, hate crimes, blackface, the n-word, swastikas, neo-Nazis, burning crosses, racist jokes, racial slurs and the Ku Klux Klan were listed as "socially unacceptable" white supremacy.
Below a black line was a much more extensive list of "covert white supremacy," or actions that are deemed socially acceptable. Aside from Trump's campaign slogan, that list included calling the police on black people, mass incarceration, "All Lives Matter" and the celebration of Columbus Day.
"Heads should roll," Brooks wrote on Twitter on Tuesday. "The U.S. Army is not the place for political indoctrination or reeducation experimentation."
Smith told the Army Times two unapproved pages were sent out in error and "immediately recalled." The yellow pyramid was copied from a nongovernment website and the intention was to "spark conversation," but Smith said the document was "pre-decisional" and "inappropriate for the discussion."
The unapproved pages weren't used as part of the "Your Voice Matters" listening sessions, which kicked off on Tuesday.
This article has been updated to include comment from Congressman Mo Brooks.