Army Has Over 3,300 at Risk of Discharge for Refusing COVID Vaccine
The U.S. Army announced on February 2 that it will begin the process of discharging soldiers who have refused to receive a COVID vaccine, putting over 3,300 soldiers at risk of being removed from the service.
The Army, which said last week that 96 percent of active duty service members were vaccinated, is the final military branch to make the move since the Pentagon announced a policy last year requiring shots for all active and reserve service members. About 600 service members from the Navy, Air Force and Marines have been discharged or removed from boot camps out of noncompliance with the mandate, according to the Associated Press.
"Army readiness depends on Soldiers who are prepared to train, deploy, fight and win our nation's wars," Secretary of the Army Christine Wormuth said in a news release announcing the policy. "Unvaccinated Soldiers present risk to the force and jeopardize readiness. We will begin involuntary separation proceedings for Soldiers who refuse the vaccine order and are not pending a final decision on an exemption."
The vaccination data released last week by the Army shows 3,350 refusals of the mandate, and that reprimands had been issued to 3,073. A total of 5,870 service members are temporarily exempted while their case for a permanent medical or religious exemption is decided.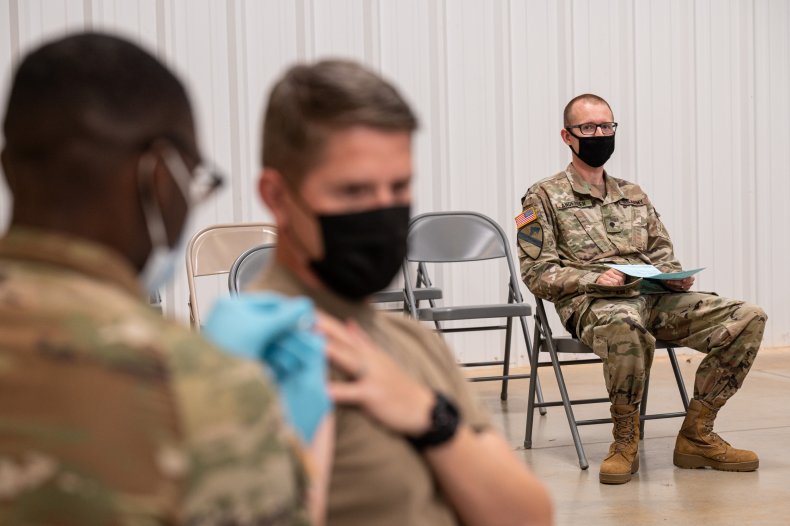 The order applies to active duty soldiers, reserve soldiers serving on "Title 10 active duty," and cadets, the statement said. Last week's reported vaccination data also shows that nearly 80 percent of Army reserve soldiers are fully vaccinated.
The Army directive issued Wednesday outlines how commanders should proceed with separation proceedings and that they are required to complete them "as expeditiously as possible."
Soldiers who were scheduled to complete their retirements or other separations from the Army by July 1 will receive a temporary exemption to allow that process to be completed, the statement said. Those who are discharged due to the decision will be discharged as General (Under Honorable Conditions), unless "additional misconduct" warrants a discharge under a lesser distinction.
The Army announced last week that six Regular Army leaders and two battalion commanders had been relieved for refusing the order, in addition to the 3,000 official reprimands issued to soldiers.
The Army's vaccination exemption data shows only six permanent medical exemptions have been approved, with zero religious exemptions. Meanwhile, 656 medical and 266 religious exemptions have been rejected, and 709 additional permanent medical exemptions have been requested alongside 2,910 religious exemption requests.