Army Issues Waivers for 14 Sikh High School Recruits to Enlist With Turban, Beard
A group of young Sikhs enlisting in the U.S. Army has been given a special dispensation to wear their turbans and beards during basic combat training.
There are many practicing Sikhs who serve in the Army, but Manav Sodhi will be the first high school student to be given the go ahead to enlist as a Sikh, Military.com reported.
Sodhi, who is a student at Kings Park High School in New York, said he was inspired to join the army after meeting president of the Sikh American Veterans Alliance (SAVA), Lieutenant Colonel Kalsi at a city hall event.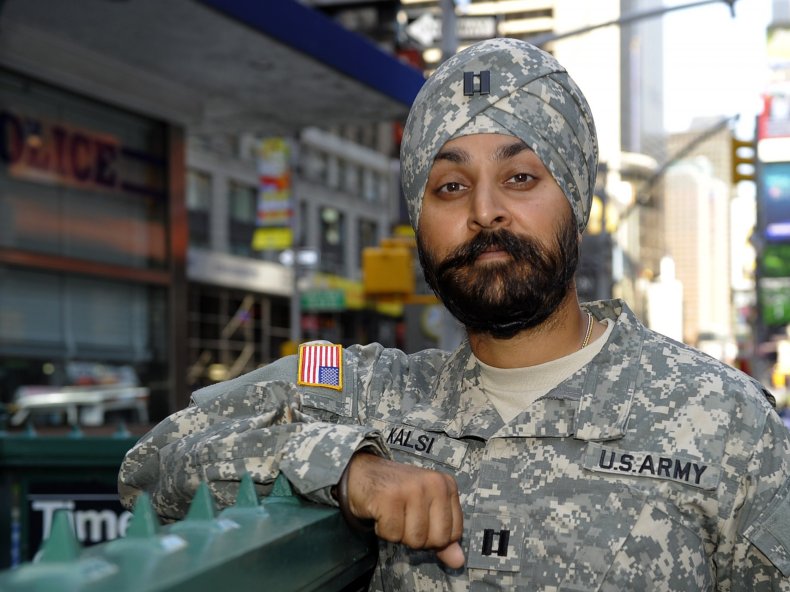 "That was an amazing day for me because I realized then that I can freely practice my religion and serve my country too," he said.
"I wanted to join the Army ever since I was a kid. My great grandfather served in the Army, and I wanted to follow his footsteps," said Sodhi, who will join at least 13 others of his faith and age in starting military service.
In 2009, Kalsi became the first person to be allowed to wear his turban and beard and of the decision to allow the waiver for Sikhs enlisting in the military, he said: "It shows progress."
Wearing a beard and turban is "critical because it is really part of our identity as Sikhs," he said.
"It's also part of our American upbringing to be able to practice our faith; you know religion freedom is a critical part of being an American. It's important to fight for the things you believe in, and religious freedom is one of those things," he told Military.com
Bhagat Singh Thind was the first Sikh to be allowed to wear a turban while on active duty in the U.S Army, World War 1 Centennial reported.
Sikhs have served in the U.S. military dating back to World War One and more than 80,000 Sikh soldiers died serving alongside allied forces in both World Wars. But in the 1980's, then President Reagan passed an executive order calling for all troops to look uniform, meaning that facial hair and religious head wear were forbidden, CBS News reported.
Since then, between 2009 and 2011, six Sikh, Jewish and Muslim soldiers received temporary accommodations to follow their religious traditions. All six received long-term accommodations in 2013, WBUR.org reported.
The Army changed its policy in 2017 to allow waivers for religious accommodation which must now be granted to any soldier seeking to wear a religiously mandated beard, turban or Muslim hijab while in uniform, although there are some exceptions.
However the turban and beard waivers do not apply to the other armed services, which is something SAVA is lobbying to change.
"Right now, our focus is to help open doors in the other branches of service," Kalsi told Military.com.