Army-Navy Game Live Stream: Channel, Time, How to Watch on TV, Online
The Army Black Knights will face off Saturday against the Navy Midshipmen with the hopes of continuing their three-game winning streak, and those who can't watch in person can see the game from the comfort of their home.
The rivalry between the Black Knights and Midshipmen dates back to 1890, when the first football game was played. It's considered one of the longest rivalries in college football, and each year fans pack the stands to watch the game, while even more tune in online.
This year, the game will be played at Lincoln Financial Field in Philadelphia, the 87th time Philadelphia will host the matchup, according to the game's website. Kickoff is scheduled for 3 p.m. EST, and CBS will stream the game for free, live on its website. Fans can also tune in to the game through the CBS Sports mobile application, as well as connected TV devices through the CBS All-Access application.
Those who want to go with a more traditional viewing route can turn on their televisions and tune to CBS to catch all of the game's action. The exact channel the game will air on will vary based on your location and whether you're tuning in through a cable service provider or DirecTV.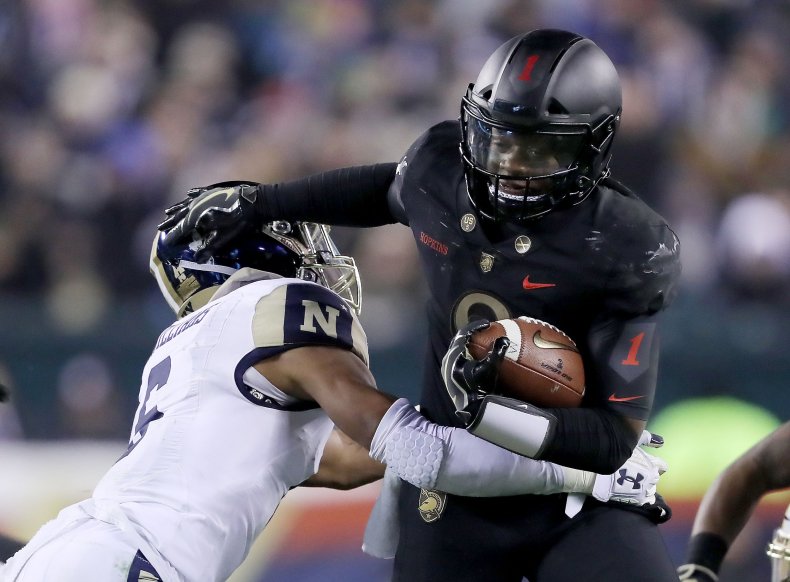 Since it began, the Army and Navy football teams have faced off on the gridiron yearly, except for 10 times. The longest hiatus was from 1884 to 1898, according to the Army, and was the result of a heated argument between an Army general and Navy admiral that almost resulted in a duel. The game also wasn't played in 1909, 1917, 1918, 1928 and 1929.
Navy has won more of the matchups and was on a 14-game winning streak from 2002 to 2015. In 2016, Army broke the streak when it defeated Navy 21-17. That victory set Army off on a winning streak of its own, and if it wins on Saturday, the senior class will leave the military academy having never lost to the Navy.
Navy will likely be a formidable opponent, though, because along with having a better record in its games against Army, it's had a better 2019 season. Going into Saturday's matchup, the Midshipmen won nine of its games and lost only two, whereas the Black Knights lost seven and won five.
CBS predicts the Midshipmen will be victorious over the Black Knights, but until the clock runs out, the game is up for either team to win.