Army Officer Branch's First to Face Court-Martial in Row About COVID Rules
A first lieutenant at the U.S. Army's Aberdeen Proving Ground in Maryland became the military branch's first member to face a special court-martial for alleged noncompliance with protocols put in place to reduce the spread of COVID-19, officials told Newsweek.
The charges filed against the first lieutenant, identified as Mark Bashaw of the U.S. Army Public Health Center at Aberdeen, were first reported by Army Times. News of Bashaw's court-martial spread the same day the Army began an involuntary separation process for soldiers who have refused to comply with the Army's COVID-19 vaccination requirement, a process that officials told Newsweek was not related to Bashaw's case.
"The charge is not for refusing the order to receive the COVID-19 vaccine but is related to COVID-19 infection mitigation measures designed to protect the force," the U.S. Army Communications-Electronics Command (CECOM) at Aberdeen said in a statement shared with Newsweek.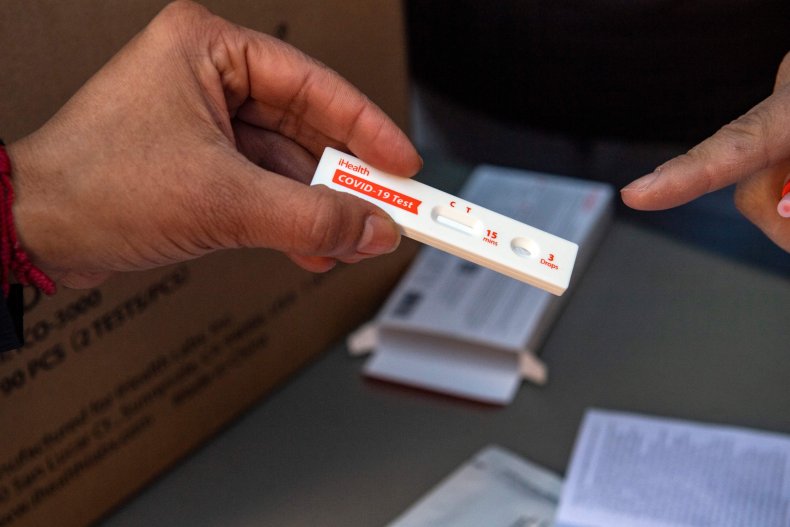 Bashaw is facing three specific allegations of "failure to obey lawful orders," including allegedly going to his workplace without taking a COVID-19 test before his arrival and refusing to take a test once there. Bashaw has also been accused of staying at his workplace despite his alleged lack of a negative COVID-19 test and of refusing to wear a mask indoors at work.
Aberdeen requires all on-site workers to provide proof of their COVID-19 vaccination or to "be prepared for regular testing" if they are not vaccinated or are awaiting approval of a vaccination exemption, according to the COVID-19 protocols most recently updated late last year that are listed on the facility's website.
CECOM's statement about the charges Bashaw is facing included a reminder that they "are merely accusations, and the accused is presumed innocent until proven guilty." The time of Bashaw's arraignment is currently pending, officials said.
Becca Nappi, a public affairs specialist with CECOM, told Newsweek that Bashaw is "the first case in the Army referred to a court-martial" due to accusations of refusing to follow COVID protocols.
Department of Defense (DOD) Secretary Lloyd Austin introduced a COVID-19 vaccine mandate for all DOD service members last August. By mid-December, the Army said about 98 percent of its active service members were vaccinated. Only about 1 percent of active members were refusing to get the vaccine, the Army said at the time.
By late January, the Army said it had not separated from any service members for refusing to get vaccinated, but had sent out more than 3,000 warnings to officers who were not in compliance with the vaccine requirement. The separation process for service members who are not yet vaccinated began this week.