Sergeant Major of the Army Michael Grinston said he is "very proud" of Second Lieutenant Caron Nazario for his conduct during a police incident last year in Virginia during which Nazario was pepper-sprayed.
"Like many of you, I was concerned by the video of LT Nazario's traffic stop in December. He represented himself and our Army well through his calm, professional response to the situation – I'm very proud of him," said Grinston, the Army's senior enlisted member, in a Monday tweet.
"I cannot comment on ongoing litigation, but I've been assured he is receiving the support from his leadership he needs during this time," the sergeant major added.
Nazario recently filed a lawsuit against two Windsor, Virginia, police officers who pulled over the uniformed lieutenant's car in December 2020. Body camera footage and video captured on Nazario's cellphone show the officers drawing their guns; using pepper spray on the lieutenant, who is Black and Latino; and knocking him to the ground.
The video of the incident drew widespread criticism since it was shared online this past Friday. It has been viewed more than 9 million times.
One of the officers, Joe Gutierrez, was fired, according to a police statement released Sunday evening. Officials said an internal investigation that was opened at the time into the use of force in the incident determined that department policy wasn't followed.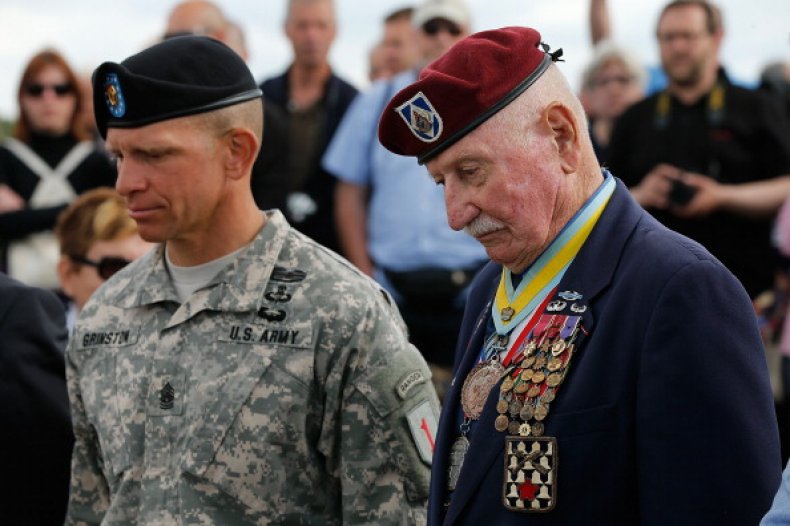 In a report from that night, officers said Nazario was pulled over because his SUV did not have license plates. The lieutenant said he was waiting for license plates because the car was newly purchased and had visible, temporary ones taped inside the rear window.
The lawsuit alleges that Gutierrez and Daniel Crocker racially profiled Nazario and threatened to kill him, and that those actions might have negatively affected his military career.
"Situations like this are what I want Soldiers to discuss," Grinston wrote. "This is the reality that some of our Soldiers still face. As a Leader, you should know that and be willing to have conversations about how events like this impact your teams."
In a statement to Newsweek, John Whitley, acting secretary of the Army, said that while individual sergeants are concerned about the well-being of their subordinates, the Army will not be commenting on Nazario's lawsuit.
"Army leaders are always concerned about the welfare of our soldiers and their families. However, as a matter of policy we will not comment on ongoing litigation and will allow this incident to proceed through the legal system," Whitley wrote.
Virginia Governor Ralph Northam called the incident "disturbing" and said he was "angered" by what happened to Nazario. He said he would invite the lieutenant to meet with him for a discussion about police reform.