Men who enter military service get their heads shaved as part of the whole entry process. Women have their locks lopped off as well. It's part of becoming one within a unit. It's as common as getting issued gear, assigned recruit training bunks and having your world flipped inside out.
Maintaining those grooming standards, on the other hand, is each military member's responsibility. This is whether the member chooses to use base facilities or a commercial barber or salon. But now that the Army has shut down its barber shops on bases and installations to deter the spread of coronavirus, its soldiers are still required to adhere to grooming standards.
Michael Grinston, who is Sgt. Major of the Army, said during a Tuesday town hall that soldiers should keep their grooming standards without "going overboard."
"Know what the standards are and maybe don't go overboard ... making sure it's extra close and high and tight," Grinston said in the Army Times. "The standard is neatly groomed. For males, when the hair is combed, it doesn't fall in the eyebrows [and] it's not in the ears. I know you're wanting more, but it's very clear what the regulations is."
Army-based barber shops may have been a last resort for many soldiers needing to maintain grooming standards, because most commercial shops around the country have closed during the COVID-19 pandemic, which has led to many people exercising social distancing.
Sport Clips, for example, has shut down most of its nationwide franchises to follow social distancing guidelines. With little access to getting a trim around the ears, and keeping the hair out of the eyes, the Army said guidelines are guidelines, and that they will issue scissors to fix any hair problems, according to Army Chief of Staff James McConville.
"If there's a problem with meeting the standard, the idea that your hair is over your ears or your hair is over your eyes, we can have that discussion and probably issue you a pair of scissors," McConville said.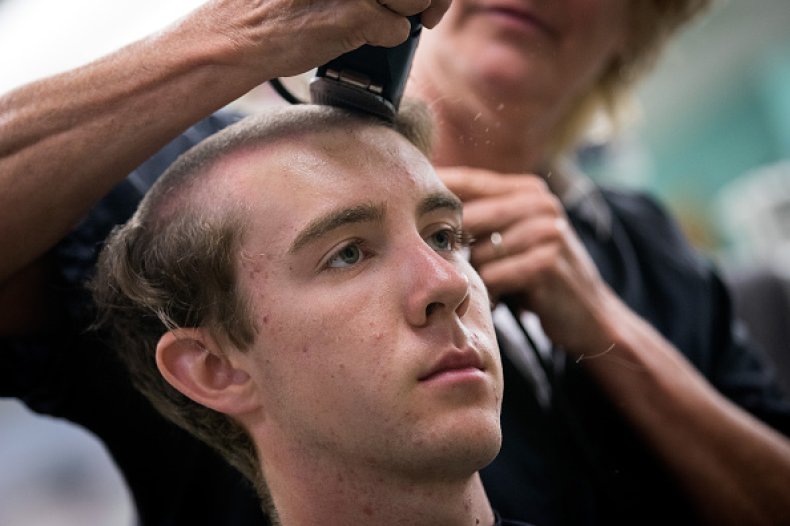 Soldiers stationed in remote areas around the country and globe might be affected more by the regulations than those stationed at larger bases like Fort Lee, Virginia, and Fort Leonard Wood, Missouri, where the Army and Air Force Exchange Service barbershops have closed but have mobile AAFES barbers to help keep soldiers high and tight.
Some Marine Corps barber shops have been able to remain open as long as they maintain social distancing guidelines, according to a Marine Corps Times report.
Uncommon Knowledge
Newsweek is committed to challenging conventional wisdom and finding connections in the search for common ground.
Newsweek is committed to challenging conventional wisdom and finding connections in the search for common ground.
About the writer
Scott McDonald is a Newsweek deputy night editor based in Cape Coral, Florida. His focus is assigning and writing stories across all topics, from news to politics, business, weather, sports and international news. Scott joined Newsweek in 2018 after a lengthy career of print journalism in Texas, including The Dallas Morning News, where he was a sportswriter, and he's a voter for the Heisman Trophy. He has been a newspaper editor-in-chief and also a newspaper publisher. He is a graduate of The University of Texas at Austin. You can get in touch with Scott by emailing s.mcdonald@newsweek.com. Languages: English