Army Veteran, 99, Raises £12m For Hospitals By Completing 100 Laps Of His Garden
A 99-year-old army veteran has raised £12 million ($15m) for the U.K. National Health Service (NHS) just days before his 100th birthday by walking 100 lengths of his 80ft garden.
Captain Tom Moore has been hailed as an "inspiration to us all" by Health Secretary Matt Hancock, after he initially set out to raise £10,000 ($12,500) for NHS staff during the coronavirus pandemic, and completed his 100th lap on his zimmer frame today.
The army veteran, who served in India and Burma, had reached £10 million ($12.5m) in donations the day before, writing on Twitter: "I'm speechless... This amount of money will help the #NHS beyond what we ever thought was imaginable."
Donations have increased quickly over recent days, with him only passing £1m ($1.25m) in recent days.
Conducting the challenge with the aid of a walking frame, he set out to complete the 100 laps of the 25-meter loop in 10-lap sections, taking breaks in-between but completing it before his 100th birthday on April 30.
Hancock singled out Captain Moore's achievements for particular praise during Wednesday's Downing Street press conference.
He said: "I want to pay a special tribute today to Captain Tom Moore. Captain Tom, you're an inspiration to us all, and we thank you."
A JustGiving page which was set up last week states: "Cpt Tom Moore is walking 100 lengths of his garden for NHS Charities Together because our fantastic NHS workers are national heroes."
After the army veteran reached £10 million, he took to his Twitter account and said: "Virtutis Fortuna Comes I want to thank all the people behind the scenes including @JustGiving, @BBCBreakfast and @GMB for being behind us from the start, and all the wonderful people donating!'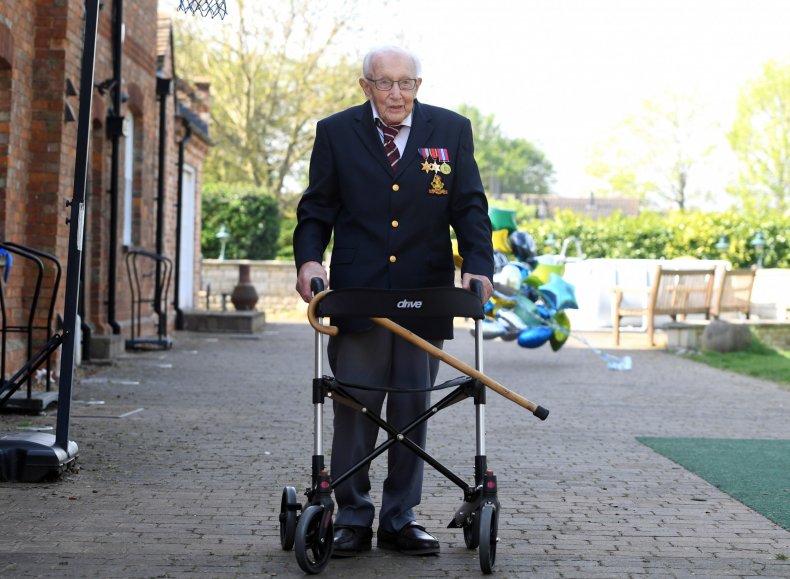 Inspired by Captain Moore, a schoolgirl has now started a campaign for children across the country to send him birthday cards for his 100th birthday on April 30.
Reegan Davies, 8, from Port Talbot, Wales, has set a target of making 1,500 virtual cards for the Army veteran.
"You can post them on any social media with the hashtag #makeacardfortom," she said.
Mr Moore, who lives with his family in Bedfordshire, began to raise funds to thank the "magnificent" NHS staff who helped him with treatment for cancer and a broken hip.
You can send birthday cards to Captain Moore for his 100th birthday, by sending it to Captain Tom Moore, C/O Post Office Limited, 67 Bedford Road, Marston Moretaine, MK43 0LA, Bedfordshire, England.