Army Ranger Threatened to Kill Uber Driver, Said 'He Hated All Brown People,' Police Said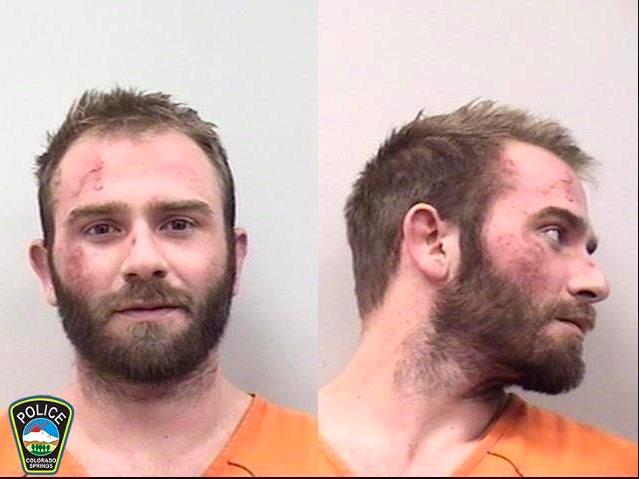 Authorities said an Uber driver was "fearing for his life" when a passenger threatened to kill him on Friday.
The Colorado Springs Department said the driver, who was a male in his mid-20's and of Middle Eastern descent, said he was giving his passenger, Scappaticci, 29, a ride home when Scappaticci began threatening to kill the Uber driver because he "hated all brown people." Scappaticci allegedly told the Uber driver that he was a former Army Ranger and had killed many families overseas, according to police.
The driver stopped his car and ran from away his vehicle, according to police. Scappaticci began to chase him and said he was going to beat him up, according to police. When officers arrived at the scene, Scappaticci was detained but continue to make comments about wanting to "kill all brown people," police said.
As Scappaticci was being transported by police, he broke the back window of a marked patrol vehicle, according to police. The 29-year-old was removed from the back seat and began to fight and resist other officers, but no officers were injured, according to police.
He was arrested on suspicion of a bias-motivated crime, obstructing a police officer, and attempting to escape, according to the Colorado Springs Gazette. Scappaticci is held at the El Paso County jail in Colorado Springs on $800 bond, according to the Colorado Springs Gazette.
Scappaticci served four years in the Army as a ranger, the Colorado Springs Gazette reported. The 29-year-old was a former ranger and was a private first class when he was discharged. He had been deployed to Afghanistan and was awarded two Army Commendation Medals and an Army Achievement Medal, according to the Colorado Springs Gazette.
In a statement to Newsweek, a spokeswoman from Uber said they are investigating the incident and have removed Scappaticci from using the service again.
"Discrimination is not tolerated on the Uber app. As soon as this was reported to us, we immediately removed this rider's access to the platform," the statement read.
A similar incident occurred earlier in October after a Lyft driver said he felt he was being racially profiled after a self-proclaimed supporter of President Donald Trump got into an argument over music. Shawn Pepas Lettman, a Lyft driver, posted a 16-minute to Facebook of the incident with passenger Robert Ortiz after the initial argument. Ortiz accused Lettman of not changing the music because he is gay.
"I feel racially profiled ... because I'm not black," Ortiz told the dispatcher. "I don't want to hang up with you for my safety."
While on FaceTiming someone in the car, Ortiz began to use racial and gay slurs while talking about the incident and Lettman.
"Tell me why I'm in a Lyft and the n***a fucking pulled over …We're waiting for the police because this f****t charged me," Ortiz can be heard saying. "All that black lives matter is bulls**t … F**k black lives matter, every life matters."
Ortiz was fired from his job at CityMD following the incident. In a statement in regards to the video, CityMD said Ortiz's behavior "does not represent" the medical center's values.
"CityMD exists to build healthier and kinder communities," the company stated on Facebook. "This behavior does not represent the values of our team or the values we hold dear."