A military family recently went through a moving ordeal and had tracking technology to thank for their maddening experience.
Austin and Valerie McNulty were recently moving across the United States as part of their fourth permanent change of station (PCS), from Fort Carson, Colorado, to Fort Drum, New York.
The family conducted two full do-it-yourself moves and two partial moves, with this recent move being a partial move.
Prior to making the cross-country trek, Valerie felt inclined to track her family's possessions in case something happened during the moving process. She had an Apple AirTag that she inserted into a box of her son's toys.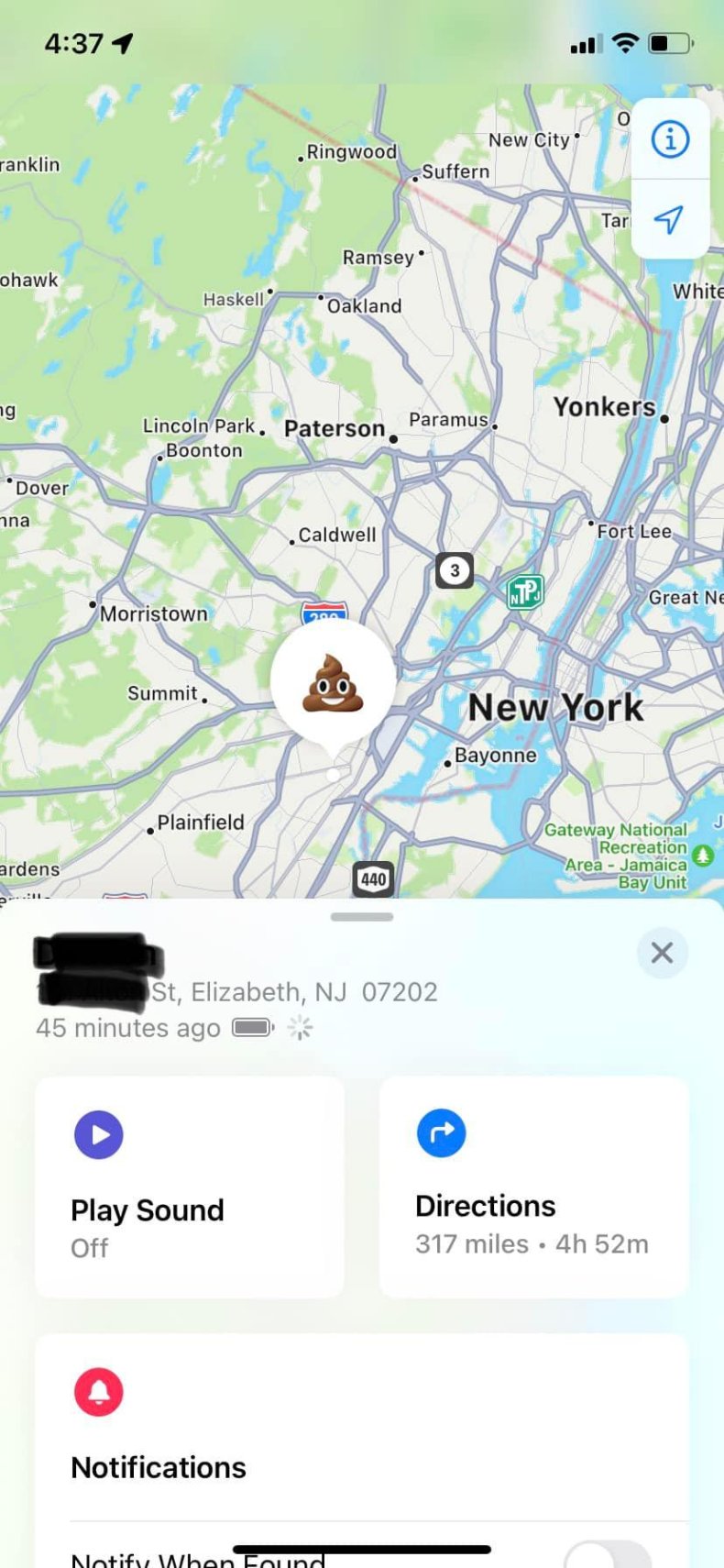 She told Newsweek that she had "read horror story after horror story" on Facebook from other military families who had their own issues while moving. She wanted to test the tracking theory herself.
"You kind of learn as you go in PCSing in general," Valerie told Newsweek. "Each one is different. It was really beneficial in our circumstance."
The family's household goods were all packed up in mid-December in Colorado, with the intention of receiving all their possessions on January 5 in New York. While they received most of their items on January 8, Valerie said they "were still lacking a few of our high-value items left in Colorado."
Austin, a chief warrant officer who has been in the Army for over 14 years, said there are different moving options for military families.
One includes a family doing it themselves and having the Army reimburse about 95 percent of the move, including loading up a truck and van with most of the essentials. Another option includes the Army covering all expenses and the move is coordinated between contractors and subcontractors.
The McNulty family went the partial move route this time around. A moving company called Suddath became involved, but as Austin pointed out, Suddath hired a subcontracting company to complete the process.
On January 7 the couple saw that their AirTag was moving, and was later contacted that their items would be delivered on January 8. However, a moving guy reportedly told Austin that he "just picked up the stuff" and would take another day or two.
Because of the AirTag, the couple knew the moving guy was not in Colorado but was just less than five hours away in Harrisburg, Pennsylvania.
As for the family's possessions, which were supposed to be inventoried and in a safe location, GPS tracking showed that neither action allegedly occurred.
"It turns out [the items] just stayed overnight in a sketchy part of New Jersey," Austin told Newsweek.
According to Austin, that same driver who allegedly lied about his whereabouts told Austin in a phone call that he went to see "his lady" and that was part of the delay. When the items eventually arrived on January 8, they did so in an Enterprise moving truck and not a personally owned and operated vehicle—as they should have been.
While the family received a majority of their items by January 8, Valerie told Newsweek that a page of inventory was still missing and remained in Colorado. By January 20 all items had arrived, though Valerie said some items were broken.
The family has 180 days to file a claim. They told Newsweek on January 24 that they had not yet done so.
"I think we would have been waiting a lot longer for our home goods to arrive [if we didn't have the AirTag]," Valerie said. "It gives that opportunity for things to conveniently go missing. I'm thankful it didn't happen but it would be all too easy. I would say that AirTags are fairly inexpensive and it's an easy way to hold the third parties accountable."
In a Facebook post she published on January 7 that has since gone viral, Valerie said "the Army needs to do better" and that military families need an advocate or point of contact from the beginning of the PCS process to the very end at their next duty station.
"I hope that other [military] families follow suit and get the ball rolling for some change," she told Newsweek.
The Army also responded to the situation. "The Army continues to implement policies and initiatives to improve and streamline permanent change-of-station relocations so that soldiers and their families experience safe, convenient and predictable transitions to new homes," a spokesperson told Newsweek.
The spokesperson added that the Defense Personal Property Management Office operates a 24-hour, seven-day-a-week hotline (833-MIL-MOVE) with customer-support representatives who can provide assistance.
"We encourage all soldiers and family members to fill out the Defense Personal Property System customer-satisfaction survey, which is the primary source of data used to evaluate a company's performance and improve the PCS experience," the spokesperson said.
A spokesperson for Suddath responded to Newsweek, saying that Suddath's military move management services involve work with a broad network of service providers throughout the U.S.
"While this was not a Suddath driver and we make every effort to screen our contracted service providers, unfortunately, we occasionally encounter isolated providers who fall short of our standards," the spokesperson said. "We hold our contractors accountable for their performance, and after learning about this situation, we immediately suspended this service provider pending a thorough review.
"We reached out directly to the customer involved and have confirmed that they have received their personal belongings. We are ensuring that any additional expenses are expedited through the process. We are committed to the highest level of performance for our military service members, who sacrifice so much for us all, and take the performance of our providers very seriously," the spokesperson said.
Update 01/26/2022, 4:22 a.m. ET: This story was updated with comments from a Suddath spokesperon.
Update 01/25/2022, 9:20 a.m. ET: This story was updated with comments from an Army spokesperson.