Army's Most Senior Officer Refutes Trump's Claim U.S. Fights Wars to Bolster Defense Industry
Army Chief of Staff General James McConville said that only a matter of national security would cause U.S. troops to be sent into combat, contradicting remarks made by President Donald Trump on Monday.
Trump's comments during a Monday press conference that military leaders acted at the behest of companies that make weaponry for the armed forces raised eyebrows from some members of Trump's administration. Trump has also faced criticism for remarks he allegedly made disparaging dead or wounded members of the military as "losers."
McConville, a 1981 West Point graduate, said during a virtual event for Defense One on Tuesday that many military leaders have family members in the armed forces, which could affect their decision about placing soldiers in harm's way.
"Many of these leaders have sons and daughters who have gone to combat or may be in combat right now," McConville said. "So I can assure the American people that senior leaders would only recommend sending troops to combat when it's required as a national security, or as a last resort. I feel strongly about that."
McConville, while not specifically defending President Trump, was making references to the president's Monday comments. "I'm not saying the military's in love with me," Trump told reporters. "The soldiers are."
"The top people in the Pentagon probably aren't because they want to do nothing but fight wars so all of those wonderful companies that make the bombs and make the planes and make everything else stay happy," Trump added.
The Pentagon declined to comment to Newsweek for this story.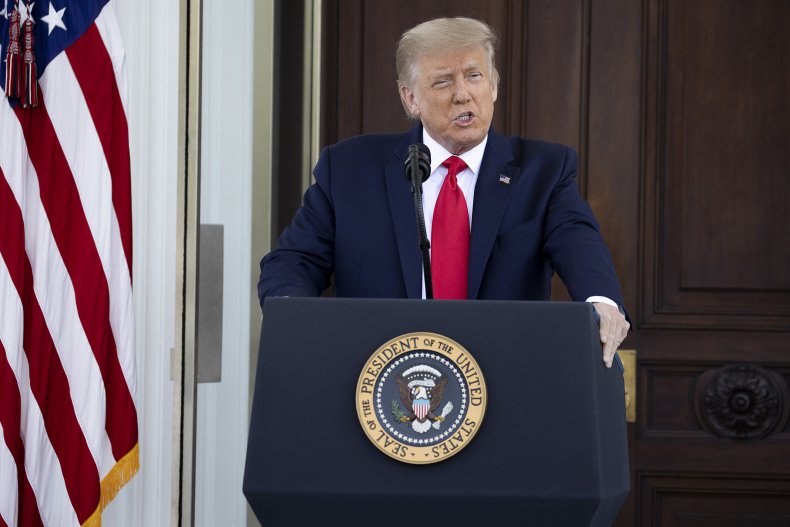 White House Chief of Staff Mark Meadows attempted to clarify the president's remarks on Tuesday, telling reporters that Trump was talking about the "military-industrial complex" as a whole and not specific individuals within the Pentagon.
Some observers have noted that before joining the Trump administration, current Secretary of Defense Mark Esper was the vice president of government relations for defense contractor Raytheon.
Esper defended Trump on Friday after an article published by The Atlantic alleged that Trump had made disparaging remarks about U.S. veterans and had asked that disabled veterans be prohibited from participating in military parades. According to the magazine, Trump canceled a planned visit to the Aisne-Marne American Cemetery in France during 2018 to visit the graves of U.S. soldiers who died during the World War I battle of Belleau Wood.
"Why should I go to that cemetery?" Trump reportedly asked. "It's filled with losers."
Newsweek has not been able to confirm whether Trump actually made those statements. However, some White House officials have rejected the story outright.
"President Trump has the highest respect and admiration for our nation's military members, veterans and families," Secretary Esper said in a Friday statement. "That is why he has fought for greater pay and more funding for our armed forces."
Trump himself called the allegations in the article "a disgrace."