Arnold Schwarzenegger Labels California GOP's Unofficial Ballot Boxes 'Mickey Mouse Stuff'
Arnold Schwarzenegger said the California Republican Party was doing "Mickey Mouse stuff" by refusing to comply with a cease-and-desist order requiring them to remove unofficial ballot drop boxes from competitive counties in the state.
The former California governor and Terminator star said the local GOP was doing a "stupid thing" and should instead be offering voters hope and encouragement ahead of the 2020 elections.
The Quote
"It's a stupid thing they're doing right now with those ballot boxes. I think it's just Mickey Mouse stuff that has a serious effect.
"And I think what they should do is really offer people hope and be out there and really make everyone participate and go and be able to vote and those kind of things, rather than make those fake ballot boxes and stuff like that."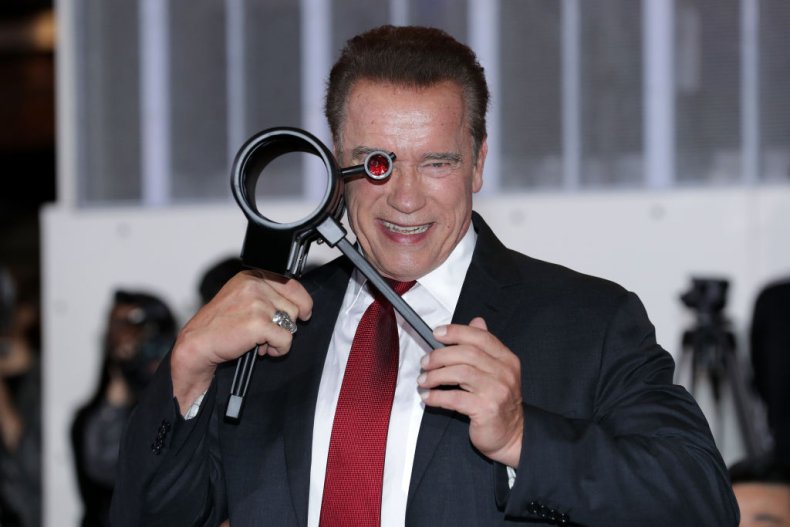 Why it Matters
California Republicans have set up unofficial ballot drop boxes in the counties of Fresno, Orange, Los Angeles and Venture, prompting Secretary of State Alex Padilla to declare them illegal and demand their removal.
Posting on social media yesterday, he said: "Republicans claim to be concerned about voter fraud [while data shows it is exceedingly rare], yet they show no remorse for violating state law by using unofficial, unauthorized ballot drop boxes that are blatantly misleading."
California Governor Gavin Newsom also criticized the GOP's manoeuvre, saying it was not just misleading but a breach of state laws.
"The GOP is terrified of losing—so they're willing to lie, cheat, and threaten our democracy all for the sake of gaining power," the governor told supporters in an email message earlier this week.
It is unclear how many voters have used the unofficial ballot boxes set up by the Republican Party, but it was reported that California broke a mail-in ballot record earlier this week as more than 1.5 million state voters had cast ballots through the system.
Counterpoint
The National Republican Congressional Committee said the California GOP's creation of unofficial ballot boxes was "legal" under harvesting laws passed by Democrats in the state.
"Ballot harvesting is legal in the state of California, Democrats legalized it, and it is clear that with these ballot boxes Republicans are following the laws Democrats put in place," NRCC Deputy Chair Ken Calvert said on Wednesday.
"In the face of voter suppression attempts by California Democrats, Republicans have and will continue to be steadfast in defending Californians' voting rights."
The California GOP Chairwoman Jessica Millan Patterson also said Padilla had "no foundation to stand on" when quizzed about the unofficial ballot boxes, according to The Los Angeles Times' bureau chief John Myers.