Arnold Schwarzenegger Cavorts, and Confesses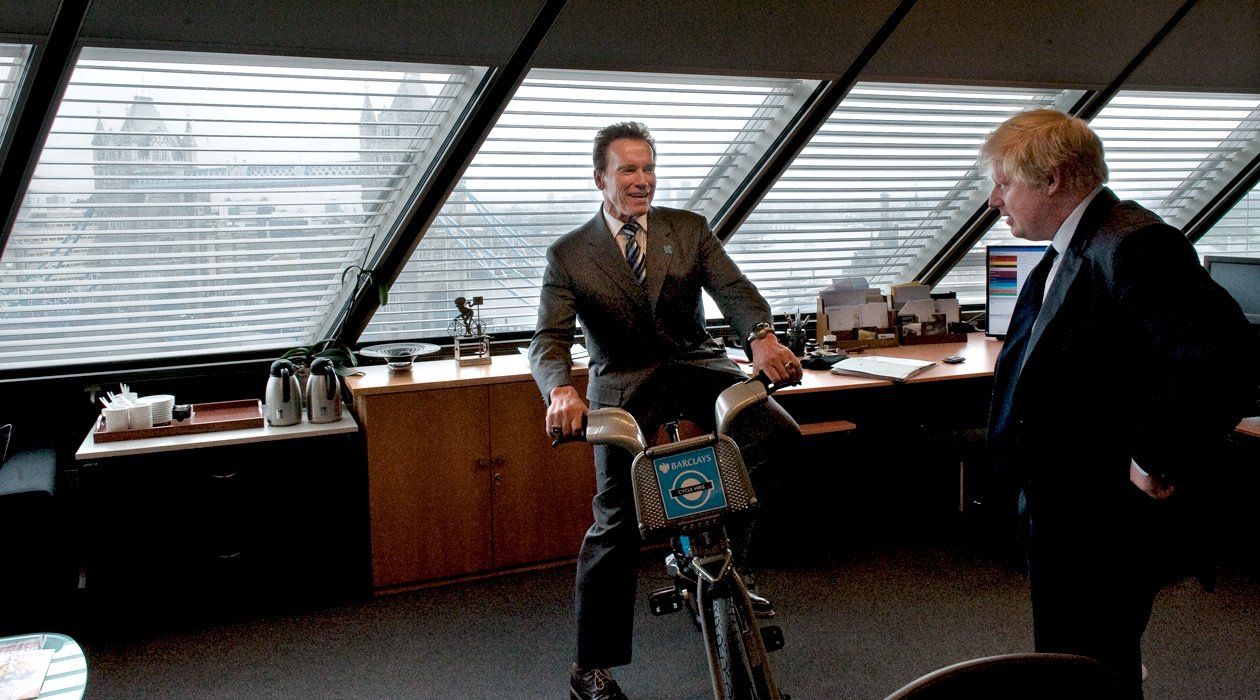 Life at 63, for Arnold Schwarzenegger, is a titanic clash between human frailty and dazzling possibility.
"I feel terrific about where I am in my life, when I look back at what I've accomplished," he says over a late lunch at London's Savoy Hotel, his much-mimicked Teutonic rumble competing with a teatime pianist. "But I feel shitty when I look at myself in the mirror."
It's a jolt to hear Schwarzenegger—a five-time Mr. Universe and seven-time Mr. Olympia before he was Conan the Barbarian, the Terminator, and ultimately the Governator—musing about his own decay. Although his friend James Cameron, the director who cast him in True Lies and the Terminator movies, points out, "Arnold's version of 'shitty' and everybody else's at that age are two different things."
Still strapping in shirtsleeves, a fine specimen of aging movie star, he has lost an inch and a half from his previous 6-foot-2 height, the 31-inch waist has ballooned to 36, and the vaunted 57-inch chest has shrunk by half a foot. The famous face is framed by eternally reddish-brown hair (the handiwork of his favorite Beverly Hills salon) and layered with a coat of tan; the blue eyes are notched by crow's feet, the granite jaw draped by incipient folds of skin.
"I'm not competing, I'm not ripping off my shirt and trying to sell the body," he tells me. "But when I stand in front of the mirror and really look, I wonder: What the fuck happened here? Jesus Christ. What a beating!"
Normally in motion, Schwarzenegger is enjoying a rare moment of reflection. His two terms as California governor started strong, with a host of accomplishments and post-partisan good will, but then sputtered out three and a half months ago with the state in fiscal meltdown. After he exited, he came under attack for commuting the prison sentence of a political ally's son—a last-minute blot on his record evoking Bill Clinton's pardon of financier Marc Rich. Schwarzenegger left office with a job-approval rating in the low 20s—just as unpopular as Gov. Gray Davis, the Democrat he ousted in the circuslike recall election of October 2003.
"When the economy is down," Schwarzenegger observes, "it's very tough for the people not to let out their anger on the leader."
Now he's trying to figure out "Arnold 4.0," the next big thing in his implausible journey from Austrian bodybuilder to action hero to American politician. There is no obvious master plan. "The great thing about my life is that whenever I was getting bored, something new always came up," he says. "That's unbelievable when you think about it. Just when I was saying, on Terminator 3, I think I should really move on—just at that time, there was the recall happening. Hello. It was the craziest thing."
Expectations are sky-high for what he might accomplish with his unique combination of star power, political connections, and policy chops. Schwarzenegger will continue working with the United Nations and his R20 group on global climate change, his signature issue as governor. He will also work for infrastructure development and immigration reform, while supporting after-school programs and the Special Olympics, and appearing at the Arnold Classic, his annual bodybuilding and sports convention in Ohio. The danger, of course, is that he will spread himself too thin, and the pudding will have no theme.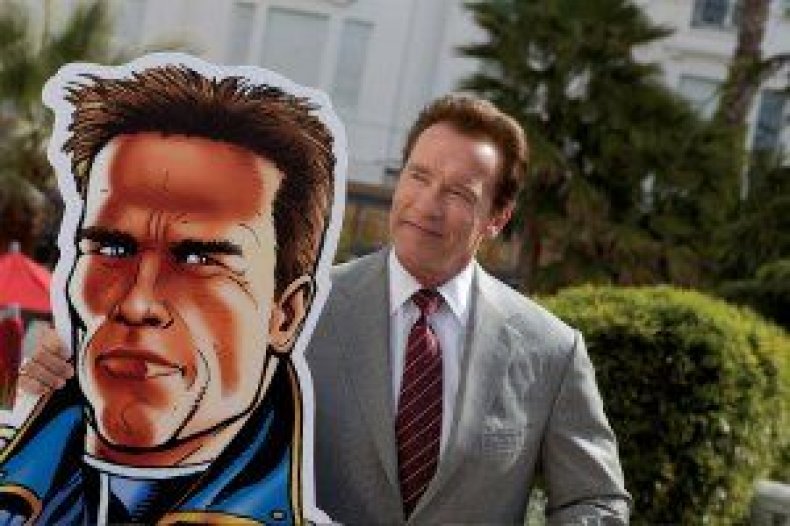 Documentary filmmaker George Butler, who midwifed Schwarzenegger's early stardom in the 1977 classic Pumping Iron, suggests he should lead the push for a privately funded space program. Terry Tamminen, who headed California's Environmental Protection Agency before serving as Schwarzenegger's cabinet secretary, has told him that he should be president of a newly reconstituted European Union.
"In the next few years, the EU will be looking for a much more high-profile president—somebody who can unify Europe," Tamminen says. "The French won't want a German, and the Germans won't want an Italian. How about a European-born person who went off to America and … could return to be the Washington or Jefferson of a new unified Europe?"
Even Maria Shriver, Schwarzenegger's wife of 25 years, isn't quite sure where her husband might land next. "No matter what Arnold decides to do," she tells NEWSWEEK, "I'm sure he'll have fun doing it, and it will have impact."
When Schwarzenegger announced his candidacy for governor on The Tonight Show, he knew that Shriver and their four children didn't want him to run, largely because of the Kennedy family's tragic experience in politics. But there were other reasons, too. "For Maria, it was just very painful what she went through—never being asked when [father] Sarge became the vice-presidential candidate in 1972, never asked when he ran again [for president] in 1976—this was a humiliating moment, the way she described it." Schwarzenegger adds: "My life is not the cleanest in town, so there were places where people could attack. She was concerned about that, and she was concerned that it could fail and be humiliating to her and to our kids."
Instead, Shriver relished the role of activist first lady. The lavish, barbell-heavy volume memorializing his administration, Seven Years, that Schwarzenegger published privately for his friends and appointees features a 50-page tribute to his wife, "An Architect of Change."
Former assembly speaker Willie Brown says Shriver, who was forced to give up her TV career when Schwarzenegger became governor, contributed mightily to whatever success her husband can claim: "Maria has been much more of a benefit to Arnold than Arnold has been to Maria."
But not even his politically savvy wife could save him from the fallout of his last-minute decision to reduce by nine years the 16-year voluntary-manslaughter sentence of Esteban Nuñez, who pleaded guilty to participating with three friends in the 2008 homicide of 22-year-old San Diego State University student Luis Santos. The dead man's family, which received no advance warning of the governor's decision, is suing to have the sentence restored. Young Nuñez happens to be the son of Schwarzenegger's friend Fabian Nuñez, the former Democratic speaker of the state assembly.
"I understand people's disappointments. I understand the parents' anger. I would probably feel the same way," Schwarzenegger tells me in his first public comment on the commutation, which he granted hours before leaving office, arguing that his friend's son didn't inflict the fatal wound. "My office definitely made a mistake in not notifying the parents beforehand … and I'm ultimately responsible." But, Schwarzenegger adds, "I feel good about the decision … I happen to know the kid really well. I don't apologize about it … There's criticism out there. I think it's just because of our working relationship and all that. It maybe was kind of saying, 'That's why he did it.' Well, hello! I mean, of course you help a friend."
Many Republican activists remain upset with Schwarzenegger, a nominal member of their party but also a Kennedy-family in-law, for fraternizing with Democratic officeholders, hiring a stalwart Democrat as his chief of staff, and continually presenting himself as above the fray. Schwarzenegger believes in centrist pragmatism over doctrinaire ideology "because the middle is where the action is." In the 2010 campaign to succeed him, he pointedly didn't endorse eBay founder and GOP nominee Meg Whitman over Democrat Jerry Brown.
"She kind of took herself out of the game," Schwarzenegger says. "What she did was play to the right, and she couldn't come back for the general election to grab the center … Brown was very smart to do exactly the opposite of what she did—which was to say, 'I'm not a rich guy, all I have is my knowledge and experience, and I don't need to cater to anyone, I will do what is right for California.' She was not as effective as a communicator, and her ideas were too extreme."
Former secretary of state George Shultz, who served as a key adviser in the recall campaign and during the Schwarzenegger administration, predicts the former governor's accomplishments will eventually trump the sour circumstances of his departure. "He was hit by an economic tsunami that swept through California more severely than almost anyplace else in the country," Shultz says. "His last couple of years in office were very hard, because the revenue base just came out from under the state."
But Shultz believes that Schwarzenegger will eventually be remembered for his accomplishments, notably reforming the highly partisan redistricting process and mandating open primary elections, limiting worker's-compensation liability, drumming up public support for $60 billion in infrastructure bonds, protecting millions of acres of natural beauty from development, and passing landmark legislation to reduce greenhouse-gas emissions. "There's a different feeling about him than about Gray Davis," Shultz says. "He could walk anywhere in the state and people would want his autograph."
Anywhere in the world, is more like it.
One recent week he was on Brazil's Xingu River with Cameron, a fellow environmentalist and renewable energy enthusiast, and then in Nigeria to give a paid speech; the Nigeria gig meant he couldn't accept Russian President Dmitry Medvedev's invitation to ski with him in Sochi, the host city for the 2014 Winter Olympics.
We have caught up with Schwarzenegger in London, where he is trailed by paparazzi and fans crowding the sidewalk in front of Claridge's as he strides from the hotel entrance to his idling blue Bentley. He arrived here on his Gulfstream V time share to attend Mikhail Gorbachev's 80th-birthday celebration at Albert Hall, where he sits right behind the former Soviet leader in the VIP box ("Arnold!" Gorbachev shouts delightedly) along with Israeli President Shimon Peres and former Polish president Lech Walesa. Watching the giant screen that looms over the stage, during the endless, over-the-top program emceed by Kevin Spacey and Sharon Stone, Schwarzenegger leans over when he spots yet another image of the Berlin Wall. "Good brick," he remarks—a mordant appraisal from a bodybuilder who once worked part time as a bricklayer in Santa Monica. While in London, he has packed his schedule with meetings worthy of a head of state: Prime Minister David Cameron, Culture and Sports Secretary Jeremy Hunt, the organizers of next year's London Olympics, and Mayor Boris Johnson.
Sitting at Johnson's conference table at City Hall beside Tower Bridge, where Schwarzenegger has agreed to a photo op riding a "Boris Bike"—the mayor's environmentally friendly solution to auto exhaust in London—he needles the famously rumpled Johnson about his unruly mop of hair.
Schwarzenegger informs the mayor that his traveling aide "was insisting you don't wear product in your hair; I say you do. Who is right?"
"What do you mean, 'product' " Johnson demands in a plummy voice.
When Schwarzenegger explains, the mayor confides: "I used shampoo. I use the one that advertises on Desperate Housewives, where the woman is in the shower."
Although the two have not previously met, they share a history. In October 2007, the governor was waiting to address a Tory party conference in Blackpool by satellite while then-mayoral candidate Johnson was onstage speaking. Schwarzenegger didn't know his microphone was hot when he whispered that "this guy is fumbling all over the place." After the press had a field day, Johnson noted that his oratorical style had been denounced "by a monosyllabic Austrian cyborg."
"Our most famous encounter so far," Johnson reminds Schwarzenegger, who replies: "Sorry about that. And I also heard about the comment you made about the Austrian cyborg."
"I tried to get the ball back over the net. I had to say something."
Schwarzenegger meets with the 44-year-old Cameron at the prime minister's office in the House of Commons. They have been friendly since 2005, when New Labour was in power and Cameron was the freshly elected Tory leader.
"Governor! Governor!" the prime minister shouts, bounding into the room like an excited pup. Already that day he's met with Peres and Gorbachev.
Gorbachev "is a terrific guy," Schwarzenegger says. "He is so full of energy. I wish he could speak English, but just the Russian sounds great."
"How do you think we're getting on in Libya?" Cameron asks. "This was a tough call."
"It's terrific," Schwarzenegger answers.
When Cameron announces that he's off to Buckingham Palace for his weekly session with the queen, Schwarzenegger says, "Tell her I said hi."
At one point during the meeting, the prime minister jokes, "We need to change the constitution and then you can run [for president]. That's what we're going to do."
If it were constitutionally permissible, Schwarzenegger probably would be running for president—an option not available to an Austrian policeman's son who grew up without indoor plumbing in the village of Thal-Linak outside of Graz. Instead, he's reading film scripts and looking for a ghostwriter to help him with his memoirs. A multimillion-dollar publishing deal will soon be announced. His speaking fees are on a par with "a former president—and sometimes more," he brags. He's already fabulously wealthy, having prospered from canny investments such as a Columbus, Ohio, shopping mall he bought in partnership with Limited Brands mogul Les Wexner—though he declines to confirm published reports of net worth around $400 million. "Let's put it this way: I'm very happy," he says.
From London, Schwarzenegger goes for a few days of skiing in Val d'Isère, then flies to Cannes to receive the Légion d'Honneur and hype his first post-gubernatorial entertainment project at an international TV buyers' convention. It's a Stan Lee animated kids' series titled The Governator (the nickname Schwarzenegger's financial adviser, Paul Wachter, presciently had trademarked) and will debut globally next year, along with a comic book, a videogame, and assorted lunchboxes, toys, T-shirts, and toothbrushes bearing his cartoon likeness. A 3-D animated theatrical release is slated for early 2013.
He's as big a draw on the Croisette as he is on the streets of London. "Everyone is struggling with, 'How can I get the people there and pack the room?'" Schwarzenegger says. "So the celebrity has an advantage. But then you have to close the deal."
Thirteen years ago, when he was 50, Schwarzenegger had surgery to replace a defective aortic valve—a hereditary glitch that killed his maternal grandmother. After his own successful surgery, Arnold had tried to persuade his mother, Aurelia, to have the same procedure, but she "had absolutely no interest," he says. "She said, 'If God wants to take me, so take me.'" On Aug. 17, 1998, "she went on my father's birthday to his grave site. And she fainted and died on his grave." Schwarzenegger's mother was 76.
To keep the valve functioning properly, he must take medication that prevents his heart rate from exceeding 120. At some point in the next several years the valve will wear out, and surgeons will split his chest open to install a fresh one. "It does do a number on you for quite some time," Schwarzenegger tells me, "because even though you're strong willed, you know from now on you're damaged goods." He adds with a chuckle: "As with most things, I live in denial."