California Governor Gavin Newsom, a Democrat, has called the latest effort to oust him from office a "Republican recall." But a former top official of the Sunshine State has said that's not the case.
Arnold Schwarzenegger, who served as the governor of California from 2003 to 2011 and was the last Republican to hold the office, told Politico in a piece published on Wednesday that the GOP is "dying at the box office."
"This is the crazy thing here, when they say it's a 'power grab' of the Republicans," Schwarzenegger said. "Let me tell you, the [California] Republicans couldn't even get anyone elected. It's ludicrous—the Republican Party doesn't exist. These are the signatures of the ordinary folks that have signed on."
He added that while both Republicans and Democrats have made it about them, it has nothing to do "with either party."
In mounting a defense against the recall, Newsom has accused right-wing militia groups like the Proud Boys of initiating the campaign. On his website, the California governor said the campaign is led by "a partisan, Republican coalition of national Republicans, anti-vaxxers, QAnon conspiracy theorists and anti-immigrant Trump supporters."
The campaign to recall Newsom submitted more than 2 million signatures, meaning it is likely to make it onto a statewide ballot. If it does, voters will be asked two questions: Should the governor be ousted early from his job, and who should replace him?
A poll released Tuesday by the Public Policy Institute of California found that 56 percent of voters were against the recall, 40 percent supported it and the remainder were undecided.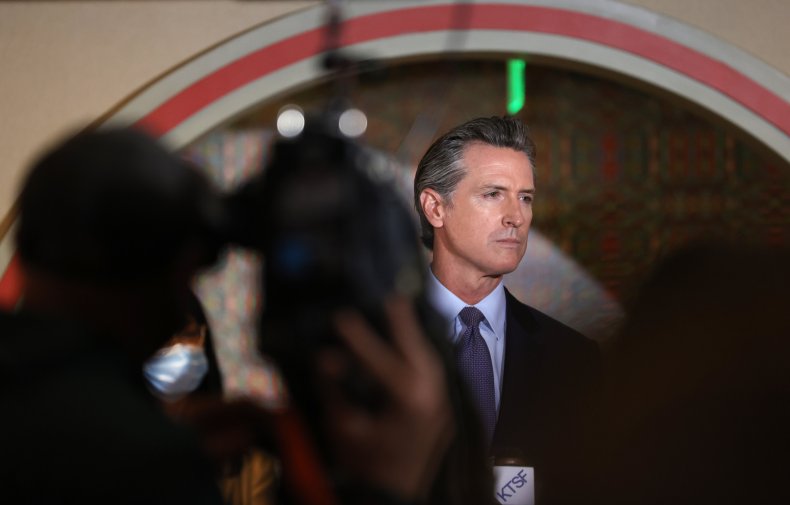 Schwarzenegger also warned in his interview with Politico that the atmosphere today is similar to 2003—when he emerged victorious from the state's gubernatorial recall election.
"And it's the same with the momentum. Something that sets it off to a higher level, kind of the straw that breaks the camel's back ... like an explosion," Schwarzenegger said. "In Newsom's case, it was the French Laundry thing. With us, it was the power outages in 2003."
French Laundry is the name of the opulent restaurant Newsom was seen dining at during a COVID-19 surge last year. Photos showed the governor dining with at least 10 other people, prompting criticism that he was defying state guidelines against private meetings of people from more than three households.
Newsom has been criticized for his COVID-19 policies, and the recall website also cites unaffordable housing, record homelessness, failing schools, rising crime and other reasons for why "Gavin Newsom must go."
Newsweek has reached out to Dan Newman, a political spokesperson for Newsom, for comment on Schwarzenegger's remarks about the recall.