Arnold Schwarzenegger Will Replace Donald Trump as 'Celebrity Apprentice' Host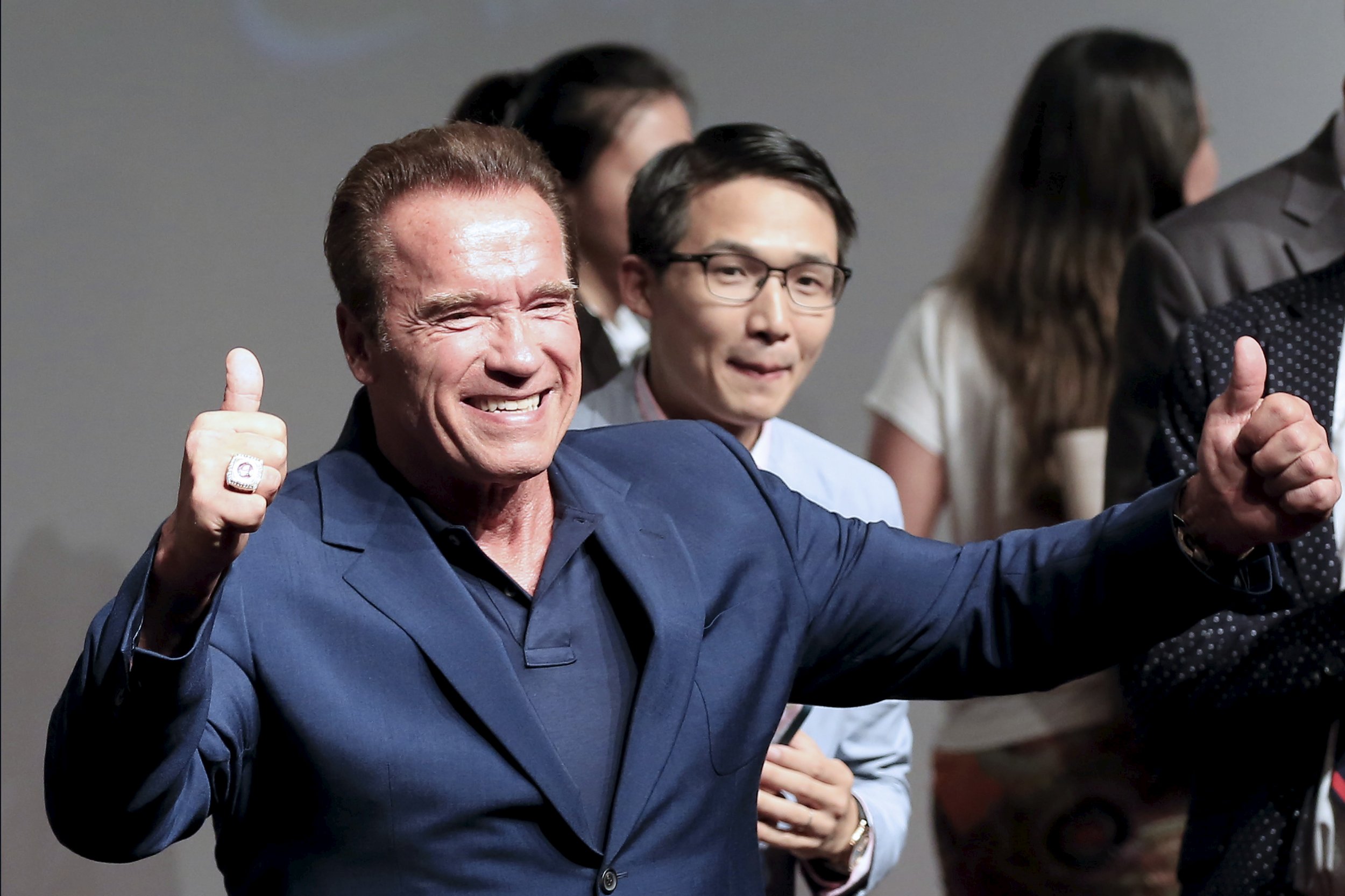 NBC may have cut ties with Donald Trump, but the popular Apprentice franchise the GOP front-runner had hosted since 2004 will live on, and the network has just named its next host. Beginning in 2016, Arnold Schwarzenegger will take over as host of Celebrity Apprentice, the network announced Monday.
Don't act like you're surprised.
"Arnold Schwarzenegger is the epitome of a global brand in entertainment and business, and his accomplishments in the political arena speak for themselves," said Paul Telegdy, NBC's president for alternative and late-night programming, in a statement. "It was Arnold's personal passion for the format that Mark Burnett and Donald Trump built over the last decade, as well as his fresh take on how to take it to new heights for today's audiences, that made him the man to hire."
Schwarzenneger also released a statement after the announcement, saying, "I have always been a huge fan of The Celebrity Apprentice and the way it showcases the challenges and triumphs of business and teamwork. I am thrilled to bring my experience to the boardroom and to continue to raise millions for charity. Let's get started!"
The Apprentice franchise premiered in 2004 and featured hopeful business professionals battling it out to win a well-paying job working for Trump. There could be only one winner, however, and in dismissing underperforming contestants, Trump coined his signature phrase, "You're fired!" In 2006, the network premiered The Celebrity Apprentice, in which celebrities would manage their way through similar business challenges to raise money for charity. The series is now in its 14th season. No one has hosted the show outside of Trump and his children.
The future of The Celebrity Apprentice fell into question when NBC ended its relationship with Trump in June following what the company called "derogatory" comments about Mexican immigrants during his presidential announcement.
On Monday, Trump congratulated Schwarzenegger on landing his former gig:
The move makes sense for NBC, as Schwarzenneger's ability to appeal to the masses—especially those still likely to tune in to network TV on a nightly basis—is borderline Trump-ian. After all, the former bodybuilder and action star convinced the state of California to elect him its governor in 2003, and then again in 2006. Since his time in office came to an end in early 2011, Schwarzenegger has returned to the movie business, starring in the Expendables franchise and, most recently, Terminator Genisys. He has also maintained an entertaining presence on Twitter and Instagram.
For now, let's just hope the former Governator doesn't continue to follow in Trump's footsteps and leave the Apprentice to make a run at the presidency. We're not sure the world could handle Kanye West vs. Schwarzenneger in 2024.