Arnold Schwarzenegger Sees 'Same Anger' in Today's California Recall as in 2003 One He Won
Former California Governor Arnold Schwarzenegger sees the same "anger" in Californians ahead of the recall election that he saw in the historic recall he won in 2003, he said on CNN.
In 2003, Californians voted to recall then-Governor Gray Davis by nearly an 11-point margin. Schwarzenegger, a Republican, easily won the election to replace the Democrat, winning nearly 50 percent of the vote out of more than 100 candidates. Eighteen years later, Californians will again vote on whether to recall an incumbent Democratic governor, Gavin Newson, on September 14.
Schwarzenegger told CNN Host Dana Bash in a clip uploaded Sunday that the state has "the same atmosphere" as when he won his election. He said people are upset about the same issues, including power blackouts, inequality, and education.
"It is exactly the same. The atmosphere is exactly the same when I ran," he said.
He agreed with Bash that there is "no Arnold Schwarzenegger" on the other side of the ballot and that Newsom can "figure out how to be Arnold Schwarzenegger for a minute, even as a Democrat."
"There are people in the race that have some really good answers and that have some good solutions," he said.
The former governor has previously weighed in on the election—in March he dismissed claims by Newsom that the recall was a GOP power grab.
"This is the crazy thing here, when they say it's a 'power grab' of the Republicans," Schwarzenegger told Politico at the time. "Let me tell you, the [California] Republicans couldn't even get anyone elected. It's ludicrous—the Republican Party doesn't exist. These are the signatures of the ordinary folks that have signed on."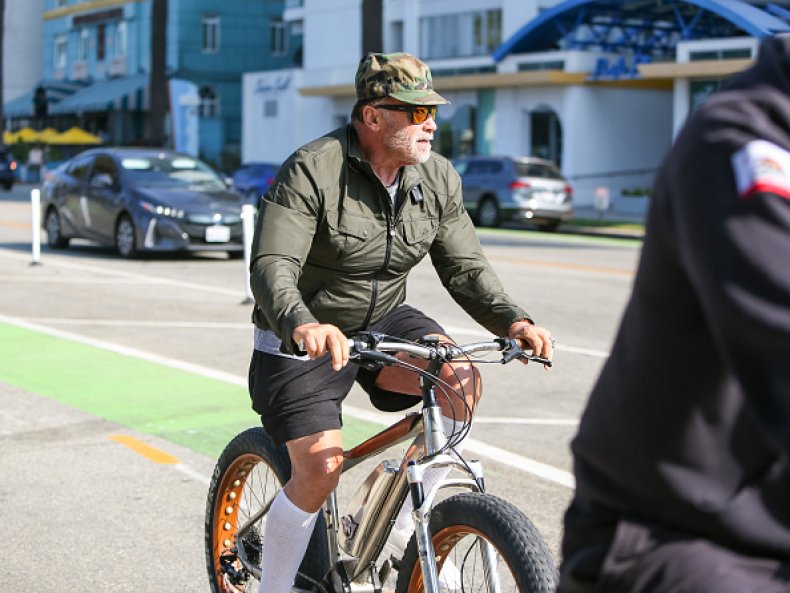 He described Newsom being seen dining at the French Laundry restaurant during a COVID-19 surge—which prompted criticism that he was violating his own state guidelines—as "the straw that breaks the camel's back," much like power outages in 2003.
However, recent polls indicate that Newsom may fare better than Davis did.
For months, Newsom held only a narrow lead in most polls, as Democrats in solid-blue California feared liberal voters would take victory for granted. Recent polls indicate better news for him.
A poll conducted by the Public Policy Institute of California in late August found that 58 percent of voters wanted Newsom to stay, while 39 percent would vote in favor of the recall. Another late-August poll by Change Research showed that 57 percent of voters planned to keep Newsom in office, while 42 percent said they would vote against him.
If Newsom were to be recalled, most polls show conservative talk show host Larry Elder as the favorite to replace him. A Trafalgar poll conducted from September 2 to September 4 found that 32 percent of voters would pick Elder. In second place was Democrat Kevin Paffrath. Still, 29 percent of voters were undecided.
Newsom was elected in 2018 with 61.9 percent of the vote, compared to Republican John Cox's 38.1 percent. Cox is again running in the election to replace Newsom.
Newsweek reached out to the Newsom campaign for comment Sunday evening but had not heard back by publication. This story will be updated with any response.