Arnold Schwarzenegger Thinks You Should Stay Home, and So Do His Mini Donkeys
Arnold Schwarzenegger and his miniature donkeys have a very important message for the actor's millions of followers on social media: Stay at home.
The Terminator star and former governor of California released a video on Twitter on Sunday encouraging fans to "listen to the experts, ignore the morons" and "stay at home as much as possible" in the midst of the current coronavirus outbreak wreaking havoc on the U.S. and several other countries.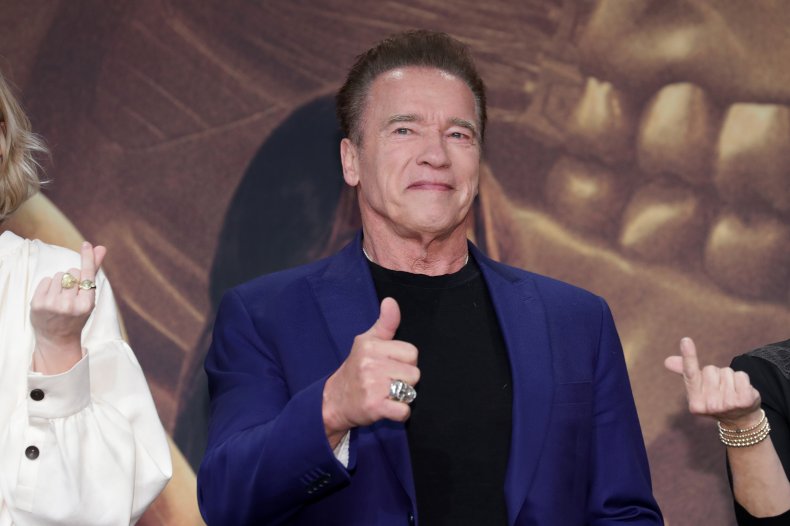 "See, the important thing is that you stay at home, because there's a curfew now. No one is allowed out, especially someone that is, like, 72 years old. After you're 65 years old, you're not allowed out of the house anymore in California. So we stay home and we eat here," Schwarzenegger said.
Co-starring in the video were Schwarzenegger's two mini donkeys, Whisky and Lulu, who were happily enjoying a dinner of carrot sticks inside of the celebrity's home.
"See that's what we do. We don't go out. We don't go to restaurants. We don't do anything like that anymore here. We just eat with Whisky and with Lulu. We have a good time. We get entertained. Look at that beautiful smile she has," he said. "We have a good time eating here together. So much more fun than going outside. No more restaurants ok. No more restaurants. Forget all that. Public gatherings, restaurants and all those gymnasiums—out the window. We stay home."
While Schwarzenegger and his beloved animals advised people to find enjoyment eating at home, many states are making it a requirement. California is among one of many states in the U.S. that has now mandated for bars and restaurants to close in an effort to slow the spread of coronavirus. Governors in Washington, Illinois, Massachusetts and Ohio also instituted similar regulations while New York City officials announced the closure of bars, restaurants and schools on Sunday.
Restaurants in the aforementioned areas are still allowed to accept orders for takeout and delivery. Shut downs are expected to be in effect through at least the end of March.
"I'm very, very concerned that we see a rapid spread of this disease, and it's time to take more dramatic measures," New York City Mayor Bill de Blasio told reporters on Sunday. "This is a decision I have taken with no joy and a lot of pain."
Schwarzenegger isn't the only celebrity pleading for people to stay home. Dozens of artists, like Kumail Nanjani, Padma Lakshi, Debra Messing and many others took to social media over the weekend and called for folks to remain indoors and isolate themselves to help prevent further spread of the disease.
"Like your hip hop yoga class can f**king wait," singer Ariana Grande tweeted on Sunday.
On her Instagram Stories, pop star Taylor Swift voiced disappointment because she was seeing "lots of get-togethers and hangs and parties still happening."
"This is the time to cancel plans, actually truly isolate as much as you can and don't assume that because you don't feel sick that you aren't possibly passing something on to someone elderly or vulnerable to this. It's a really scary time, but we need to make sacrifices right now," Swift wrote.
In the U.S., more than 3,000 cases of the novel coronavirus have been confirmed, according to the Centers for Disease Control. The virus has killed more than 6,500 people globally.