Arnold Schwarzenegger: Trump Looked Like a 'Little Wet Noodle' Next to Putin at Press Conference
Former California Governor Arnold Schwarzenegger called Donald Trump "a little fan boy" of Vladimir Putin following the U.S. president's joint press conference with his Russian counterpart in Helsinki, Finland.
In a video posted to Twitter Monday after the event, Schwarzenegger condemned Trump's "embarrassing" behavior and reminded him to put "America first."
"President Trump, I just saw your press conference with President Putin, and it was embarrassing. You stood there like a little wet noodle, like a little fan boy," Schwarzenegger said. "I was asking myself, When are you going to ask him for an autograph or a selfie?"
Schwarzenegger then accused the president of selling out "our intelligence community, our justice system and, worst of all, our country."
"You're the president of the United States. You shouldn't do that. What's the matter with you?" he added.
Schwarzenegger went on to reminisce about President Ronald Reagan's "strong words" during the Cold War. "What happened to the strong words and the strength of Ronald Reagan when he stood there at the Berlin Wall and said, 'Mr. Gorbachev, tear down this wall'?" he added.
During the now-infamous press conference with Putin, Trump repeatedly defended Russia against accusations of election interference in 2016 and condemned the special counsel's investigation for causing friction between the two nations.
After Putin insisted that Moscow "has never interfered and is not going to interfere into internal American affairs," Trump backed the Russian president and denounced his own intelligence agencies' findings.
"They said they think it's Russia. I have President Putin; he just said it's not Russia," Trump said. "I will say this: I don't see any reason why it would be. So I have great confidence in my intelligence people, but I will tell you that President Putin was extremely strong and powerful in his denial today."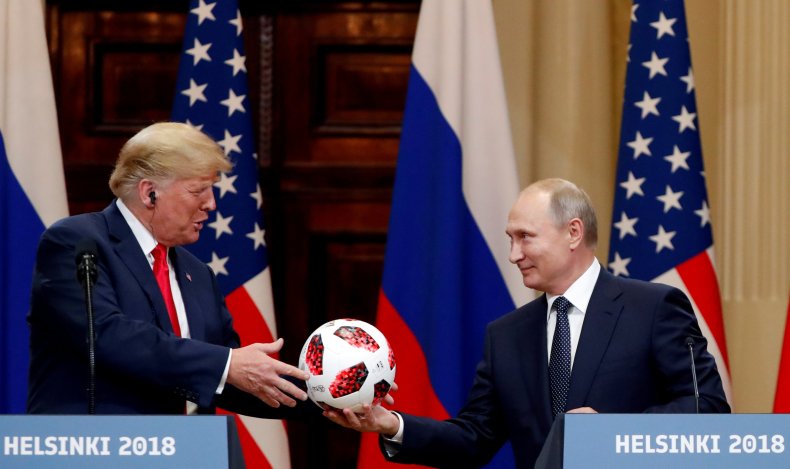 Schwarzenegger has been an actor, director, producer, filmmaker, politician, businessman, author, activist and professional bodybuilder. He served two terms as the 38th governor of California, from 2003 to 2011.
Schwarzenegger is a Republican but has long been a vocal Trump critic. Last month, he mocked the president's plan to aid the coal and nuclear power plant industries in a video posted to social media. "I eagerly await the administration's regulations protecting pagers, fax machines and Blockbuster," he said.