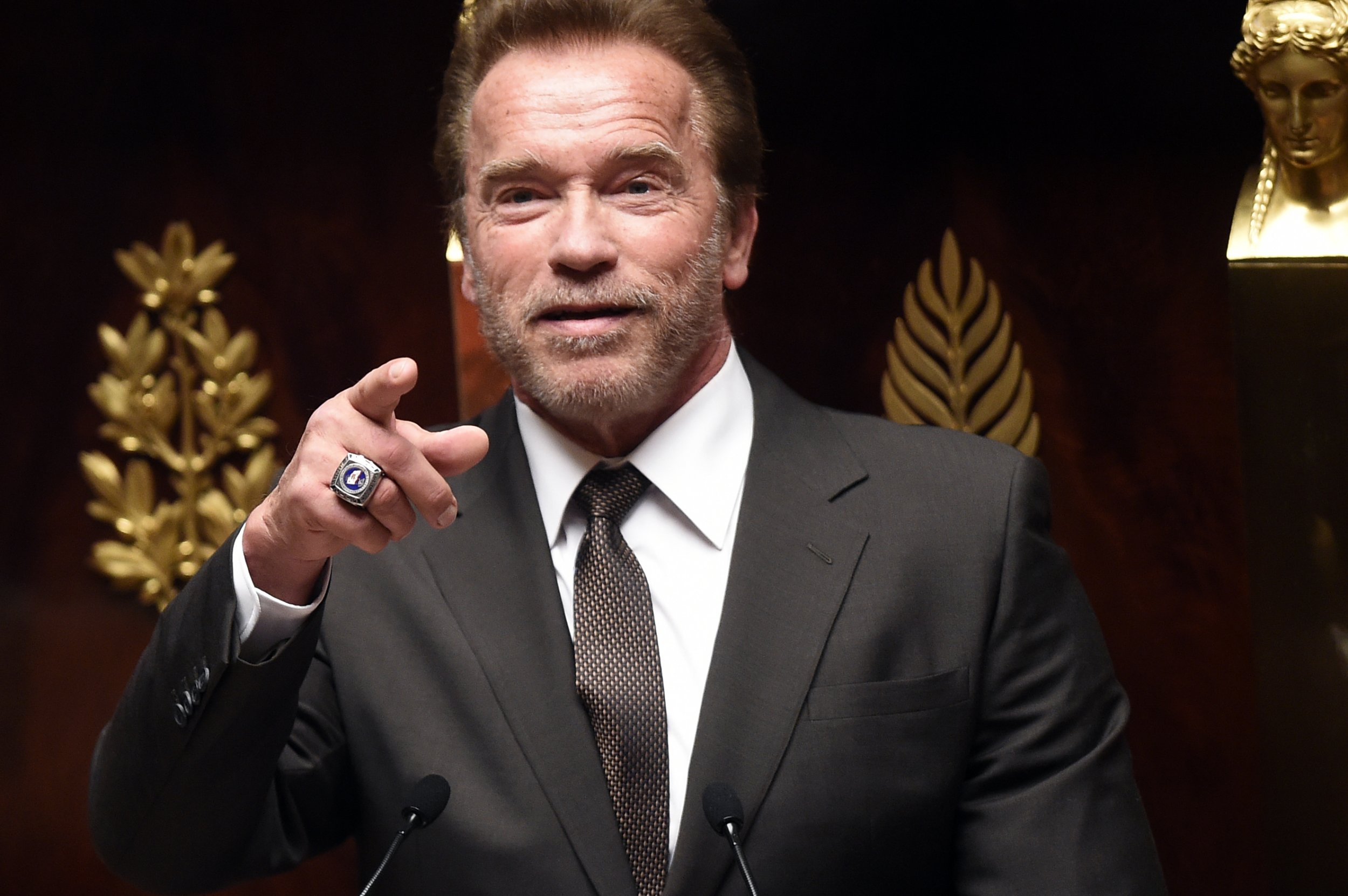 President Donald Trump's decision to withdraw from the Paris climate agreement has drawn criticism from all over the world, and most vocally from Hollywood.
Former California governor and actor Arnold Schwarzenegger released a video condemning Trump's decision on Thursday. "One man cannot destroy our progress. One man can't stop our clean energy revolution. And one man can't go back in time," the Terminator star said in the video, uploaded by news website ATTN, adding: "Only I can do that."
A supporter of the fight against climate change, Schwarzenegger also has a history of clashing with Trump. Ahead of his presidential inauguration in January, Trump criticized the Austrian-American actor for his ratings on The Apprentice TV show, which Trump used to lead.
As the feud continued in the following weeks, the actor and former Republican governor of California joked they should swap jobs. "Why don't we switch jobs? You take over TV—because you're such an expert in ratings—and I take over your job, then people can finally sleep comfortably again," he said in a video message.
In his latest video message against Trump, Schwarzenegger reminded Trump about the catastrophic health consequences that ignoring pollution will have and also dismissed the idea that protecting the environment hurts the economy, pointing to the state of California as an example to the contrary.
Finally, Schwarzenegger warned the president that people, local and state governments will rise up and "fill the void you are creating" through grassroot movements. "We need to do it ourselves," he said "Share if you think it's time to start a grassroots revolution to save our planet."
Schwarzenegger's successor as governor of California, Democrat Jerry Brown, was one of the first state leaders to announce his defiance of Trump's decision. Brown released a withering statement on that decision, which read in part: "California will resist this misguided and insane course of action. Trump is AWOL but California is on the field, ready for battle."
Leonardo DiCaprio, the award-winning actor who screened his documentary about climate change Before the Flood at the White House for President Barack Obama in October, also condemned Trump's decision in a Facebook post inviting people to channel their energy into grassroots organizations.
"Today, the future livability of our planet was threatened by President Trump's careless decision to withdraw the United States from the Paris Agreement," he wrote "Now, more than ever, we must be determined to solve climate change, and to challenge those leaders who do not believe in scientific facts or empirical truths. It is time for all of us to stand up, organize, fight back, and channel our energy into grassroots political action."
Other celebrities shared equally spirited responses, including John Legend and Katy Perry.
Perry, a staunch supporter for Hillary Clinton during the presidential campaign, appealed to Trump directly:
Former vice president Al Gore called on people to unite. "Make no mistake: if President Trump won't lead, the American people will," he wrote in a statement. "Civic leaders, mayors, governors, CEOs, investors and the majority of the business community will take up this challenge."
Gore, whose documentary An Inconvenient Sequel: Truth to Power, the follow-up to his 2006 Oscar-winning documentary about climate change An Inconvenient Truth, is scheduled to be released on July 28, will undergo a last-minute editing round to include Trump's decision to withdraw climate agreement, Paramount spokesperson Katie Martin Kelley told Variety.