Arnold Schwarzenegger Tells Russian Soldiers 'Truth' About Their Government
Arnold Schwarzenegger has posted a passionate plea to Russian soldiers in an attempt to tell them "the truth" about their government.
The movie star and former governor of California posted a heartfelt 9-minute video in which he addressed Russian soldiers, Russia's citizens and President Vladimir Putin directly.
In the social media video, which can be seen here, Schwarzenegger told the soldiers invading Ukraine that they had been lied to by the Russian government, and dispelled myths that the Ukrainian government is filled with Nazis. He reminded them that the United Nations voted almost unanimously that Russia was the aggressor in the war.
Schwarzenegger said: "Those in power in the Kremlin started this war. This is not the Russian people's war."
The Austrian-born actor commended the Russian people who have been protesting the invasion inside the country. Of them he said: "The world has seen your bravery. We know that you have suffered the consequences of your courage. You have been arrested. You have been jailed and you've been beaten. You are my new heroes."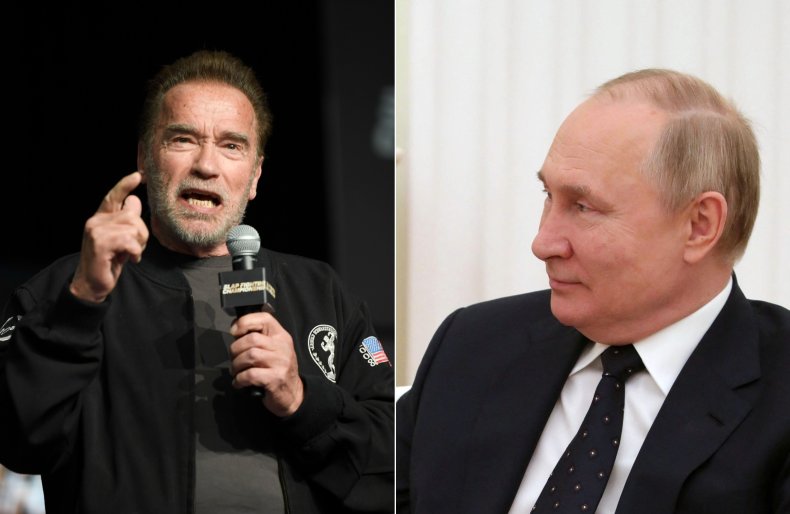 He also addressed Putin directly, making a plea for him to end the war. "You started this war, you are leading this war. You can stop this war," Schwarzenegger said.
The 74-year-old's message is going viral across multiple social media platforms. At the time of writing, the clip has been viewed more than 3 million times, and received over 150,000 likes on Twitter. The video contains embedded English and Russian subtitles throughout.
Schwarzenegger opened the video by discussing his experiences in Russia as a 14-year-old boy when he met Yury Petrovich Vlasov, the strongest man in the world at that time. He was told by his father to find an "German or an Austrian" hero closer to home, but young Schwarzenegger continued to idolize the Russian.
He went on to discuss his love for Russia and all the times he'd traveled there for bodybuilding competitions and movies. Schwarzenegger claimed his film Red Heat was the first American production allowed to film in Red Square, Moscow.
This isn't the first time Schwarzenegger has spoken publicly of his support for Ukraine. On February 25 he said: "I hope sanity will eventually prevail and end this unnecessary war before too many lives are broken."
On March 6 he shared a video of himself speaking at the Arnold Strongman Classic competition, where he congratulated Ukrainian athlete Oleksii Novikov for returning to the country and for donating his winnings to charity.
Schwarzenegger's latest video was uploaded to social media with the caption: "I love the Russian people. That is why I have to tell you the truth. Please watch and share." The clip was shared on all his social media channels in conjunction with the production company ATTN.
Update 03/17/22, 1:30 p.m. ET: This article was updated to add extra information.