Around 11,000 North Carolina Voters Mailed Voter Registration Forms With Incorrect Information as Election Approaches
With less than a month until Election Day, around 11,000 voters in North Carolina were mailed prefilled voter registration forms with incorrect information, according to the North Carolina State Board of Elections (NCSBE).
In efforts to increase voter registration, technology vender Civitech partnered with printing company Print Mail Pro to send registration forms to eligible voters in the state. However, an error that occurred in the final stages of digital processing caused forms with incorrect names, addresses and dates of birth to be inadvertently mailed out.
"The State Board and the company encourage North Carolina residents to disregard and discard any mailing they receive with incorrect information, and to be diligent in reviewing election-related mail from third-party groups," the NCSBE said in a statement.
Both Civitech and Print Mail Pro apologized for the mix up and said corrected forms were being sent to individuals who received incorrect ones. Civitech's Chief Operating Ofiicer Sarah Jackel said affected recipients will also be contacted by text to be alerted of the error and advised to discard the form.
CEO of Print Mail Pro Shelley Hyde called it an "isolated incident that affected roughly 0.3% of the total processed in North Carolina" and said the company is retraining its staff to prevent the mistake from happening again.
Karen Brinson-Bell, executive director of the NCSBE, cautioned voters to examine all election-related mail, which is bound to increase as the general election approaches.
"Carefully review these mailings, and please remember that accurate information about the elections process, including how to register to vote, and how to check your voter registration status, are available at NCSBE.gov," Brinson-Bell said in a statement.
The NCSBE confirmed to Newsweek that all erroneous forms have already been mailed out.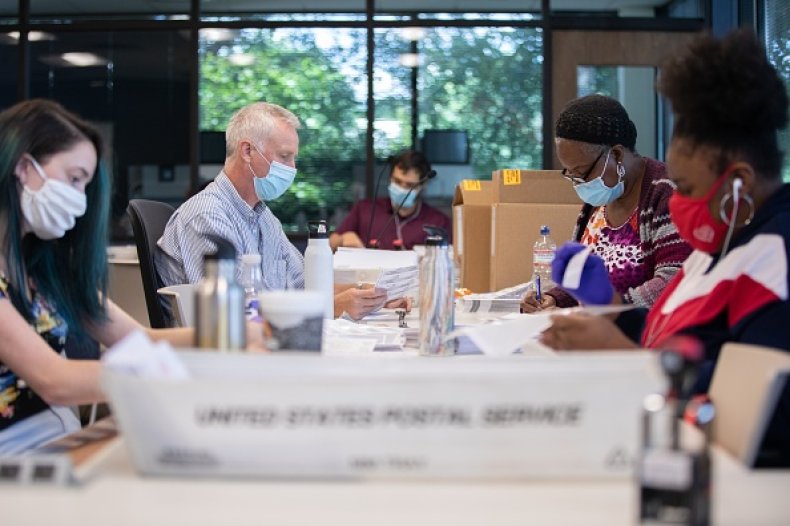 As of October 3, more than 7 million voters in North Carolina have registered to vote, according to data from the NCSBE.
Thousands of ballots in North Carolina are awaiting a final decision as the NCSBE is still determining how it will fix errors on mail-in ballots.
According to ABC News, 7,272 ballots are classified as "pending cure," indicating missing information on the ballot, as of Sunday.
Brinson-Bell sent a memo to the county board of elections instructed officials to "take no action" if county boards receive an absentee ballot with errors, specifying that such ballots should not be reissued. She also noted that ballots returned in an envelope with deficiencies cannot be accepted or rejected.
"Envelopes with deficiencies shall be kept in a secure location and shall not be considered by the county board until future notice," the memo read.
Last week, a county judge approved a joint settlement allowing voters who are missing witness signatures or addresses on their ballot envelope to correct the errors by filling out an affidavit instead of completing a new ballot. But a day later, a federal judge issued a temporary restraining order banning the changes after North Carolina Republicans appealed the decision and filed suits to block the changes.
As of October 6, more than 1.2 million absentee ballots have been requested by North Carolina residents—a figure more than eight times the number of requests this time in the 2016 presidential election.
The state deadline to request an absentee ballot is October 27.