A man accused of robbing a bank in Michigan was caught hiding in a porta-potty, police body camera footage showed.
Charles Woolery allegedly robbed Dearborn Federal Savings Bank in Dearborn, Michigan, on March 2. Capital Counselor says three to four thousand bank robberies happen each year on average, but since 2018, those robberies have decreased in number.
According to WDIV-TV, Woolery approached a bank teller and gestured to his hip to signify that he was armed. He handed her a note with the message: "Smile. Put all $10-$20-$50-$100 in bag no dye pack, no GPS, do not hit alarm til I leave or I will kill everyone."
After the teller handed him the money, Woolery fled the scene on foot. Surveillance cameras in the area captured him running toward a nearby Hampton Inn. Officers spoke with a manager there and reviewed the hotel's surveillance video, which showed the suspect heading through a vehicle entrance to the parking lot behind the inn, police said. He then appeared to flee toward a parking lot porta-potty and enter it.
Authorities found $1,690 in cash in the front of Woolery's hooded sweatshirt, according to WDIV-TV. They also recovered a black face mask, black beanie, tan gloves and the robbery note from the porta-potty floor.
When Woolery heard he was being charged with armed robbery, he told police that he was not actually wearing a gun, despite his threat to the bank teller.
Surprisingly enough, Woolery was not the first bank robbery suspect to select his particularly unsavory hiding spot.
In 2017, a man who stole a little over $1,000 from East Boston Savings Bank was taken into custody after police found him in a porta-potty near the TD Garden arena in Boston, Massachusetts, WCVB-TV reported. The alleged robber, Steven Spolidoro, led police on a chase from Revere before officers found the occupied porta-potty near a parking lot they were searching.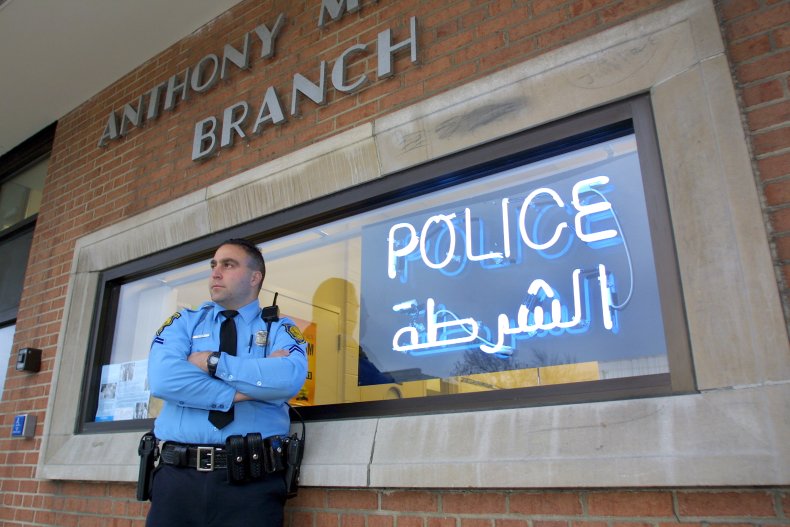 The FBI has reported that bank robbers collectively steal millions of dollars from banks, credit unions, savings and loan associations and other related businesses every year. At any given time, the identities of hundreds of bank robbers are still unknown to law enforcement. The FBI launched a Wanted Bank Robbers Website in 2012 to enlist public assistance in efforts to identify and locate suspects, followed by a Bank Robbers mobile app launched in 2016. The site and app include a search tool, a national map of robbery locations, a chronological list of robberies and electronic wanted posters with details on robbers and crimes.
Newsweek reached out to the Dearborn Police Department for more information on Charles Woolery's arrest.