Arrest Warrant Issued for Far-Right Personality Tim Gionet After Live-Streaming From Riots
A Scottsdale judge has issued an arrest warrant for Tim "Baked Alaska" Gionet, who live-streamed himself and others participating in the Capitol riot in January after he did not show up at a Thursday hearing in connection with a separate incident.
In January, as Congress met to certify President-elect Joe Biden's win in the Electoral College, supporters of President Donald Trump swarmed the Capitol grounds. Some rioters were able to enter the building, causing the electoral vote count to stop as lawmakers were forced to take cover. Gionet live-streamed his perspective of the event on the gaming website DLive.
Gionet, labeled a white supremacist by the Southern Poverty Law Center, has been banned from several social media platforms including Twitter and YouTube. He was observed marching at the 2017 Unite the Right protest in Charlottesville, Virginia which left one protester dead.
Gionet was arrested in December after using a chemical irritant against a bouncer that kicked Gionet out of an Arizona restaurant. In connection with the case, Gionet was arrested on suspicion of assault, disorderly conduct and criminal trespass. Upon his release, Gionet was ordered to remain in Arizona. Gionet broke those restrictions by going to the Capitol building in January.
"The city prosecutor's office became aware of [Gionet's] presence at the Capitol, reviewed his release conditions, and determined that he had violated them," said Scottsdale City Spokesperson Kelly Corsette to the Phoenix New Times on Monday.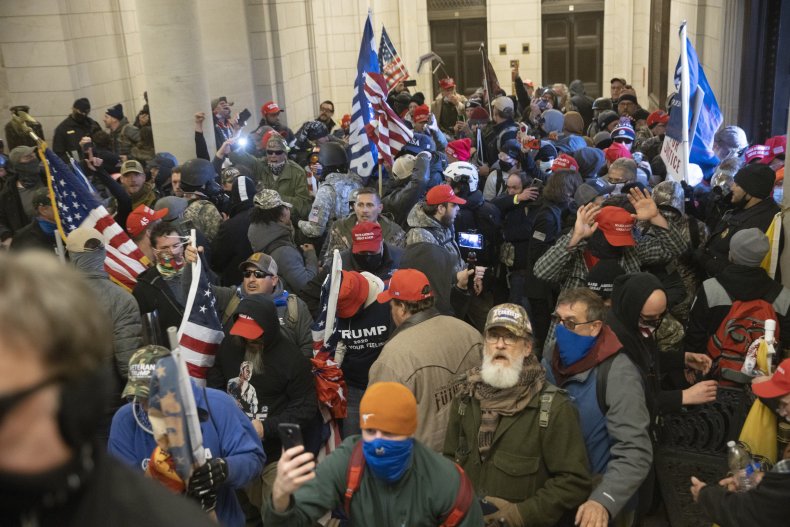 Scottsdale Assistant City Prosecutor Joshua Austin wrote in a Friday petition that Gionet left Arizona without obtaining "written permission from the Court." A hearing on the petition was expected to take place on Thursday, but Gionet did not appear in court. Judge James Blake issued a warrant for Gionet's arrest on Thursday following his failure to attend the hearing.
Newsweek reached out to Scottsdale City Court for comment.
Gionet alleged that he had contracted COVID-19 from the bouncer during the December altercation before traveling to Washington to participate in the riot. In footage broadcast from inside the Capitol building, Gionet was shown inside House Speaker Nancy Pelosi's office. At one point, Gionet picked up Pelosi's telephone.
More than 100 individuals have been arrested in connection with the Capitol riot, which left 5 people dead. Federal authorities have actively sought the public's assistance in identifying individuals that participated in the riot. Authorities have expressed concern that similar violent actions could occur on Inauguration Day.
During a Thursday briefing with Vice President Mike Pence, FBI Director Christopher Wray encouraged individuals who planned to disrupt Biden's inauguration to "stay home."
"We know who you are if you're out there," Wray said, "and FBI agents are coming to find you."