Arrested Detective Allegedly Threatened to Shoot Woman's Son Who Found Him Naked in Her Bedroom
A Philadelphia police detective was arrested this week months after an incident in which he allegedly told a 23-year-old man he would shoot him while he had his gun drawn in the bedroom of the man's mother.
Detective Robert Redanauer, 51, was arrested on Tuesday on four charges stemming from the December 27, 2020, incident, according to court records. A 30-year veteran of the force, Redanauer was suspended for 30 days, and the department intends to dismiss him at the end of his suspension.
While off duty, Redanauer grabbed a handgun from a dresser in a woman's bedroom and pointed it at two males, according to the Philadelphia Police Department. One of the males then went into his own bedroom, and the 23-year-old went downstairs to call 911.
After hearing his younger brother getting into a verbal altercation with the man, the 23-year-old went into his mother's bedroom. At that point, the male, later identified as Redanauer, was naked, according to an arrest affidavit reported by The Philadelphia Inquirer.
"Come here, f***er. I am going to shoot you," Redanauer allegedly told the 23-year-old.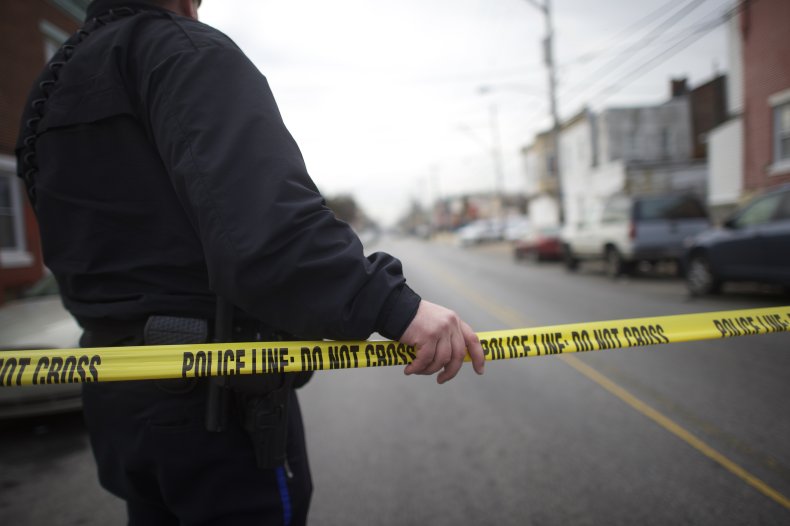 The 23-year-old told Redanauer to "please, don't shoot me" as the detective walked toward him with the gun, according to the arrest affidavit. The mother was in the room at the time of the incident, a law enforcement official told the Inquirer.
The investigation into Redanauer's conduct was sent to the district attorney's office for review on January 5, and an affidavit for probable cause for arrest warrant was issued on April 13. He is charged with simple assault, recklessly endangering another person, possessing instruments of crime and making terroristic threats.
"In order for police officers to effectively do their jobs, it is imperative that they are held to a higher standard—both on and off-duty" Police Commissioner Danielle Outlaw said in a statement.
In 2005, a Philadelphia police officer sued Redanauer for allegedly shooting him while a group of officers were trying to make an arrest. At the time, the officer was standing next to the person they were trying to arrest, and the lawsuit alleged that Redanauer fired his revolver three times "without any specific target in sight."
A police department investigation determined the detective "improperly" fired the weapon in violation of departmental standards, according to the lawsuit. It was settled in 2007.
Outlaw called the charges against Redanauer "serious in nature" and representative of "intolerable behavior." He's the 10th Philadelphia police officer to be arrested this year, according to KYW-TV, including eight who were on the force at the time of their arrest. Two others had either retired or resigned before being arrested.
"When officers behave in a way that does not honor their oath to protect others from harm, and in fact, create harm, it is made clear that the individual has no place within our ranks and must be removed," Outlaw said in a statement.
Newsweek reached out to the Philadelphia Fraternal Order of Police for comment on the case but did not receive a response in time for publication.
Court records indicate that Redanauer was arraigned on Tuesday and was released on his own recognizance. He is due back in court in May.