Arrested Florida Capitol Rioter Kenneth Kelly Thought He Was Breaking into White House
A Florida man arrested in the Capitol riot appeared to believe that he and other "patriots" were storming the White House on January 6.
Kenneth Kelly, 58, of Ocala, referred to the Capitol building as the "White House" in two text messages sent to a relative, according to the affidavit by an unnamed special agent with the FBI.
"Inside White house [sic] via breaking in windows," Kelly allegedly wrote in one text, alongside an image that showed him inside what appears to be the U.S. Capitol building.
Kelly sent another photo that depicted a crowd of rioters scaling the outer structures of the Capitol building, writing: "Patriots stormed the White House, broke in while senate was in sessiondenating [sic] Arizona. The were hiding under ther desks [sic]. Forced into recess. Patriots took back our capital today."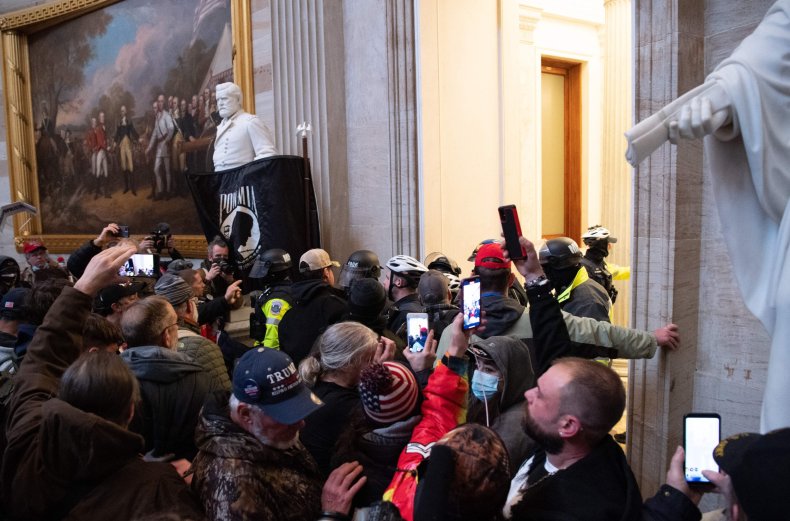 The family member of Kelly, identified in the affidavit as W-1, showed the photos and text messages to the FBI. W-1 told federal agents that Kelly "held extreme political views and had mentioned 'QAnon' a couple months before the January 6 riot."
Kelly surrendered himself to authorities on Friday, before making his first appearance in federal court later that afternoon. He faces charges of disorderly conduct in a restricted building, knowingly entering a restricted building, and violent entry and disorderly conduct on Capitol grounds.
On January 21, federal officials also identified Kelly in surveillance footage taken inside the Capitol building on January 6.
"U.S. Capitol Police provided the FBI with closed-circuit television (CCTV) footage showing a man resembling Kelly entering the Senate Wing Door on the northwest side of the U.S. Capitol building at approximately 3:00 p.m.," according to the affidavit.
Officials found Kelly in the crowd by matching his outfit with the photo he had sent to his unidentified relative.
"The man who appeared to be Kelly is seen wearing a dark-colored 'TRUMP' beanie and dark-colored puffer jacket that resemble the beanie and jacket that Kelly can be seen wearing" in the photo that was sent, according to the affidavit.
The Department of Justice said that Kelly traveled to Washington D.C. "knowing full well they were going to break" into the Capitol.
Former President Donald Trump has been accused of inciting the Capitol riot during a speech to supporters held at the Ellipse on January 6. During the event, organized by the nonprofit Women for America First, Trump urged his followers to "fight much harder" and walk down to the Capitol amid his baseless allegations of election fraud.
Five people were killed in the riot, including one Capitol police officer.
Newsweek reached out to the Department of Justice for further information. This story will be updated with any response.