Two Years After Overcoming Attempted Coup, Turkey Plagued by Widespread Arrests and Purges of Civil Servants
Two years after a coup attempt failed to unseat President Recep Tayyip Erdoğan, Turkey has been radically transformed.
Ostensibly neutralizing an anti-democratic conspiracy led by exiled cleric Fethullah Gülen, the government has arrested at least 160,000 people, dismissed 170,000 public workers, limited the independence of the judiciary, shuttered reams of private institutions, suppressed journalists, consolidated state control of media, detained people for critical social media posts and pruned the military's influence.
The July 15 coup attempt left 250 people dead and 2,000 injured. Tanks rolled through the streets and warplanes buzzed overhead as subsections of the military sought to unseat the government. The coup participants shut down the country's main bridges and bombed the parliament building in the attempt to seize power. Citizens flooded the streets to confront tanks in the street and uphold democracy.
The state of emergency declared in the wake of the coup is still in place today. Mounting numbers of Turkish civil servants are being publicly blacklisted and removed from their jobs with each emergency decree, the most recent of which was issued last week.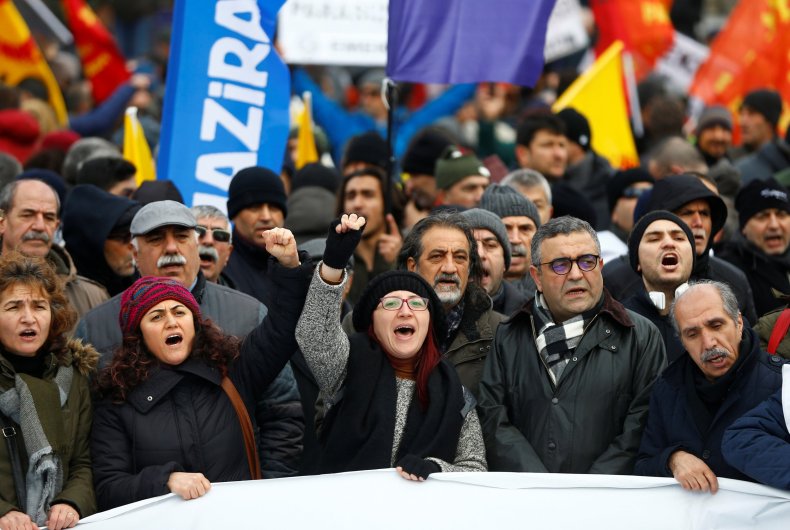 "All of them have been publicly identified as a national security threat," a Turkish academic who studies human rights and spoke on the condition of anonymity, told Newsweek.
Public workers named in an emergency decree suffer a fate those in Turkey refer to as "civil death." Blacklisted individuals lose the ability for future employment, benefits including housing and the capacity to travel abroad. Their assets may also be frozen.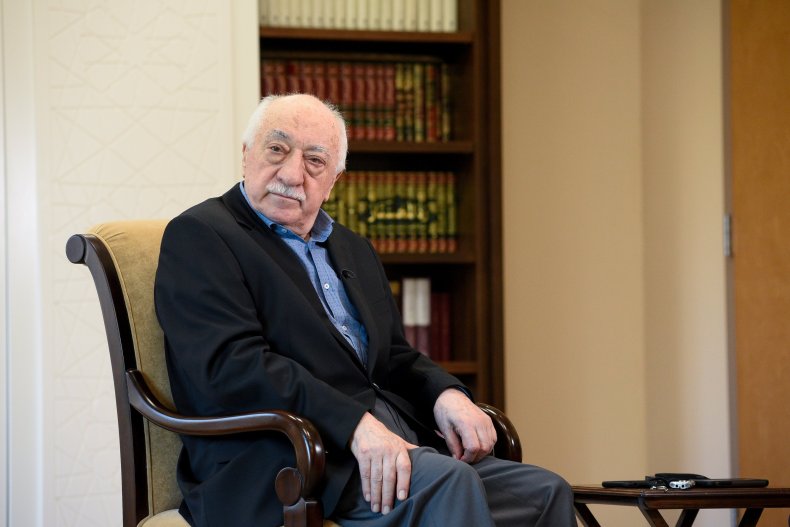 Gülen was once a valuable political ally for Erdoğan. The Hizmet, or service, movement headed by Gülen erected civil institutions running parallel to the state, providing social services such as medical facilities and schools. Erdoğan relied on Gülen's followers in state institutions and across civil sectors for political support.
But their alliance deteriorated in 2013, and Erdoğan accused Gülen and his followers of wielding their influence to undermine the government. The cleric transformed into a state threat. Erdogan began attempting to dismantle the movement's power. In May 2016, Erdoğan officially designated Gülen's organization as a terrorist group, referred to as the Fethullah Terrorist Organization (FETO).
The president's efforts to disempower the movement intensified after July 15, 2016.
Using the state of emergency to arrest and detain political opponents—including leftists and supporters of the Kurdish separatists—the Turkish president forcefully sought to weaken Hizmet-affiliated institutions.
Many in Turkey view the Gülen movement's influence as a dangerous force that undermines the Turkish state.
"The infiltration of Turkish state institutions, including the police, judiciary and military, by members of this organization has been well documented," Ali Cinar, the president of the Turkish Heritage Organization, a nonprofit that studies U.S.-Turkey relations, wrote in an email to Newsweek. "It is important to note that the post-coup-attempt state of emergency has necessitated extraordinary actions in order to ensure the stability and security of Turkey."
But the vast majority of people negatively affected by the government's purging of civil institutions had no role in the treasonous conduct, according to Emma Sinclair-Webb, Turkey director at Human Rights Watch. "We're talking about guilt by association. What interests us is whether somebody committed a crime, and the answer is no. They couldn't have foreseen that their sympathies would amount to terrorism in the eyes of a Turkish court," Sinclair-Webb said. "There's a huge abuse of terrorism laws."
The widespread suppression of civil society has been facilitated by moves that strip the judiciary of its ability to regulate the executive branch. Approximately 25 percent of Turkey's judges, or 4,000 people, have been dismissed since the coup attempt in purges that have removed critical voices.
"Rule of law has collapsed. What the law says, what the constitution says, what common sense says—all of them have been upended. So it's just a free for all," the academic said.
Although the government established State of Emergency Procedures Investigation Commission to review the purges of public workers, the body is controlled by the executive and operates slowly. Sources provided drastically dissimilar figures for the number of workers reinstated. Sinclair-Webb said 1,300 people had been reinstated by the commission, citing a news article from June 22, and that approximately 2,000 others had been reinstated through governmental decree. But a representative from the Ministry of Foreign Affairs told Cinar that 43,488 workers had been reinstated.
Sinclair-Webb recommended Newsweek ask the government about the discrepancy, while Cinar did not comment on the disparity in figures. The Turkish foreign ministry, ministry of justice, presidential office and embassies in the U.S. did not respond when contacted for this article.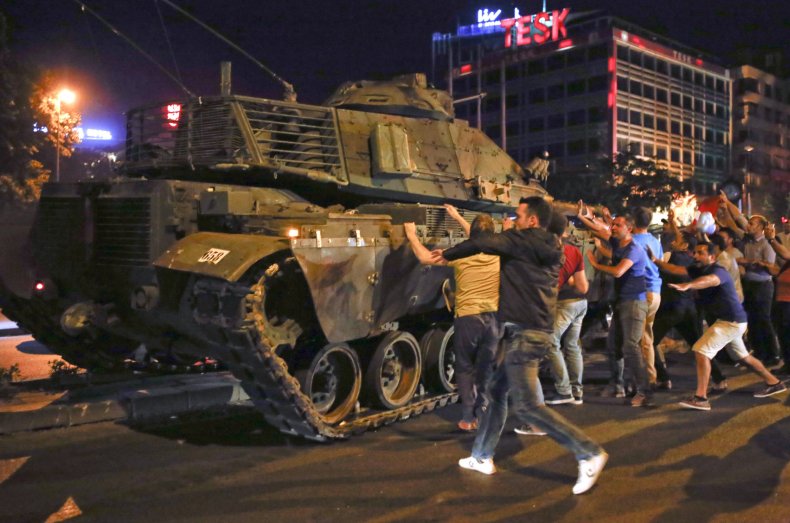 While asserting that due process was necessary, Cinar said he was focused on stabilizing the country and cleansing pernicious influences that could undermine democracy. "My concern is how we can dismiss any group who has a different agenda that is contradictory to democracy. If you have a case where 250 people were killed, many government agencies including Turkish Parliament were bombed, rebel tanks crushing cars and pedestrians, how should we react?" he asked.
The state of emergency is scheduled to expire on July 18, but Erdoğan has implemented enough structural changes to forcefully control the country's future political direction. Voters elected to transform Turkey from a parliamentary to presidential republic in a referendum last year. In June, the electorate selected Erdoğan as Turkey's first executive president, allowing him to choose cabinet ministers and oversee governmental agencies without parliamentary approval. After the recent elections, his Justice and Development Party also leads an alliance that controls 53.7 percent of parliamentary seats.
"It is sad to see that human rights practices have been totally demolished," Fatma Müge Göçek, a professor at the University of Michigan who fears returning to Turkey after signing a January 2016 peace petition that led to arrests of academics, told Newsweek. But "people care much more about the economy," which Erdoğan has aggressively expanded, "than issues of human rights."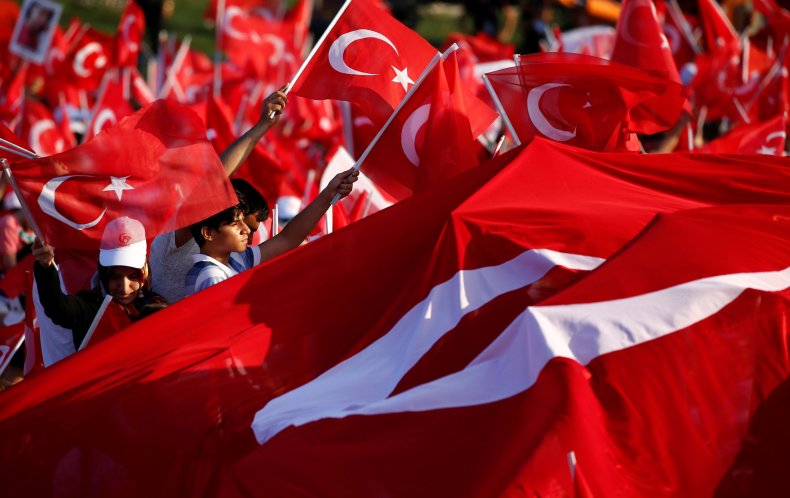 Despite the pervasive crackdown on dissent, many in Turkey still support the president. Erdoğan improved infrastructure and helped seismically transform the country's economy, boosting millions out of poverty. Religious conservatives value his promotion of piety.
Critics worry he is leading the country toward authoritarianism.
His government "has declared he is running a new war of Turkish independence to liberate it from the cultural shackles that have been imposed" on it by the West, the academic said.
While the structural alterations shift the country's political and civil functioning, those interviewed by Newsweek also saw a continuation in the Turkey's political history. The military has historically held a commanding role in the country's political future, conducting four coups between 1960 and 1997. Now, Erdoğan is the leading authority.
"Military authoritarianism has been replaced with civilian authoritarianism," Göçek said.