Arrive Early—TSA Warns Travelers of Pre-Pandemic Level Surge Ahead of Thanksgiving
As Americans embark on Thanksgiving Day festivities, the nation's airports are gearing up for their busiest travel days since before the coronavirus pandemic began nearly two years ago.
With almost 60 percent of the population fully vaccinated and 70 percent partially vaccinated, more travelers feel safe to make the journey to visit loved ones, with 85 percent of people surveyed saying they feel optimistic about travel in 2021, according to a Travel Agent Central poll.
Lisa Farbstein, a spokesperson for the Transportation Security Administration (TSA), told Newsweek that travelers should prepare for airport business to look like it did before the pandemic.
"Travelers still need to get to their airport early because we expect to see travel volume near pre-pandemic levels, which means airports will be busy like it was before the pandemic. People can expect to see lines in parking lots, at airline check-in counters and at checkpoints," Farbstein said. "The employee vaccine mandate will not impact holiday travel."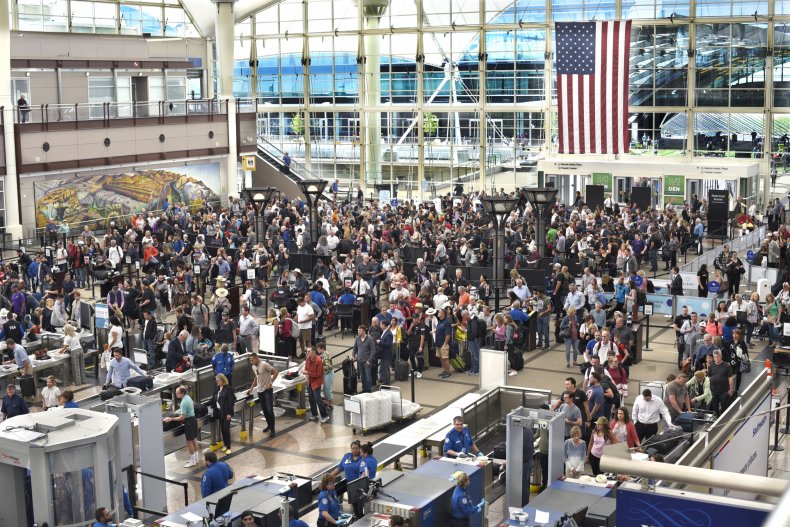 On Monday, the TSA announced that roughly 93 percent of its employees were in compliance with the November 22 deadline for the federal employee vaccine reporting mandate and exemption requirements.
In preparation for the holidays, the TSA hired 6,000 new officers this year, a move that spokesperson Lorie Dankers told Reuters should allow the agency to efficiently respond to the increased number of travelers.
During the Thanksgiving travel period from Friday, November 19, through Sunday, November 28, the TSA expects to screen some 20 million air passengers. The Sunday after Thanksgiving pre-pandemic was the busiest in the agency's history. On that day alone, it screened nearly 2.9 million travelers. Should this year's numbers come even close to that total, some of the nation's busiest airports will be ready.
A spokesperson for Hartsfield-Jackson Atlanta International Airport, the nation's busiest airport, said that it would open 12 of its security lanes. Los Angeles International Airport told Newsweek it was not expecting issues, and Denver International Airport did not expect pandemic-related problems.
Nonetheless, to make the travel experience run smoothly, TSA Administrator David Pekoske offered a few suggestions.
"I recommend that travelers pay attention to the guidance that the TSA officers are providing at the checkpoint," he said in a statement. "They may be directing you to a shorter line or guiding you around someone who is moving slowly. And they may be giving you some advice that will lessen the likelihood that you'll need a pat-down."