'Arrow' Ending Explained: What Happened in the Series Finale of the CW Show?
Arrow Season 6, Episode 10, entitled "Fadeout," answered a question that many fans of the CW show had been asking since the end of Crisis on Infinite Earths: How would Oliver Queen (played by Stephen Amell) appear in the final episode of his own show when he had died two episodes earlier? The series finale brought back the former Green Arrow via a flashback to events from around Season 1, as well as in a final scene that saw Oliver reunited with Felicity (Emily Bett Rickards).
Oliver, however, was not the only Arrow character to return for the final outing. Throughout the episode, it was revealed that Oliver had resurrected a lot of fallen friends when he was The Spectre and helped create Earth Prime during the Crisis. These characters all assembled for Oliver's funeral in the series finale.
Speaking to TVLine, Arrowverse executive producer Marc Guggenheim spoke of the difficulties of putting together that funeral: "No. 1, it's not easy getting all of these actors in one place at one particular time. No. 2, they've got to be willing to come back. No. 3, they have to have schedules that accommodate it.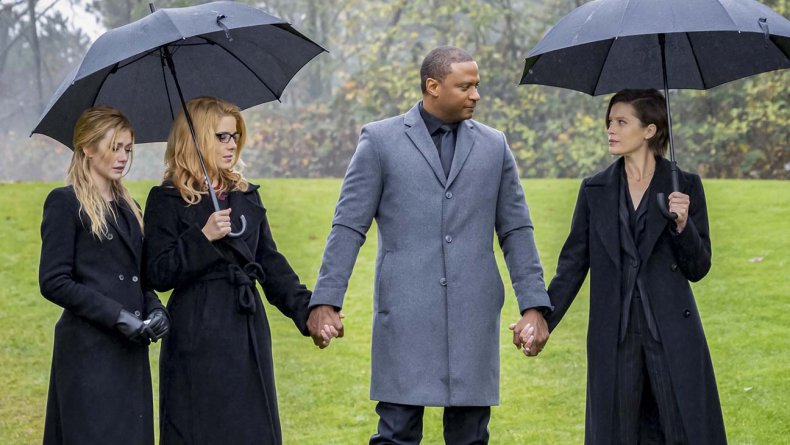 "There were still actors we wanted who we just simply couldn't get, because they were off shooting a television show, or shooting a movie. Katrina Law [who played Nyssa al Ghul], for example, was shooting Hawaii Five-0 and we barely got her. In fact, she was landing at Vancouver airport, going through customs, while we were shooting the first half of the funeral scene."
The first person to be revealed as having been resurrected in Earth Prime by Oliver was his mother Moira Queen (Susanna Thompson). We saw Oliver free himself and kill Deathstroke (Manu Bennett), saving his mom in the process⁠—when we last saw the scene, Moira sacrificed herself to save the rest of the queens. The finale then cut to the present, with Moira speaking to the documentary crew from Episode 150, who are now making a tribute to the fallen superhero.
The documentary crew then spoke to Dinah (Juliana Harkavy), who is now chief of police, Rene (Rick Gonzalez), who is touted to be the next mayor after the retirement of another resurrected character Quentin Lance (Paul Blackthorne), and Diggle (David Ramsey). When Rene and Diggle then talk to each other, we learn that there has been no crime in Star City since the events of Crisis⁠.
The Arrow series finale then cuts between 2012 Starling City, where Oliver and Diggle are on the hunt for human trafficker John Byrne (Johnny Cuthbert), 2040 Star City, where Sara (Caity Lotz) appears to Mia (Katherine McNamara) to bring her back in time for her father's funeral, and the present timeline. In the present, Laurel (Katie Cassidy) is struggling with the fact that she is still alive when Earth-1 Laurel (also Katie Cassidy) is not, but these thoughts have to be put on hold when William (Jack Moore) is kidnapped.
Felicity, Rene, Diggle, Roy (Colton Haynes), Thea (Willa Holland), Rory (Joe Dinicol), Curtis (Echo Kellum) and Lyla (Audrey Marie Anderson) all help in the search for William, but it is new Green Arrow Mia who finds out he has been kidnapped by the present John Byrne⁠—but not before we see Roy asks Thea to marry him. Later in the episode she accepts the proposal.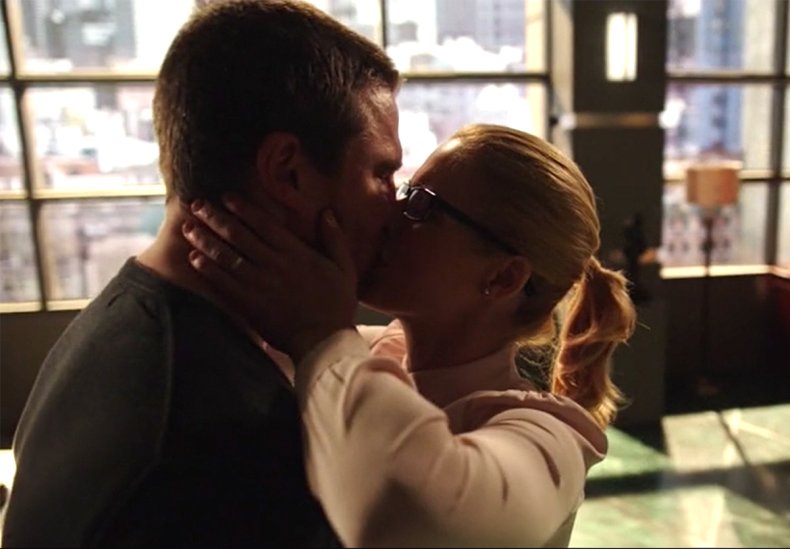 The finale then brings together its past and present timelines. In the past, Green Arrow Oliver chooses not to kill John and send him to prison, and in the present new Green Arrow Mia decides to do the same thing.
The end of the series, meanwhile, is mostly set at Oliver's funeral, where even more former Arrow cast members are there, with the above crew joined by people like Emiko (Sea Shimooka), Anatoly (David Nykl), Talia (Lexa Doig), as well as the stars of other Arrowverse shows like Barry Allen (Grant Gustin) and Kara Danvers (Melissa Benoist).
Some people, however, remain dead, like Earth-2 Laurel Robert Queen (Jamey Sheridan), who Moira explained could not be resurrected as his death was too crucial in the process of Oliver becoming the Green Arrow. Guggenheim told TVLine about this plot point: "We did start off with a list of every potential person who could come back, and lord knows we've killed a lot of people on this show. But very early on we committed to that notion."
After Oliver has been eulogized and the statue of him unveiled, some of the character's arcs are tied up. We see Lyla and her children move to Metropolis, Mia return to the future (ready for the potential Green Arrow and the Canaries series), Rene getting his mayoral campaign ready and Diggle nearing getting hit by a box that crashes to Earth. Opening it, he sees a glowing green light that some have seen as setting him up to be the next Green Lantern.
The ending of Arrow Season 8, Episode 10, meanwhile, sees Oliver return for one last time. We are back in Star City 2040 in a flashback from Season 7 where The Monitor (LaMonica Garrett) guided Felicity to an unknown place. Arriving there, she discovers it is a paradise dimension, looking like Moira's office where she first met Oliver, where the love of her life is waiting for her to spend their afterlife together.
Arrow Season 8 is streaming now on the CW app and website and is expected to be released on Netflix on Wednesday, February 5.
Correction 1/29/2020, 8:45 a.m. ET: This article was updated to correct the cast listing of William, who is played by Jack Moore.